New librarian serving West Carleton
WEST CARLETON – The Ottawa Public Library (OPL) system is one of many organizations thrown in to turmoil because of the global COVID-19 pandemic.
Almost one exact year ago, long-serving West Carleton librarian Lori Fielding announced her retirement in the pages of West Carleton Online. She had served the community in her position for 17 years and was as well-known as anyone in West Carleton. A big retirement party was planned for March 20, 2020. On March 17, 2020 the pandemic hit Canada and any and all gatherings were cancelled including Fielding's retirement party.
It was the start of what has been a roller-coaster ride for the OPL and its libraries. Branches have been closed, re-opened, re-closed and re-opened again, although under modified service and reduced hours. In fact, the Fitzroy Harbour and Constance Bay branches have never re-opened. Although, on Monday (March 1) we broke the story the Constance Bay branch will re-open next week.
For most of 2020, West Carleton did not have a dedicated, full-time librarian. Come early in the New Year (Jan. 18), that issue was fixed as the OPL named Kristy Pedersen Ruel supervising librarian for the Carp, Constance Bay and Fitzroy Harbour branches.
At the time, all the libraries were closed due to a provincial lockdown order. The Carp branch just re-opened roughly a week ago (Feb. 22).
With that news, it was time for West Carleton Online to meet West Carleton's new librarian.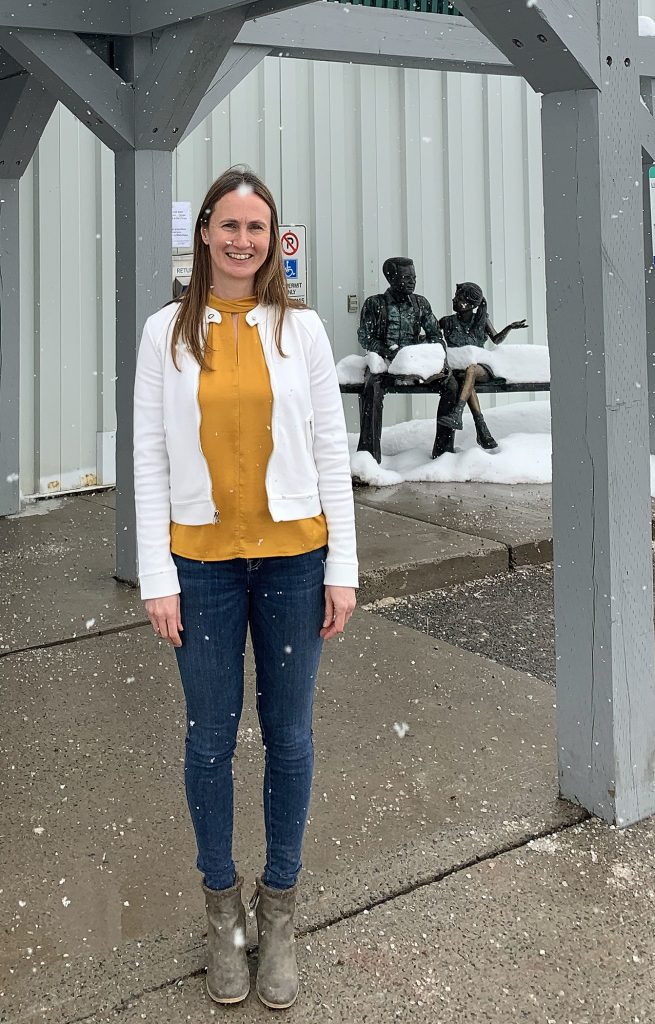 "I do like the small community-building relationships that happen in rural areas and talking to the visitors," Ruel told West Carleton Online Monday (March 1) during an interview that also included OPL manager of Public Service West Branches Catherine Flegg. "You don't really get that in the urban libraries. That's one of my favourite parts of the job. I'm very excited to be here."
Ruel has spent 20 years as an OPL librarian. She started helping the Manotick public library automate its circulation. She worked at the Nepean-Centrepoint branch and for the last 12 years at the branch in Barrhaven. This isn't her first time at the Carp library either, as Ruel worked part time in Carp in 2004 with the aforementioned Fielding.
"I've seen Lori at the branch a few times," Ruel said.
Ruel went to Carleton University where she received a Master of Arts degree. She worked part time at the library and ended up heading to Western University to get her Master of Library and Information Sciences.
"I really enjoyed my time in the library and didn't want to leave," she said. "So, I went to Western."
While the pandemic-forced closures have been challenging to West Carleton residents who seem to love their libraries as well as having a space to congregate. It is evident as the Carp branch has seen an increase in visitors since re-opening. People can now browse and use the computers again.
"It's been nice to welcome people back," Ruel said. "We've definitely seen a bit of an increase. We've had some good questions from patrons and it's nice to be able to field some questions."
"I think people are happy to have the library open again," Flegg said. "We've had some really nice comments."
Ruel says, now that she's back on site in Carp (and soon to be at the other branches), she's starting to learn a bit about her new community.
"I've discovered the Carp Creamery," Ruel said. "We've been making our way through the menu. The Carp Creamery is going to put a few pounds on me for sure."
---