New Grove addition 80 per cent funded
ARNPRIOR – The Come Home to Great Care campaign has reached a new milestone today (June 15) by hitting 80 per cent completion of its $5 million fundraising goal thanks to the generous support of the community.
The campaign has successfully raised $4 million, to date supported by volunteer campaign co-chairs, Glenn Arthur and Ed Reid.
"I'm proud to announce we reached the 80 per cent threshold ARHF executive director Ben Gardiner told West Carleton Online from the shadow of the construction project that will end up adding an additional 30 long-term care beds for Arnprior residents and the surrounding community. "We're nearly there. Now we just have to bring it home."
Reaching $4 million today was in part from a huge donation from the Arnprior Firefighters Fundraising Association in the amount of $75,950.
"Our community has continued to come together with incredible generosity to make important headway in attaining our Come Home to Great Care campaign goal," Gardner said. "Our shared efforts will help make the new Grove possible – and provide more local seniors with a state-of-the-art home environment that will ensure their safety and enrich their day-to-day lives."
The construction of the new Grove has continued safely during the COVID-19 pandemic. The redevelopment project is nearing 20 per cent completion and is on target to open in summer 2021. The design is modern, people-first, departing from the institutional style of nursing homes. The new space will accommodate 60 per cent more residents and has been laid out into three distinct neighbourhoods – each includes a dedicated living room, dining room, activity room, bedrooms and access to a secure courtyard with walking paths, seating, and gardens.
Gardiner expects residents will be able to move in in the fall of 2021.
The Come Home to Great Care Campaign will contribute $4 million for the new Grove and $1 million for leading-edge technology and equipment at Arnprior Regional Health to help ensure the community has access to the best care locally.
"It's good people who have got us where we are," Gardiner said. "Our community is so supportive. They want to give back any way they can."
Learn more about the campaign at www.greatcarearnprior.ca.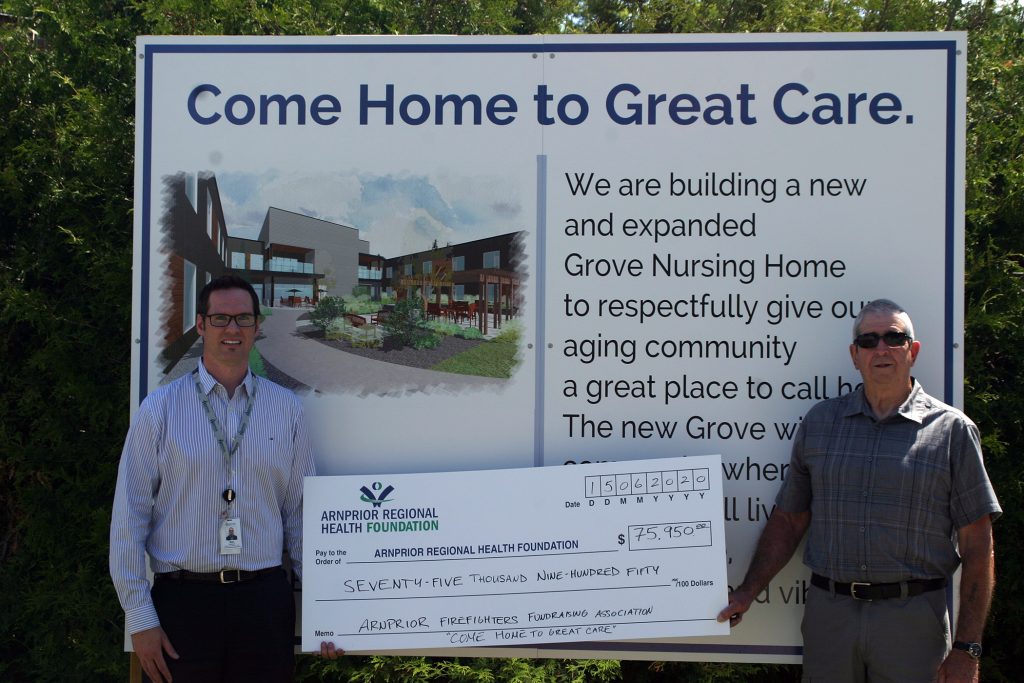 ---