Morris Island paint therapy
MORRIS ISLAND – It was an opportunity to share the words describing your current situation, then cover them with paint in a small therapy session that was also one of West Carleton's first public fundraisers in the time of COVID-19.
On a soggy Saturday (July 11) photographer Ginny Fobert invited her Morris Island and Vydon Acre neighbours to drop by an easel she and her husband Dave had set up under a tarp in the community (just in case) and help cover up a canvas filled with emotional words.
Ginny referred to the event as the Morris Island Neighbourhood Paint Explosion and it was a fundraiser for the Arnprior Food Bank.
Ginny had contacted the neighbourhood before the event, sometime around Canada Day, and asked them to give one or two words that came to mind when thinking about the COVID-19 pandemic.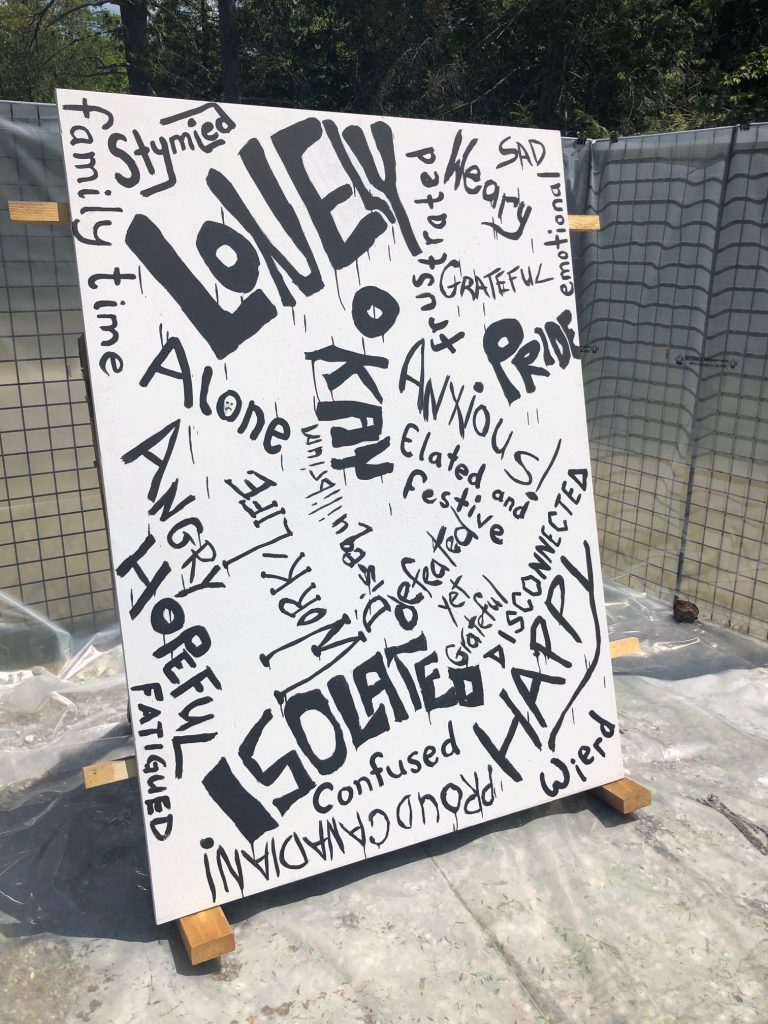 Some of those words included lonely, angry, frustrated, weird and confused. But they weren't all negative as others added hopeful, family time, grateful, elated and festive.
Those words were painted in black on a six by four feet white board. On Saturday, individuals, couples and those part of small social bubbles were invited to come by and paint over the words in any fashion they would like.
Ginny says she saw the idea, loved it and borrowed it.
"Someone from the far end of Orleans posted something similar," she told West Carleton Online from her painting station set up just off Logger's Way. "I contacted her, her name is Maryse Hatchard, and asked if we could do something similar. She said as long as we mentioned her name."
Ginny said the idea was a bit of paint therapy.
"Part of it was to dribble paint, or throw it and get those frustrations out," she said. "And also, just to get people out."
Ginny said rural residents especially, are feeling more isolated then ever during the pandemic.
"It's been great," Ginny said of the morning so far. "People who didn't know each other are meeting. We're creating some new friends. I said to Dave, let's try this, we need some fun. I see these people walking down the street all the time. Now I'm getting to know them."
When the painting is done, Ginny will make sure her community can see the finished work.
"Once dry, I'll varnish it and put it on the street somewhere so people can enjoy it," she said.
Vydon Acres' Pat Tait, her husband Dave, son James Cave and his daughter Grace Cave were one bubble that came by to join in the fun. Pat is also the volunteer manager of the Arnprior Food Bank. She was grateful to be the recipient of the fundraiser.
"It's awesome," Pat told West Carleton Online. "We love the support."
It's a challenging time for all food banks, as they can no longer accept individual food donations because of the pandemic. Those participating were donating cash only.
"We can't except single food donations right now, so this is really important," Pat said.
By the end of today the event had 41 people paint and collected $453 for the Arnprior Food Bank. Ginny expected a few more online donations to trickle in as well.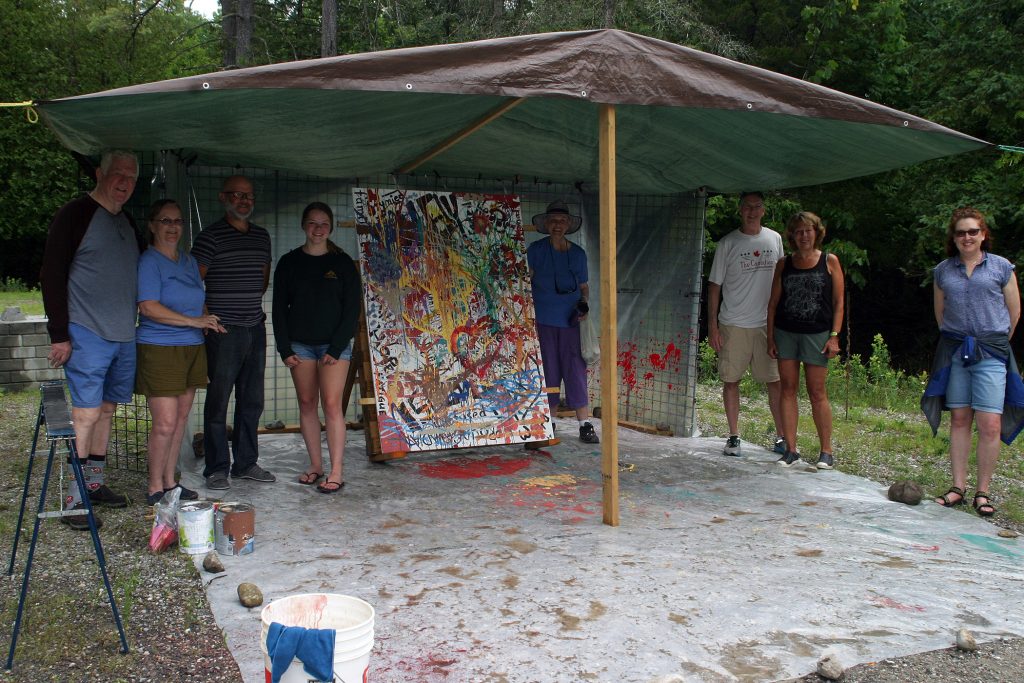 ---