Mark: Looking at a spring election
(West Carleton Online is pleased to introduce our latest columnist. Jon 'Gonzo' Mark is a radio personality with Boom 99.7 FM on the Afternoon Drive Show. Mark has more than 20 years experience on the air as a DJ and broadcaster. He was the voice of the Toronto Argonauts in 2001 and 2002. Mark moved to Dunrobin in 2009, helped launch Virgin Radio Ottawa and anchored the Gonzo Show on 106.9 FM The Bear. Mark ran for the City of Ottawa Ward 5 councillor position in the 2014 municipal election. Mark will write a monthly column on a variety of issues concerning the residents of West Carleton.)
We didn't get that snap election in the fall, but Justin Trudeau was certainly in a bit of a stare-down. We saw some high stakes poker being played and even though he probably would hate the analogy; his holster was snapped open and his gun hand was ready.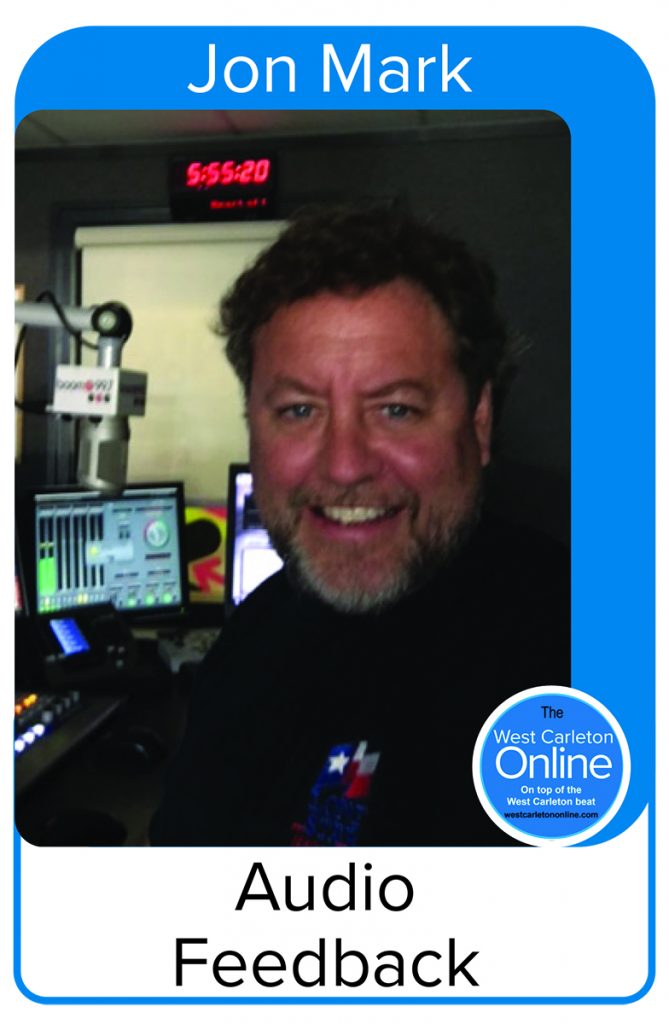 "New Democrats will not give Prime Minister Trudeau the election he's looking for," said the leader of the NDP, Jagmeet Singh, who voted in line with the Liberals to avoid the non-confidence motion, saving us from going to the polls.
Although Singh and the NDP clearly didn't want one; the New Democrats are said to be broke, It's likely both the Conservative and the Liberal parties were spoiling for a fight.
Yet neither wanted to be seen as the aggressor; the power-at-all-cost politicians that would let their ambitions force Canadians to the polls during a pandemic.  
Regardless, the parties are mobilizing, raising funds and beginning the nomination process, and locally Kanata-Carleton is a riding the Conservatives will be aggressively looking to snatch back when the Prime Minister does take that short stroll over to the Governor General's crib.
This is familiar fertile ground for them, and a spring election seems highly likely, as minority governments are not built to last.
Other than a couple of Trudeau waves; first with Pierre Trudeau in the late '60s, early '70s and then again with his son Justin, beginning in 2015 – this neck of the woods has been historically steeped in blue.
William Foster Garland in the '20s, Alonzo Hyndman in the '30s, former Ontario Premier George Drew in the '40s and '50s; who was also the Tory Leader across the House from the St. Laurent governments, Dick Bell in the '60s, Paul Dick in the '70s, former Alliance Party member and current MP for Lanark-Frontenac-Kingston, Scott Reid in the early 2000s and then former Brigadier-General Gordon O'Connor who had a 12-year run from 2004-2015.
It did benefit the Liberal Party when the riding was changed from Kanata-Mississippi Mills to Kanata-Carleton in 2012.  That urbanized what was always a fully rural ward going back through all the different variations that had us voting with Lanark, Renfrew, Pakenham and Goulbourn at one time or another.
In 2015, Justin Trudeau's sunny red wave brought us our first Liberal MP since Ian Murray who, interestingly enough had won the party nomination by a coin toss, back in 1993.
True story.
Former military navigator and retired Lt. Col Karen McCrimmon brought the Liberal Party back here (along with the younger Trudeau) after replacing the retiring O'Connor, who had held a couple of key postings in the Harper cabinet.
McCrimmon, who was defeated by O'Connor in her first bid in 2011, has every intention in running in her fourth federal election whenever one is called,  although there have been whispers she may be forced into a nomination test.  She explained "for all sitting Liberal MPs there is a process they must follow. I have completed that paperwork and expect to officially become the Liberal candidate later this year."
It seems clear both parties view this as an important swing-riding and the Liberals are anticipating a strong bid from the Conservatives.
Tory riding associations will be hard at work looking for strong candidates in order to flip ridings like this one and others such as Glengarry-Prescott-Russell, Orleans, Kitchener, Cambridge and Peterborough-Kawartha. 
The pandemic has made this, like so many other things, more difficult.
Expect one bid to come from veteran Journalist/Foreign Correspondent Matthew Fisher, who has worked abroad for over 35 years covering 20 different wars on the frontline in places like Afghanistan, Bosnia and the Gulf War (West Carleton Online spoke to Matthew Fisher about his nomination bid last October).
Fisher obviously has a solid grasp of foreign affairs.  He can speak four different languages and has lived in Europe, Russia, Asia and the Middle East. Some of his endorsements include Vice-Admiral Mark Norman, Major-General Lewis MacKenzie, MP Peter Kent and local radio legend (and constituent) Lowell Green.
It was partially the treatment of Vice-Admiral Norman that roused Fisher into action.
Some may say Fisher is too old; but at 66, he is only a few years senior to McCrimmon.
Politics certainly is a robust, hardy, all-consuming lifestyle but there's a lot to say about experience and working on the frontline in stressful hot zones and maybe while we're at it, stomping out all those 'isms,' perhaps ageism is another that can go out with the bathwater too?
Fisher, who describes himself as a fiscal conservative, was further motivated by his disdain for Justin Trudeau and all of the different ethics challenges he has faced, "the prime minister is all about branding, but he has badly harmed Canada's reputation overseas and at home."
Other known candidates looking for the nomination include Jennifer MacAndrews and Alex Osorio, who is back for another try at the nomination.  
He was one of five looking for the bid in 2018 that went to Justin McCaffrey.
Speaking of which, Fisher also assured me that should he be nominated, he fully intends to attend any and all debates.
Justine McCaffrey, who skipped all but one, performed poorly and had a troubled campaign.
Yet she fell just more than 4,000 votes shy of McCrimmon.
I see a heated battle in Kanata-Carleton, and I'd expect it to happen sooner rather than later. 
---