March Meadow Farm's new barn
DUNROBIN – It's a brand-new business in a brand-new barn on Murphy Side Road.
Carp's Greg Bell is combining his farming skills with his pottery skills in to a one-stop barn offering organic, farm-fresh produce as well as art and artisan products at his new business March Meadow Farm.
While he has been farming two of his 50-acre farm just outside of Dunrobin at 1490 Murphy Side Rd. since 2017, the beautiful red tin-roofed barn is new this year and will serve as the hub for his many products and many plans for the future.
"The build is brand new this year," Bell told West Carleton Online from the farm last Friday (Aug. 14).
Since 2017 Bell has been growing organic produce in a fenced off section of the farm and selling the produce at markets such as the Beachwood and Almonte farmers' markets.
March Meadow's tagline is 'A Place of Making' and this year the barn is serving as a market, artisans' store and pottery studio, to name a few. This spring March Meadow Farm officially opened its doors and has given Bell a place for his growing business to call home.
"It's been a slow process getting to this point," he said. "I was nervous about opening up with COVID-19, but the support has been great, and I think the pandemic has helped with people wanting to buy local."
It's definitely been a big step for Bell and his partner Brianna Di Labio who both left their previous jobs (although Di Labio still works as a hair stylist as well) to launch their ambitious project.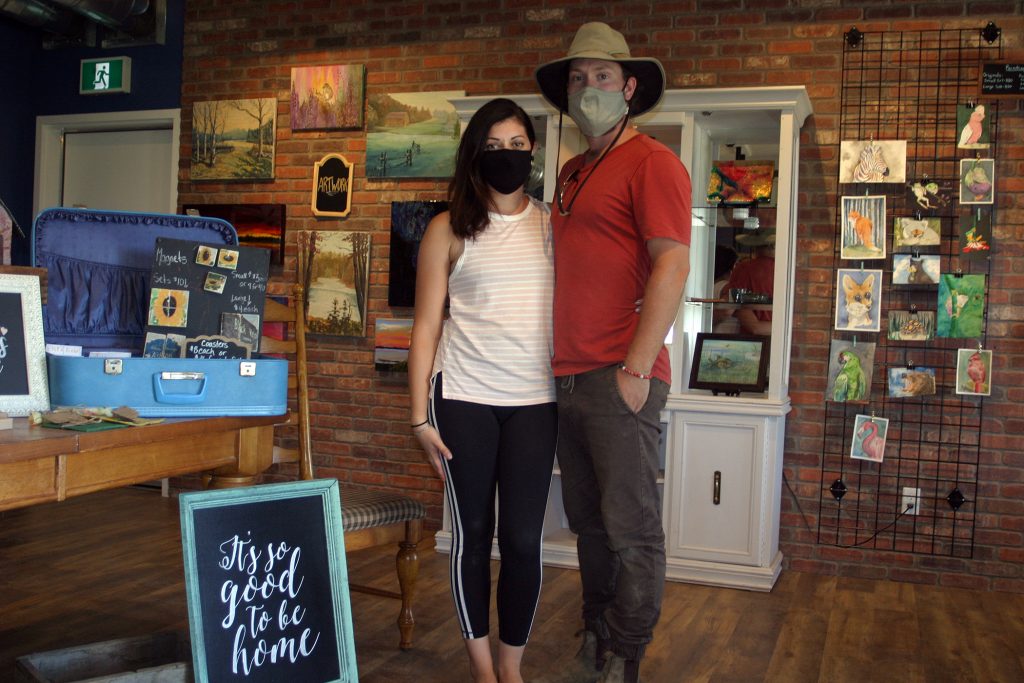 "I say we're amateur gardeners," Bell said. "We left our other jobs and jumped in to this. It's just the two of us but it's nice to be in one place."
Di Labio says it was an easy decision to come to Dunrobin.
"I fell in love with a farmer and here we are," she said with a laugh.
Bell says he's an amateur gardener, but he has a long history with food. Bell grew up on a hobby farm in the Perth area. He started working in restaurants as a teen and eventually became a part-owner of a Manotick-based restaurant.
"When I was younger, I used to tell my parents I was sick and skip school so I could watch the Food Network," Bell said. "I think, just my love for food, working in restaurants and now my growing love of produce led me to this. I think there's been a disconnect from what goes in to growing the food your consuming."
As it was mid-August when West Carleton Online visited, the produce was in various forms of readiness. When he first started farming the land, Bell had to pump water from a nearby creek but has now built a well.
"We're still trying to figure out what will grow in the heavy clay," Bell said. "We're not certified, but we are growing organic. We've got beans, beets, tomatoes, Brussels sprouts, cabbage, cauliflower, squash, zucchini, pretty much everything. Everything is picked in the morning and ready for sale that day."
Bell is also harvesting the earth itself from his farm. The pottery he's making is made from the clay his produce grows in. Bell has taken pottery lessons for the last four years now.
"We're processing some right now," Bell said. "It takes a couple of weeks. It's kind of an earthy clay, reddish in colour. It fires really well and it's useable, you just have to hand-wash it. I love being at the wheel. There's something very relaxing about it."
Inside the barn is storage space; a seeding room; a place to process and clean the produce; a place to process the clay; a potter's studio; and the store which features the produce, Bell's pottery and other local artists' work. He has preserves from his aunt for sale and art from other members of the family and local artisans adorn the walls.
"we're trying to have a spot here with lots of things," Bell said. "Come up with different reasons to bring people out. Animals one day too, there's lots of dreams. Eventually we want to be a one-stop location."
That includes hosting a market in the future.
"We're so close to Kanata North here," Bell said. "It's a beautiful location, there's nothing like being in the country. We're very excited and I'm very proud of the way things are turning out."
For more information on March Meadow, visit their website here.
---