Madawaska Golf thankful to get swinging
ARNPRIOR – Premier Doug Ford opened the golf season just in time for the long weekend, and Madawaska Golf's Rick Munro was thankful to let the community get swinging again.
Golf courses were one of the beneficiaries of the Ontario government's first stage of economic recovery beginning last Friday (May 15) as the country begins to loosen restrictions from the state of emergency called in response to the COVID-19 pandemic.
Golf courses, marinas and private parks were allowed to open in time for the Victoria Day Weekend while starting May 19 retail stores outside of shopping malls with street entrances can start to re-open. All services will have to have strict policies in place including physical distancing.
Madawaska Golf Club owner Rick Munro was one of many West Carleton golf industry professionals only too happy to tee off on the 2020 golf season.
"It was a good opening Saturday," Munro told West Carleton Online Victoria Day Monday (May 18) from the home side of the 18th green. "Yesterday (May 17) was not exceptional, but good. Today is not bad. It's a great opportunity to get outside, get activity and chit-chat about how it's been the last two months."
Although, it was still different.
"Any other year we would have received and given out 300 hugs by now," Munro said. "But I am relieved."
The 'no hug' policy is just one of several changes at the club in the age of COVID-19. The holes are plugged so players don't touch the flag or the cup. There's only one rider per cart (unless you are sharing the cart with someone you live with). The clubhouse and pro shop are closed. No high fives or handshakes. No post-round beers.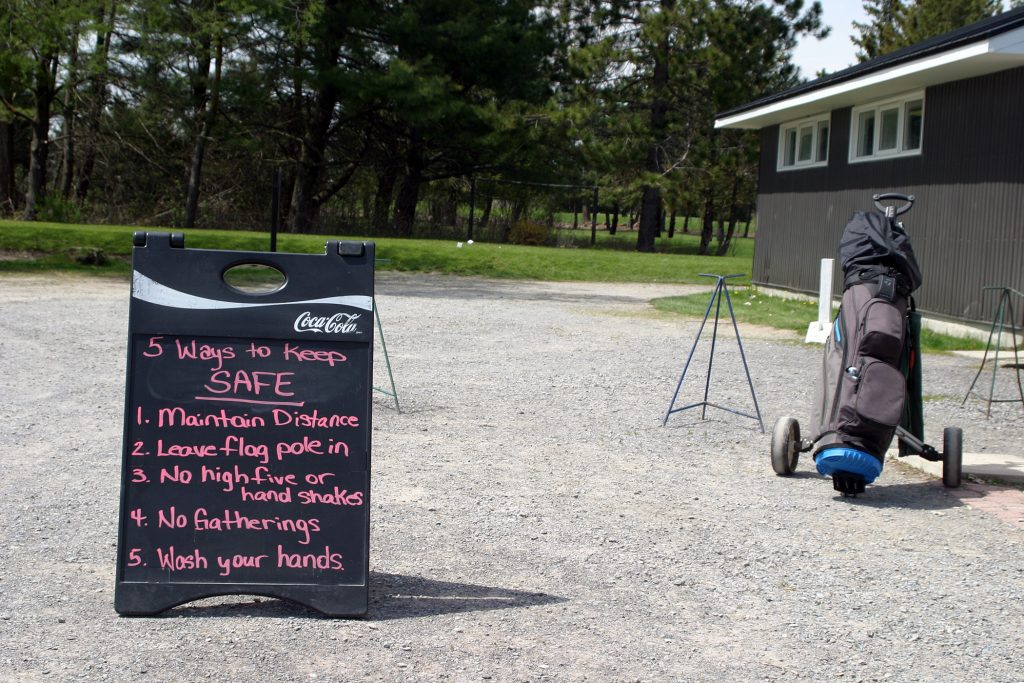 "We do a little tour to make sure everyone remembers the changes," Munro said. "Some of the etiquette is different. If someone forgets their club, don't pick it up for them. But don't wait until they are in their cart to remind them (he said with a laugh)."
Munro says his team was meeting cars as they came in to give them a bit of a refresher on the physical distancing rules.
"There's really five ways to keep safe," he said. "Maintain distance, leave the flag in the hole, no high fives, no gatherings and wash your hands."
Its golf, there's 160 acres to maintain physical distancing.
"If we want to remain open, and they want us to remain open, we have to abide by the regulations," Munro said. "If there is a surge in cases after phase one, and they track it back to a golf course, they'll close us up again and I respect that."
Munro says "all levels of government have done all they can do. They have kept us informed and they went in to their own pockets. It's a strange time."
Munro doesn't expect to see golf look like what he remembers for a while yet.
"We won't see anything that resembles normal golf until mid-August," he guesses.
While happy to be open, it will still be a challenging time for golf clubs. They are not selling much beer or food. Tee times are now 10 minutes apart and Munro asks golfers to show up no earlier than 15 minutes before they are scheduled to tee off. After their round, they are expected to leave the grounds as quickly as possible. Courses aren't able to host charity tournaments and their club nights may still go on, but not with the post round socializing members are accustom to.
"That's the part we lose," Munro said. "On a typical Men's Night, we have 40 to 50 guys buying dinner after their round. The same for the ladies."
There's some extra work too as staff must disinfect each cart after each use and there's lots of other ongoing cleaning as well.
"You have to do it," Munro said. "We've probably spent $1,000 on sanitizing products. We had to do some new training too."
But still, it's good to be open.
"You can only go so long without revenue," Munro said. "And' we're social animals. In the 35 years we've owned the club, we've made some deep connections."
Munro says he can even envision some benefits for the sport and industry down the line.
"We're a strange animal," he said. "We often make the best of a bad experience. There could be changes coming that are a benefit."
Munro says he has already been looking in to some of the new one-person golf carts already starting to hit the market.
The golf season is often at the mercy of the weather. Anyone who remembers last spring (which is everyone in West Carleton) the torrential rain meant for a late open for area clubs. Even then, many clubs had to restrict the use of carts for a couple weeks as they waited for the course to dry out and firm up.
Munro says with the dry spring we've experienced in West Carleton, they might have been able to open in April if it weren't for COVID-19. Munro says the start of May is the average opening for golf courses in this area.
But this is spring 2020 and Munro, as well as the golfers who were able to hit the course this weekend, are enjoying what they got.
"Including those who haven't worked out their slices yet, we haven't seen too many people with frowns on their faces," Munro said.
---