Longworth: From what is to what if
The new mindset suggests that to survive the COVID-19 days ahead, finding ways to adapt are essential. We all face a new reality. What was 'then,' what worked 'then,' no longer exists for many. Gone are the back to work, back to business, back to school routines. We are in transitioning mode.  New challenges face us as we try to restructure the day-to-day pattern of our lives. Reckoning with the ongoing changes suggests that we get a grip on the new "NOW." How best can we do this?  There is a remedy. Daily dose yourself with whatever makes you feel happy.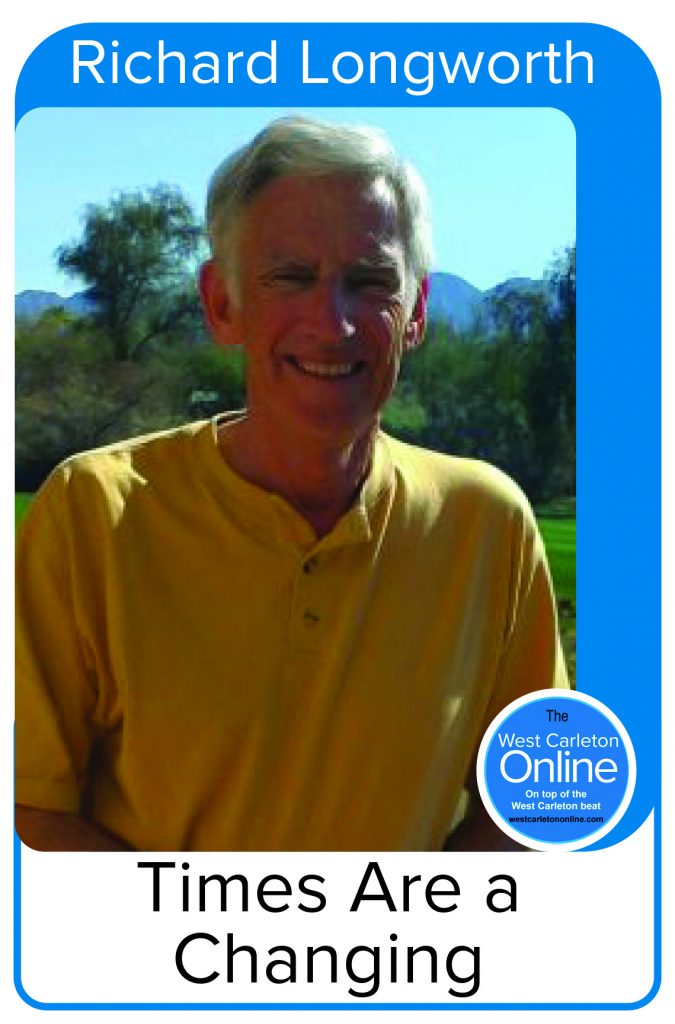 The best way to start is to greet each day with a positive attitude and approach. It is no use sweating the small stuff. We need to let go of the negatives associated with these unusual times and search for new positive norms.  Make an effort to discover new projects at home or in the community, learn about things that are happening in other corners of the world, relax and take time out to enjoy music, the arts, treasures from the past and create opportunities to help others.  All of this is possible at the touch of your fingertips. 
Yes, times are a changing right now and things may look dark especially as the days grow shorter. Assuredly, what we all need now more than ever is laughter, love lots of it, kindness, compassion, caring and courage. Looking on the bright side, things are going to get better. Meanwhile let's be thankful and focus on the good things.
Consider this a time for reflection and reconnection. A time to not only look inward to consider all that is right in our lives, but a time to look outward, beyond our own four walls. Much is happening around us. You may have a special role to play. You may be an agent of calm and positivity contributing to the safety and wellbeing of your family, friends, neighbours, your community. You may be the support for someone who is experiencing hardship or suffering from a personal loss. There is always a need big or small for someone who cares. We can all practice kindness every day. We can avoid spreading panic and unsubstantiated information found on social media. We can write letters to those with whom we have lost touch or connect through technology. We can meditate, practice mindfulness, or pray.  As each day unfolds, we can make a significant difference, lift spirits and create a better COVID-19 world. 
In our research, we considered the needs of our community, and how best to utilize available resources in West Carleton. We found many engaging, creative, inspirational and useful sites. The suggestions that follow will not only fill your days in joyful ways, soothe the soul and lighten your spirit, but also provide a benefit through collaboration and sharing with others.
A small change in our perspective from 'what is to what if' can generate miracles. We should do everything we need to do to protect and help each other. No matter how difficult things may get, "it is a beautiful world." 
Community Ideas for West Carleton
The main purpose here is to encourage our residents to become actively involved, to help one another during the pandemic crisis. The list is long, but provides a diverse and comprehensive checklist, with the hope that a few might catch your interest. We would be delighted if you participated and became part of the process. Please visit our community site where you can find further details and a sign-up sheet.  
Write personal notes to loved ones, friends
Hot apple cider served at a local church or community centre after a stroll-about?
Winter Ice Sculpturing at the Carp Fairgrounds
Families meet virtually and paint ensemble led by a local artist
A dueling organ recital from neighbouring churches
Design suggestions for a community made-in West Carleton mask
Start a pop-up pantry in our neighbourhood
Provide child-sitting to families with special needs children. Post here
Use the same link in 9. to run errands and pick-ups
Adaptive Recreational Program for children with disabilities
Create a FB page and post your sentiments
Interact with your neighbours through Zoom Games for all ages
Use Zoom for kids for beneficial education and social interaction for school-age children
A Q&A site of questions and answers for specific community issues
Host a community podcast
Write-up your Kindness Blog of a good deed and send it to us for posting
Start a grassroots Mutual Aid Network.
Buy Now/Use Later Gift Card from a local business
Many brick-and-mortar stores have to shift to an e-commerce model, businesses are in need of people who can set-up websites, write copy, advertise and photograph products. 
Strengthen your Immunity & Collective Vision
A return to Nature & Ecology
Send Self-Isolating Seniors Letters to Brighten Their Days! 'Letters Against Isolation'
Take advantage of the website Seniors helping Seniors
 If you've done fitness coaching, offer your own online class, yoga, stretching, meditation, Zumba, hip-hop, tap dance—all can help those with cabin fever feel better
Are you a web designer?  Finance whiz? Consider offering your services free, remotely. Identify your skill-set and advertise
For 40 years Richard Longworth worked as a systems analyst and university professor at Capilano University teaching math, information technology, and system analysis and implementation. Longworth has published three books Reflections on Life Issues, Turning the Self Inside Out, and Harnessing the Internet into a Knowledge Framework – all related to technology and trends in the industry.   
---