Lightening strike causes 25-acre crop fire
GALETTA – A lightening strike this afternoon (July 30) sparked a blaze that destroyed 25 acres of ready-to-harvest wheat outside of Galetta near the Arnprior border.
Ottawa Fire Services (OFS) received a 911 call reporting a grass fire about the size of a vehicle at Thomas Elliot Road at Old Highway 17 today at 3:17 p.m.
West Carleton Online publisher Jake Davies happened to be at nearby Madawaska Golf Club at the time of the lightening strike which is believed to be the cause of the fire.
Around 3 p.m., roughly a kilometre away, a loud thump was heard, immediately followed by a very large thunder. No flash of lightening was seen by the eyewitness. Roughly five to 10 minutes later, large amounts of smoke could be seen over the trees. Minutes after that, large flames were seen travelling very quickly over a wheat field.
Roughly 15 minutes after that, the sound of firetrucks could be heard, presumably coming from Arnprior, which would have been the closes fire department to the fire.
OFS District 6 fire Chief Bill Bell reported crews from Kinburn, Fitzroy Harbour, Durobin, Carp and Constance Bay also attended the fire.
"Crews focused on the farm ouse and turned the fire back," Bell said. "Great job at a wheat field fire this afternoon."
"Arriving firefighters confirmed a working grass fire in a wheat field," OFS public information officer Carson Tharris released in a statement this afternoon. "The suspected cause was a lightning strike to a fence surrounding the field. The dry wheat was ready for harvest when it caught fire."
Dry, windy conditions helped spread the fire very quickly across the field.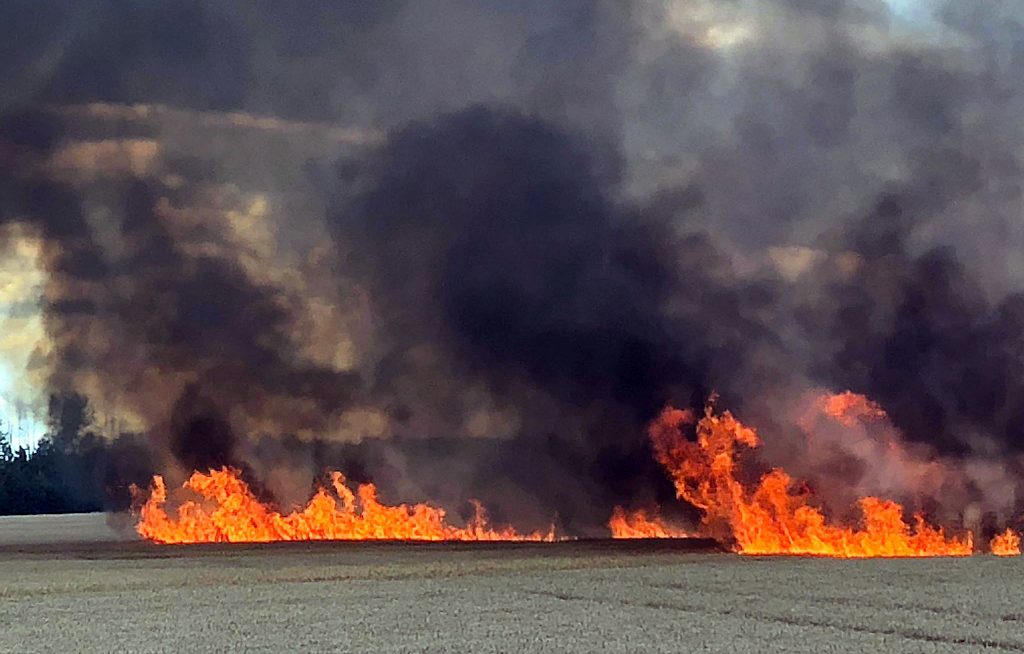 "The fire destroyed 20 to 25 acres of wheat and then extended slightly into green brush," Tharris said. "Firefighters were able to get the fire under control before it extended beyond the highway."
Old Highway 17 was temporarily closed due to the fire and the 417 Westbound was reduced to one lane.
"The fire was declared under control at 4:20 p.m.," Tharris said. "A loss stopped was declared at 4:20 p.m. An Ottawa Fire Investigator has not been requested at this time."
The OFS would like to thank the following agencies who collaborated to manage this incident including: Ottawa Paramedic Service, Ottawa Police Service and Ottawa Hydro.
"Our work together is based on trust, cooperation and a group commitment to service excellence and safety," Tharris said.
The OFS reminds you to call 911 as soon as it is safe to do so.
"Remember, you are our eyes and ears to the emergency," Tharris said. "Our dispatch staff will ask questions to help best locate the incident and assess the conditions surrounding the emergency. We encourage you to remain calm, answer the dispatcher's questions and to stay on the line until advised to hang up. Be safe when OFS crews are operating in your area. Best practice is to remain off the roads and at a safe distance from the fire scene or in your home."
---