Lifelong Inferno talks hockey past, future
ASHTON – While swinging golf clubs, more than anyone else that day, West Carleton Online caught up with career West Carleton Inferno (one year with Blackburn Inferno) player Ryan Nugent.
The 6'2", 175-pound forward was one of several players taking part in the West Carleton Inferno fundraising golf scramble held at The Canadian Golf and Country Club last Friday (Aug. 28).
Nugent was lucky enough to be part of the foursome that proudly brought home The Most Honest Golfers award. It wasn't even close.
Nugent, a rugged forward from Luskville, QC, joined the Inferno in its first and only year in Blackburn Hamlet, in 2017-2018. He moved with the team to West Carleton in 2018 and says its been great for him.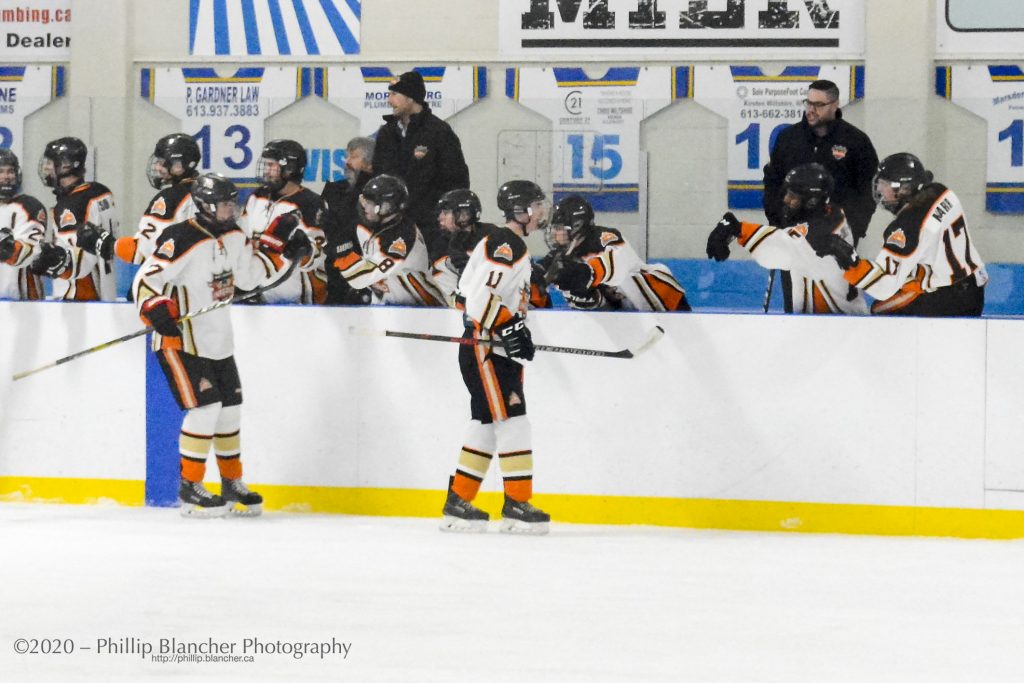 "It's been a really great time in West Carleton, the arena has been amazing and so have the fans that have come out," Nugent said. "The move from Blackburn Hamlet to West Carleton for me, hasn't been too bad. I'm from Quebec so the drive did become shorter. I have friends that live in the area, so it was nice to be in a familiar area for me."
Nugent says, when the service is running, he often takes the Quyon Ferry to home games. It's more than a 40-minute difference from having to cross at the nearest bridge.
Nugent, if he makes the team this year, will be an over-ager (21) and will be in his last year of eligibility as a junior player. It puts him in a challenging spot, as rosters have limited spots for over-agers.
But Nugent has an okay back-up plan on the go.
Nugent is in his third year at Carleton University getting his bachelor's degree in theoretical physics.
"I want to continue on in graduate studies in meteorology," Nugent said. "But I also would love to continue playing hockey too. It's definitely a work-life balance thing."
That is one of the nice things about playing junior C hockey.
"It's definitely do-able compared to Jr. B hockey where it's six nights, sometimes seven nights a week," Nugent said. "With this you have time you can reserve for schoolwork and the hockey, I find, is still of a great calibre. We still get out and practice. We play two times a week and come out at least three times a week. The guys are definitely here to win. We're here to have fun but we're here to win too."
In 87 career games with the Inferno, Nugent has 20 goals and 20 assists. Last year he added 48 penalty minutes to his stats.
The Inferno, who play in the 10-team National Capital Junior Hockey League (NCJHL), have improved in each of their seasons in West Carleton. Last year the team was in a playoff race right down to the second last game of the season.
"With the way the schedule worked out, it came down to kind of a three-game series with Metcalfe," Nugent said. "It didn't turn out the way we wanted it to, but from the way the team played, it could have gone either way. I was really happy with how the team played. It was unfortunate we didn't get the results we wanted."
Nugent expects that experience to carry over for the team's third year in West Carleton.
"I think this really shows we have improved in that one year gap from first year to second year and coming out this year, even with what's going on this year, we'll have guys come out and push that talent more," Nugent said.
Currently the NCJHL is planning for a season starting Dec. 1, but with the ongoing pandemic, nothing is for certain. The league held a meeting Aug. 17 "with all 10 teams expressing their intention to continue active participation in the league."
"While we wait for the Ontario government to release its updated Return to Hockey plan and move to a stage where regular competition would be allowed, based on the current information, the NCJHL teams are hopeful our regular season would begin on Dec. 1," the NCJHL released in a statement. "Our main concern always has been, and will continue to be, the health safety of our players, staff, officials and fans. We will continue to provide updated information as it becomes available."
Nugent expects players will be able to adapt.
"I think it will be a little hard on the guys maybe coming out a little later than usual, but I think everyone will be ready to go come December, and it will definitely be hockey weather," he said. "I think that will push guys to give it their all."
Another change returning Inferno players will face is two former teammates, will be stepping behind the bench.
Last year's Inferno captain Joshua McColl-Williams and leading scorer, Carp native Corey Symington will serve as assistant coaches this coming season.
"I think that shows the camaraderie amongst the players," Nugent said. "The friendships have been built and that shows how great the atmosphere in the room is. Winning is great, but when you have a room that doesn't get along, that's no fun. We haven't had an issue with that."
Nugent expects this is the year the Inferno make the playoffs.
"It's going to be a great year no matter how long the season goes," he said. "I think we'll get some guys out who will surprise us, I think we'll have a pretty good shot this year."
---