Legion: Meals on wheels a hit
CONSTANCE BAY – Branch 616 continues to respect the guidelines regarding the ongoing pandemic as the government dictates the changes it deems necessary.
We are presently enjoying hours of operation on Tuesday and Thursday from 2 p.m. to 10 p.m., and Friday and Saturday from 2 p.m. to 6 p.m. This will be the status quo into the New Year.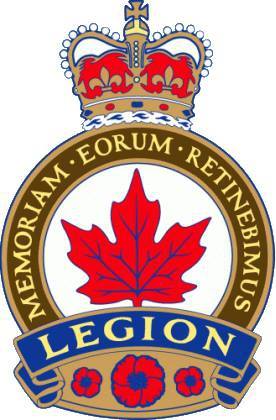 The 2021 Earlybird Membership Campaign is now over. Thanks to all the Earlybirds who took advantage of the discount and the draw for a refund, 60 per cent of the branch membership is renewed. There have also been a number of re-installments.
Plus, we have a record slate of new members:
Denise Brownlee, Glen Beck, Cindy Delahunt, Jake Davies, Kirk Harlow, Michele Harlow, Stuart Hodge, John Stopa, George Tiesma, Steve Wilson and Tom Zoobkoff, welcome to the roll!
Membership chair Kevin Johnson has submitted the new members' emails to the newsletter mailing list. The regular fee of $60 is now in effect, payable by Dec. 31, to remain in good standing. The lucky winner of the November membership is Rheal Ducette. Congrats, Comrade.
Ladies Tuesday Night Darts and Men's Thursday Night Darts are back and in full swing. The numbers are slightly lower this season due to the pandemic, but the fun and enthusiasm remain the same. Both the main boards and the basement boards are being used in compliance with the pandemic guidelines. For anyone still interested, spares are welcome.
Robert Paul Kavanagh received his Life Membership at the 616 Remembrance Day Service on Nov. 7. Kav served in the Royal Canadian Navy; is a long- standing Legion member; and a long-term past Sergeant at Arms, serving on many 616 executives.
Congratulations Kav, thank you for your service.
Meals to Wheels!
Thank you to everyone involved in the very successful Take-out TGIF Dinners. Cooks, kitchen helpers, students, runners, order takers, customers, the bartender (who has to keep the orders and the money straight) shoppers, etc. etc. – we appreciate your volunteerism. By the fourth dinner, they had it down to a system and everything ran smoothly.
So far, all dinners have been sell-outs. The branch heartily thanks the community for supporting this effort that helps to pay the bills. Thank you also for the generous donations to the building fund. Please note that the last two dinners of 2020 will not be on Fridays (see below).
Coming Up
Meals to Wheels Take-out Dinners!
Friday, Dec. 11: California Roast TGIF Dinner: This is a delicious dish composed of pork tenderloin wrapped in seasoned chicken breast, served with gravy, mashed potatoes and veggies, plus dessert. Vehicle pick-up only, no need to get out of your car. Pre-order by calling Anita 613-724-3551 or Rob 613-859-4250, pick-up at 5:30 p.m. $15.
Saturday, Dec. 19: Christmas Dinner by Harriet. Get an early turkey dinner cooked to perfection by Harriet. Please note this dinner is on a Saturday, the last one before Christmas. Do some early Saturday Christmas shopping, then pick up your turkey dinner at the Legion, go home, relax and enjoy. Vehicle pick-up at 5:30 p.m., $15. Please have orders in by the Thursday preceding.
Thursday, Dec. 31: New Years Eve Chinese Special by Vic! Start your celebration with a Chinese food feast by one of the best. Vehicle pick-up at 5:30 p.m. Special New Year's Eve price of $20 includes egg rolls, fried rice, more. Watch for the complete menu on Branch 616 Facebook page.
Jan. 1, 2021: New Year's Day Levee is cancelled. Due to the pandemic, there will be no levee this year. Perhaps you will partake of the New Year's Eve Chinese food special as a celebration. Happy New Year.
Friday Jan. 15, 2021: Cabbage Rolls by Lori-Ann. Delicious cabbage rolls with mashed potatoes, buns and dessert. Vehicle pick-up at 5:30 pm., $15.
Friday, Jan. 30, 2021: Butter Chicken by Anita. Another delicious dish. Menu to be announced. 5:30 p.m. pick-up, $15.
RED FRIDAYS – Please show your support for our troops and their families and to the families of the 158 soldiers killed in Afghanistan, by wearing red on Fridays.
---