Legion: Branch 616 re-opens again
CONSTANCE BAY – Branch 616 is strictly following the protocols set by the governments regarding the ongoing pandemic. The hours of operation are 2 p.m. to 6 p.m. Thursday, Friday and Saturday.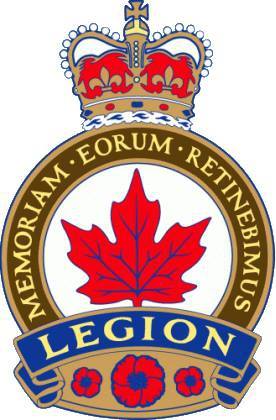 Masks are required unless eating or drinking, six-feet distancing markers are in place, entrances and exits are clearly marked. Tables and chairs are properly distanced and plexiglass barriers are in place around the bar.
Membership Chair Kevin Johnson reports there is still time to take advantage of the Earlybird Membership rate and inclusion in the free membership monthly draw. Renew in person at the branch, online at Legion.ca, or call Kevin at 613-832-3170. There is one month left to renew and still be eligible. Please consider renewing by Nov. 30. Starting Dec. 1, draw will be over, and memberships will be the regular price of $60. Also, welcome to past members who wish to be reinstated. The Earlybird winner for September is Bruce Penney, and for October Don Pajot. Congratulations comrades.
The Poppy Campaign began on Friday Oct. 30. Poppy Chair Bogdan Procyk and the Poppy committee distributed poppies to various businesses and stores including Sobey's, Metro, and the LCBO. There isn't any poppy volunteers stationed at these stores because of COVID-19 but our poppy donation trays are displayed and we are checking them daily. The Poppy Campaign is on until Nov. 11.
Branch 616 Remembrance Day was on Saturday, Nov. 7. The COVID-19 situation dictates a scaled back observance this year with no parade or guests or refreshments. Wreaths were for sale and will be laid at the cenotaph by the branch. To see West Carleton Online's coverage of Branch 616's Remembrance Day, click here.
There was plenty of positive feedback on our first two take-out dinners, both sell-outs. More dinners are planned for the upcoming months.
Past Events
Oct. 9: Thanksgiving Turkey Dinner. The first dinner since the branch was closed in March was a sellout with 150 meals going out the door. Thank you to Harriet for cooking her famous turkey dinner. Thank you to everyone who helped make this happen.
Oct. 30: Oktoberfest Schnitzel Dinner. The service at this event went smoothly thanks to the routine established by our takeout turkey dinner. Anita cooked up 130 schnitzel dinners and there were no leftovers. Thank you to all the volunteers who made this another success for the branch and the community.
Coming Up
Friday November 13: Arleen's Homemade Lasagna Dinner: $15 Call Arleen at 613-800-5057. Take-out only. Pick up 5:30 p.m. to 7 p.m.
---