Langstaff development piquing interest
CARP – A development project off Langstaff Drive beside the Carp Fairgrounds has raised a lot questions in the community heading towards on Oct. 27 public meeting about the project.
The Stirling Group forwarded a draft plan of a subdivision referred to as Huntley Hollow and a zoning bylaw amendment to accommodate the development of a 193-unit residential subdivision using a mix of townhomes and four three-storey apartment building units with a primary access to 147 Langstaff Dr.
The property is located north of Donald B. Munro Drive and bound between Carp Road to the west and Langstaff Drive to the east. The property is located beside the Carp Fairgrounds. The parcel of land is approximately 18 acres with about 365 metres of frontage on Langstaff Drive.
The property is bisected by a gully with water through it for most of the year. On the east side of the watercourse, the applicant is proposing eight townhomes and three apartment buildings. Two will have 18 units and one will have 60 units. On the west side of the watercourse, 57 townhomes and one 32-unit apartments are proposed. A club house for residential use is also part of the project as well as a pedestrian pathway system providing access to both Carp Road and Donald B. Munro Drive.
The applicant's zoning bylaw amendment asks the city to re-zone portions of the property to permit townhouse dwelling units and low-rise apartment buildings.
Landowners Kyle MacHutchon (Inverness Homes) and partner Melissa Kruyne (KOTT Landscaping) say they are building a community targeted at the 55-plus demographic.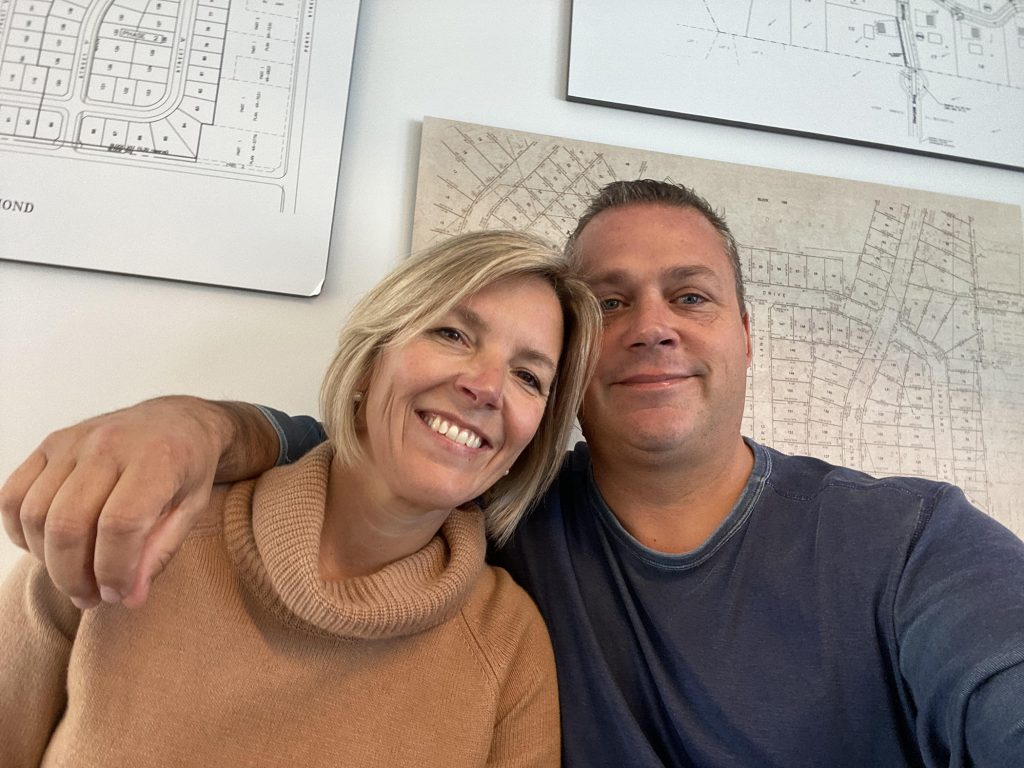 "Nothing has been approved," MacHutchon told West Carleton Online this morning (Oct. 15) from their Carp Road-based office. "The numbers are going to move around. But we are planning to design, build and manage a rental community in the area."
MacHutcheon says Huntley Hollow is targeting "people who have family in the area and are looking to downsize."
There will be lawn maintenance and a snow clearing service. As mentioned, the development has a club house that acts as a community centre for the project. It will have lawn bowling, a social room, recreation facilities and a concierge service. The owners are proposing a car-sharing service as well to help residents get away from their own cars and the accompanying bi-monthly payments.
"It's independent living but there is always someone to help," MacHutcheon said. "That's our vision and we're going to own it as a family."
The partners own apartments in Carleton Place, Almonte and Stittsville with a similar clientele.
"We have a rental portfolio," Kruyne said. "We ae in the rental business, but we have never marketed it as such, Kyle's vision is to build a community. It's for people who enjoy village living and don't want to isolate as they grow older."
The partners, both longtime West Carleton residents, Kruyne's family moved to Dunrobin in 1989, say they know the community well and are building something that will fit in, not stick out.
Architect Malcom Wildeboer created the design plan for the project. His work is well known in the Carp-area as he worked on Alice's Village Café, The Cheshire Cat and the Carp Commons to name a few.
"He's cognizant of the community," Kruyne said.
But, nothing has been approved yet.
"We're still waiting to hear back from the city and the community, but we like it," Kruyne said. "We're putting our best foot forward. Everything might change, but the flavour of the community we're trying to build will not change and the village feel will come through."
The partners say they will be at the Oct. 27 virtual public meeting.
"Hopefully it will put a face behind the project," MacHutcheon said. "Someone is going to develop this land. We're very happy it is us. We want to do something good for the community. We're going to do it tastefully and thoughtfully. It's targeted at the 55-plus demographic. That's us, basically."
The land the project is earmarked for has a public history to it. When it first became available for purchase in the early 2000s, a group of residents with the city's assistance kicked off a project called Buy the Village Green, to purchase the property in order to keep it as a greenspace for the village or propose light development in order to build a small attraction. The project was led by area farmer Stan Carruthers and Wendy Deugo.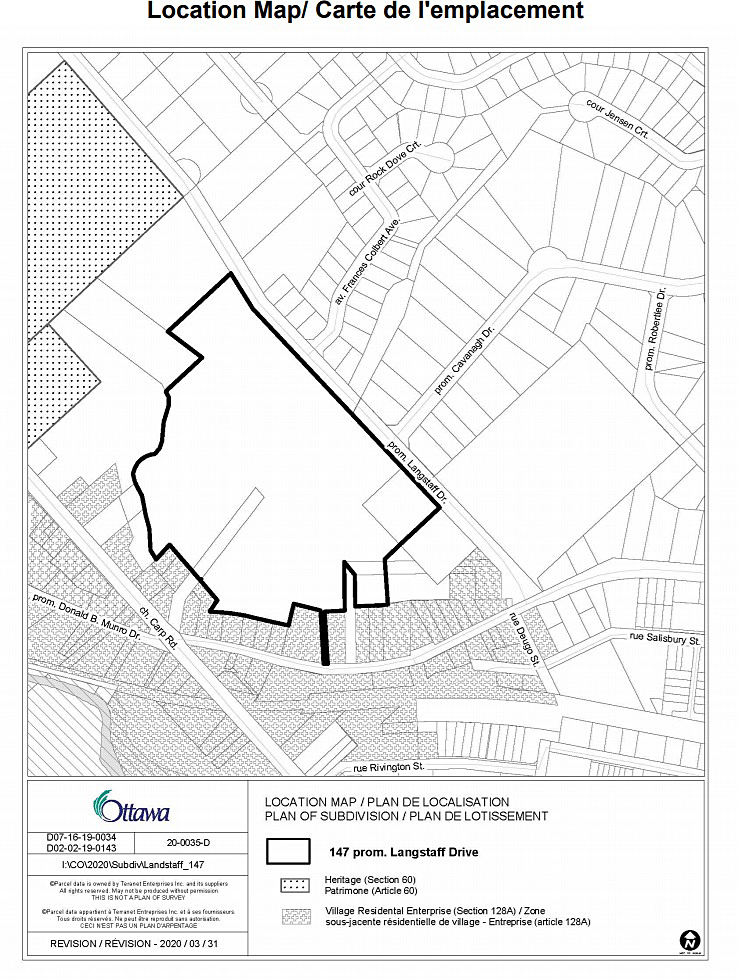 The project a few hundred thousands dollars but could not keep up to the rising cost of the valuable property.
By August, 2019, West Carleton Online was reporting the sellers were asking for $5.2 million for the property.
That recent history, plus the nature of the rental-focused property, has raised concerns among village residents. Hundreds of comments have filtered in to the Huntley Community Association's Facebook page which regularly provides information on development projects within and around the Village of Carp.
"The fundraising went on for two or three years," village resident Allan Joyner told West Carleton Online yesterday (Oct. 14). "It dragged on until it was apparent it wasn't going to happen. There should have been at least a meeting to see what's going on with the land and what the community wanted."
Joyner says roughly 500 people had raised the six figures for the Buy the Village Green project.
"The clear will of the community to have that land as greenspace was pretty evident," Joyner said.
Joyner says the community members he has spoke with fear the idea of the project being a rental space.
"They'll have no control who rents it," he said. "They are saying they are looking at 55-plus, but they're not going to say no. It could go well and be a perfect community in 10 years, or it could be a disaster."
Joyner thinks planners may have underestimated the amount of vehicles accommodated in the project as well.
"They're assuming less than one car per unit," he said. "I think that's a serious underestimation. If they are seriously underestimating the amount of parking, they're seriously underestimating the challenges of the traffic."
Joyner knows development is coming to the area but thinks all Carp residents should pay attention to this project – which would be the largest development in the village in decades.
He is unsure if a public Zoom meeting is a sufficient communication tool for this project.
"It's a Zoom meeting and they are totally useless for these kinds of things," he said. "People like to talk to each other. There's an energy in a public meeting."
But he hopes the community attends anyway and makes their wishes known.
"This one is important," he said. "We have to build public pressure. You're not going to stop it, but it has to match the village character."
Coun. Eli El-Chantiry, who will be leading the Oct. 27 public meeting, was a member of the Buy the Village Green project and obviously represents the city on this project.
"Good people are paying attention," El-Chantiry told West Carleton Online yesterday (Oct. 15).
He remembers the Buy the Village Green project vividly.
"Obviously we didn't raise enough, and we lost the opportunity to purchase the land," he said. "We tried everything we could as a community and a city. The property was going up and up in price and our fundraising trailed off. It's nothing new. That valuable piece of property was going to sell."
El-Chantiry says the money raised for the Buy the Village Green project went to another important local greenspace project.
"We asked the donors if they would donate to the Ducks Unlimited project," which purchased roughly 344 acres in 2018 off Glenncastle Drive to be protected as greenspace.
Some of the money went back to the donors as well, El-Chantiry said.
El-Chantiry says while Facebook may have been hopping, it did not translate in to a large number of official comments.
"Some 100 comments on Facebook turned in to about five emails," he said.
The public comments submission period officially ended Oct. 9, but development review planner Sarah McCormick says she continues to accept comments leading in to the public meeting.
El-Chantiry says he has spoken with the developers and is keeping an eye on the project as well.
"Of course, everything concerns me," he said. "I live there to. We identified that property as medium density. We talked to the developers and suggested locating the apartments near the medical centre side. We asked for underground parking."
El-Chantiry says now is the time the community should put forth its suggestions as well.
"Whatever the community wants to see, they should send to us," El-Chantiry said. "I don't think people should be surprised to see the property developed, it's a valuable property. Now is the time to have your questions. If its because you like your dog to run there, I think that's not going to hold water. But some of the emails have thoughtful questions. One asked if we are planning on opening John Street to the community. That's a good question. That's something worth discussing. We like ideas like that."
El-Chantiry points out this public meeting is for a zoning amendment and site plan approval comes later down the line.
"By all means we're open for discussion," El-Chantiry said. "Any good idea to make it better. But it's going to happen."
When a registration link to attend the public meeting becomes available, West Carleton Online will make it available. If you would like to send the review planner Sarah McCormick a comment, you can do so at sarah.mccormick@ottawa.ca or call 613-580-2424 ext. 24487.
---