KIN folk dine in the vines
CARP – Through a summer with absolutely nothing going on, KIN Vineyards has dreamed up new ideas and are giving people a place to go on a Friday night.
Last Friday was the fifth Food Truck Friday hosted by the Carp-based vineyard. It's been a great success.
"It's a hit," co-owner Lorraine Mastersmith told West Carleton Online Friday (Aug. 14) as the event was beginning to wrap up. "We've turned our vineyard in to a 47-acre patio."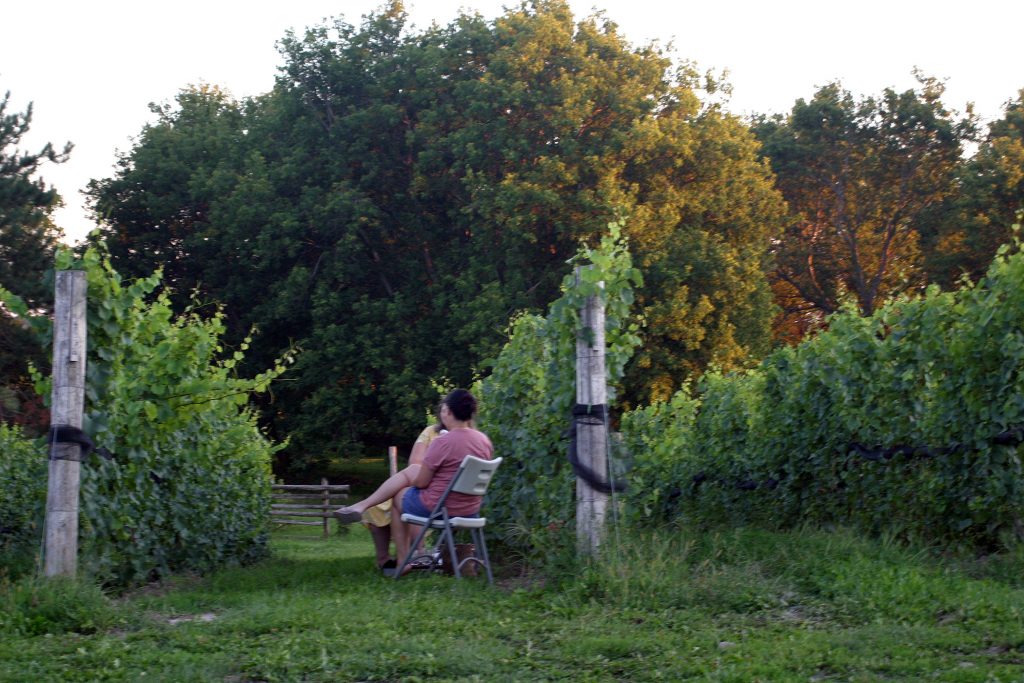 Once Ottawa moved in to Phase Three: Recovery (July 17) of the provincial action plan in response to the COVID-19 pandemic, Mastersmith and her husband Shaun McEwan introduced Food Truck Friday at the vineyard. A way to get visitors to come to the winery, enjoy the ambience and scenery, and make an evening of it.
"Everyone is bringing their kids and blankets and having a picnic and a great time," Mastersmith said.
So far, KIN has hosted two different food trucks that have been rotating in on Fridays – Foodie Lu, Italian inspired street food and Big D's Dog House and Pouting Emporium. The Homespun Ice Cream trike has also been by a couple times to offer desert.
Mastersmith, who purchased the vineyard with her husband Shaun McEwan from Kinburn's Chris van Barr last fall, says making KIN Vineyards a destination more than just a place to purchase wine was always part of the plan, not necessarily a pivot due to the pandemic.
"I think COVID-19 just made us do it a little quicker," Mastersmith said. "With people hankering to get out and not be on top of each other in a patio, it just made sense."
As Phase Three restricts gatherings to 100 people, there is lots of room for people to find a beautiful spot on the vineyard and enjoy their evening. And it seems that is exactly what people want.
"The first Food Truck Friday was on a whim," Mastersmith said. "We mentioned it two days before on social media and it was full. Now, people are contacting us if we don't post about it Monday morning. I think we bought out every single Adirondack chair at DEKA, and we got the barrel-tables from The Country Cooperage just down the road. We had no idea what to expect, it was very surprising to us so many people wanted to have a poutine and a glass of wine."
KIN has also seen a huge increase in online ordering since the pandemic.
"Before March 15, I think we had one order," Mastersmith said. "Since then, close to 1,300. That was amazing."
Next week, KIN will be adding live music to the atmosphere. Next Friday (Aug. 21) musician Jojo Mason will be performing at the vineyard. KIN will be hosting an intimate afternoon concert starting at 2 p.m. (tickets available here). The doors open at noon. The concert will end at 3 p.m. and then Food Truck Friday will begin at it's usual time after that.
While socializing is great, KIN's focus is still on producing great wine, and Mastersmith says that will continue after a fine growing season so far.
"The crop looks amazing," Mastersmith said. "Our wine maker says it's the best crop we've had yet. The vineyard is six years old and is really maturing. Brian (Hamilton) says he expects we will get 1.75 to 2 tonnes per acre. Last year we got around 1.3 tonnes. That's about 1,000 cases of wine."
---