Kai says bye in the Harbour
FITZROY HARBOUR – It was a little celebration in a park across from Kai Zhang's corner store, to say goodbye to an entrepreneur who has served her community for 12 years.
The Fitzroy Harbour Community Association wanted to make sure Zhang new how much her community appreciated her after 12 years as the proprietor of The Harbour Store, so they threw her a small party outdoors in Baird Park located right across the road from Fitzroy Harbour's community hub.
A convenience store, a liquor and beer store and the post office, Zhang, a Kanata resident, is a well-loved community member who provided services to the Harbour community with a smile on her face every day.
Zhang emigrated from China 18 years ago. She lived in Gatineau with her husband Juhong before moving to Kanata. Once there, Zhang wanted to purchase a business and found the Harbour Store up for sale.
"Most of my Canadian life is here," Zhang told West Carleton Online Tuesday (Sept. 15) from Baird Park. "It's a real nice community."
Zhang's son Kevin was one-year-old when she took over the business. Now he's heading in to Grade 7. Her daughter Kathleen is in Grade 11.
Zhang said the family moved to Kanata due to the language barrier in Gatineau. English is her second language. French is not a language she is strong with. The parents wanted their kids to attend an English school. Her husband works in information technology in Kanata.
"I looked for some businesses and found this one," Zhang said. "I worked during the daytime. All the staff I hired lived in the village. I would hire students just to keep kids busy. I watched them grow up. It's really, really emotional. This community is really close, loving and caring."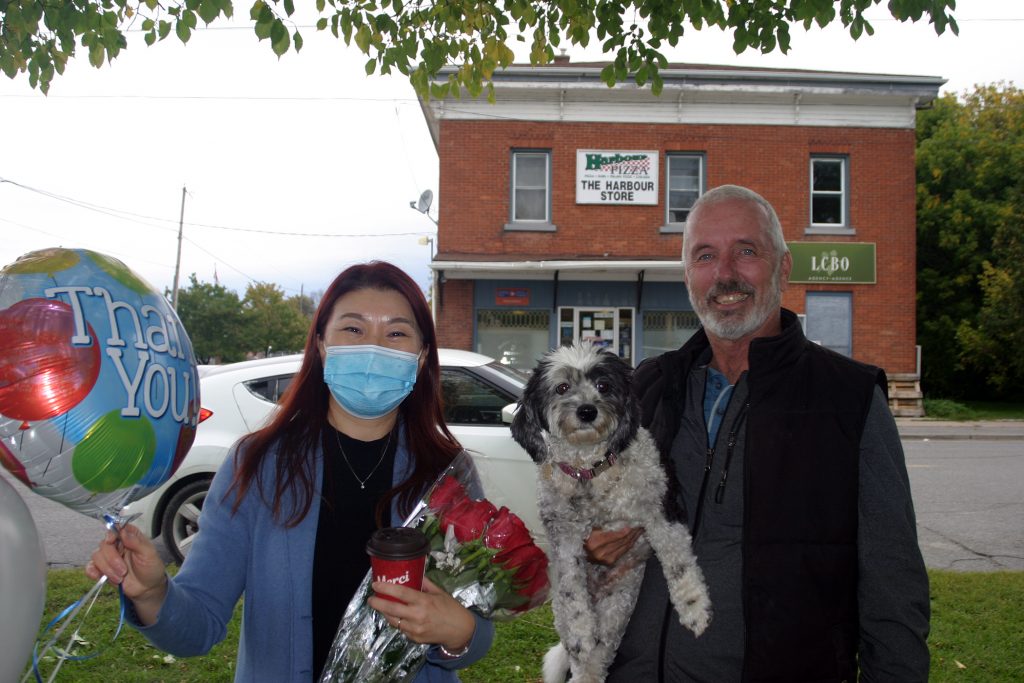 Zhang learned just how caring Fitzroy Harbour was when she went through a huge battle with Canada Post in 2010 that ended up in court.
The post office was one of the reasons Zhang bought the store. She had every intention of running it as part of the business. Zhang applied for the postmaster job expecting she would only need to pass a basic French exam. She was then told she had to be fluent in both languages and apply for the position like everyone else.
The post office, serving roughly 1,000 people in the area, had been a part of the store for more than 100 years. Previous store manager Sonya Cathcart, in 2010, said the general store owner had always run the post office.
"The assumption was made that it would continue," she told CBC at the time.
"There are several criteria that need to be met before we appoint a postmaster," Canada Post spokesperson John Caines said in 2010. "We decide who runs the post office. Just because there's a sale of business doesn't mean the post office goes with it."
English is the dominant language in Fitzroy Harbour, and all West Carleton. In the 2016 census of the Kanata-Carleton Riding (which obviously includes the roughly 80,000 Kanata residents), of the 110,315 residents, only 415 speak French only.
Zhang had to interview for the job with no guarantees she would be the one selected.
Eventually Zhang received a public apology from Canada Post delivered in front of more than 140 people during a public meeting at the Fitzroy Harbour Community Centre.
What she didn't receive, was pay. When Canada Post backed away from their threat to move the post office, and gave Zhang the position, they simply disappeared.
"At the beginning, their employee resigned," Zhang said. "They didn't send anyone to replace her. So, I did it for five years without getting paid. After five years, I said enough. I was treated badly. I took them to court and won the case."
Zhang said the community was there for her the entire time.
"The whole town stood behind me," she said. "They saw it and supported me. They took care of my business and my family."
Eventually everything was settled in 2015. And now (Tuesday) the community is gathered on the grass of Baird Park with treats, lemonade and even champagne and flowers for Zhang.
"They're just trying to make me cry," Zhang said with a laugh. "It's a real family community."
While the community endeared itself to Zhang, so did Zhang endear herself to the community.
"If you ever needed to know anything, you just ask Kai," former resident Brian Wallace said.
"Lost keys, lost dogs, just come ask me," Zhang said.
Dogs are a specialty of Zhang. In fact, four-legged friend Mookie also came to the party to say goodbye.
"Mookie is Kai's best friend in the world," Wallace said. "He would come by every day."
Zhang made lots of human friends as well, as the crowd at the park attests.
""Kai, I cannot remember ever seeing you without a smile on your face and laughter in your voice," Benoit Robillard posted on social media. "I know that is not always an easy thing to pull off. My daughter respected and admired you as her employer and I thank you for that as well. This community and its Harbour Store have been well served by you to say the very least. Congratulations on the sale of the store. We didn't see each other often but I'm going to miss you. My very best to you and your family."
---