Former WC teacher, Lorne Sutherland WI member McClure passes
WEST CARLETON – Long-time Kinburn teacher and community volunteer Berna McClure passed away on Wednesday, July 8.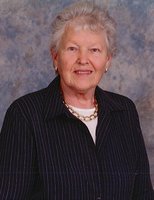 She was 79.
McClure is best known in the community by thousands of Fitzroy Centennial Public School graduates for her time spent at the now-closed school teaching skills and values to the community's next generation of leaders. McClure was also a long-time member of Galetta's Lorne Sutherland Women's Institute which celebrated 100 years in June, 2019. The organization has disbanded since that time.
When McClure wasn't fulfilling her teaching duties, she was hard at work on the family farm in West Carleton.
"Berna enjoyed both her teaching career and daily life working on the dairy farm," family wrote in McClure's obituary. "She gave her time freely as a devoted member of Grace St. Andrew's United Church and Lorne Sutherland Women's Institute and volunteered many years with the Arnprior Hospital Auxiliary. She was known for her wonderful baking (A+) and was an avid bowler. She enjoyed travelling the world with her friend Barb Paul. She was admired by her family and all that knew her as a dear friend."
For McClure's entire obituary, click here.
---