Family Day great for a skate
WEST CARLETON – Family Day was a great day for a skate no matter where you strap on the blades in West Carleton.
While Saturday and Sunday were dominated by ice fishing derbies, Monday (Feb. 17) was set aside for skating.
The Corkery Community Association and Kinburn Community Association both hosted Family Day skates at their community centre ODRs.
West Carleton Online was unable to make those fine events, but we did make it to Coun. Eli El-Chantiry's annual free skate at the Kinburn Cavanagh Sensplex.
That's where we ran in to a whole family of ringette players taking advantage of a little free ice time.
"Mom, aunt, nana," Heather Bangma told West Carleton Online from the visitors' bench. "I've done some refereeing too."
Bangma has played ringette for 30 years and currently plays open A with the Tux Express.
Valerie 'nana' Buchanan (see photo above) has been playing ringette since 1972 including a long stint with the West Carleton Tigers and now with the Goulbourn Shooters.
Cameron Bangma, four months, Tenley Bangma, 3, Everly Wells, 3, and Haiden Wells, 7, aren't on the ring yet, they're eager for a skate and will be joining the family business soon.
Meanwhile, back in the Corkery area, there was another huge Family Day skating party. West Carleton Online introduced you to Jarrett Gibbons earlier this week. His outdoor rink is the best in Ottawa according to the Ottawa 67's junior hockey club, so it's no surprise the winter wonderland was the place to be last Monday. More than 75 enthusiastic skaters joined the Gibbons family on some of the best pond ice found anywhere.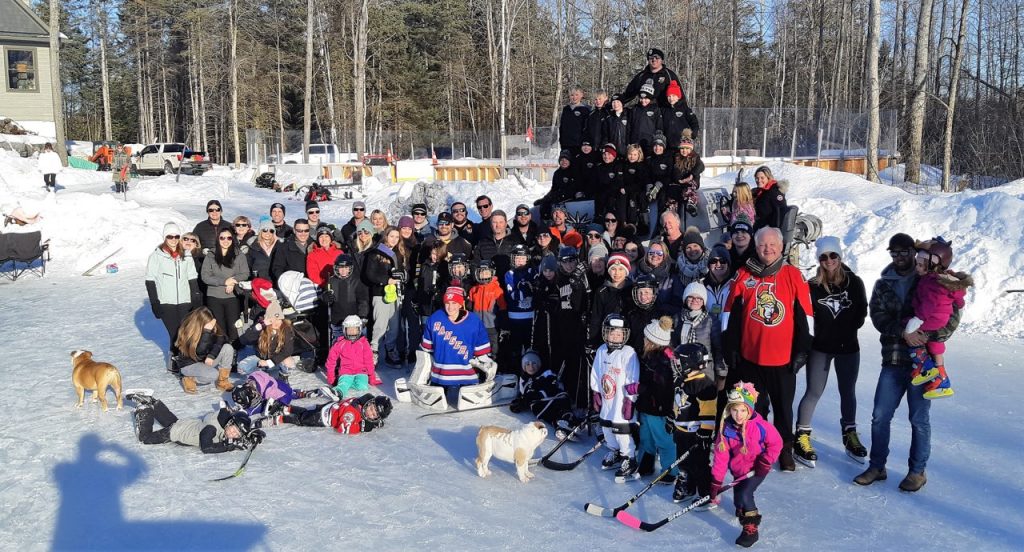 ---