El-Chantiry: Ward 5 weekly news, March 2
COVID-19 – LATEST NEWS
Bookings available for eligible residents to receive the COVID-19 vaccine:Bookings are now available for COVID-19 vaccinations for some Ottawa residents. Residents who were born in or before 1941, or who are adult recipients of chronic home care, and who live in the following communities are eligible to receive their vaccine starting Friday, March 5:
Emerald Woods 
Heatherington 
Ledbury 
Heron Gate 
Ridgemont 
Riverview 
Sawmill Creek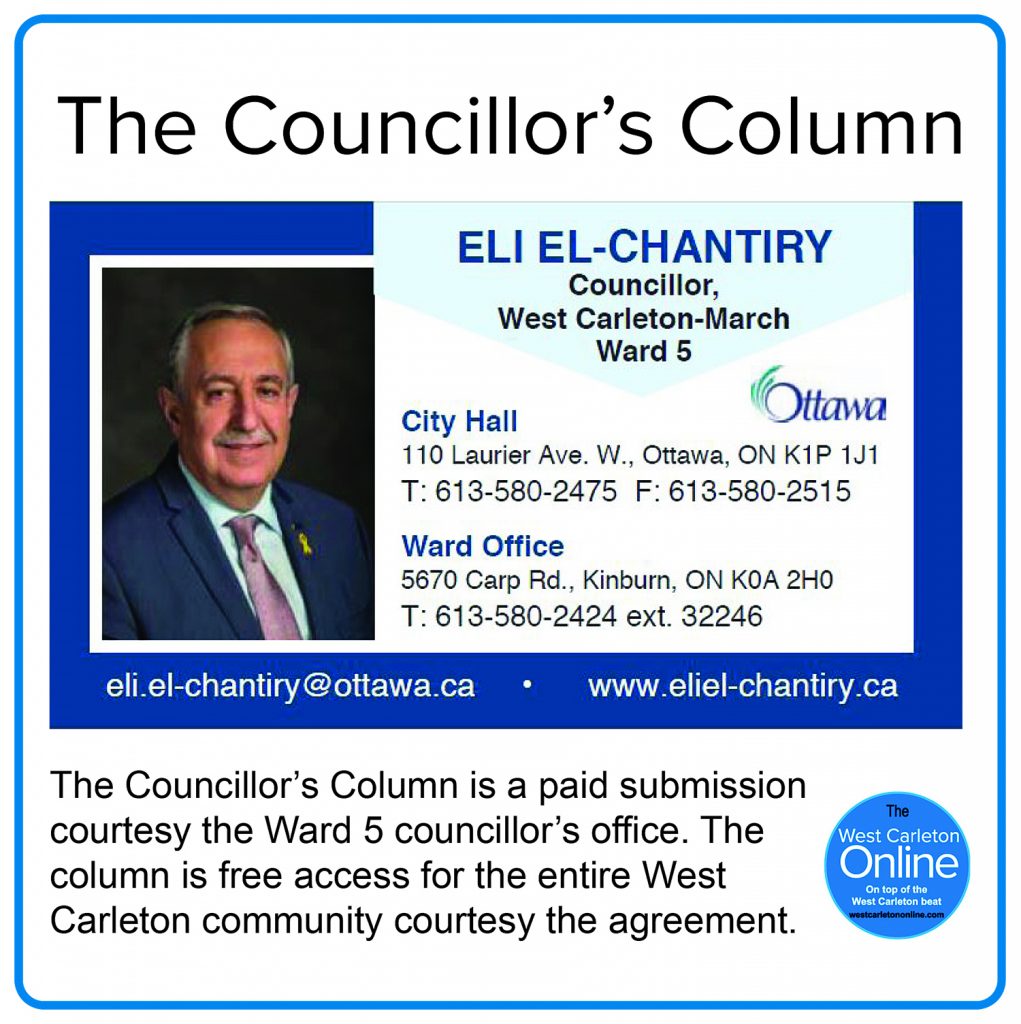 To confirm that you are eligible for vaccination, please visit Ottawa Public Health's COVID-19 Vaccine Eligibility Screening Tool. If you are eligible, please call 613-691-5505 to book your appointment.
Service providers can take your call between 7:30am and 6pm, Monday to Friday, and 8:30am to 4pm Saturday and Sunday. Service is available in multiple languages. Walk-ins will not be accepted, so please call in advance to book your appointment.
 
The City and OPH are asking residents who are not eligible for this week's vaccine pop-up clinics not to call this booking phone line, as it is only for eligible residents. Please help keep phone lines open for those who are eligible to receive a vaccine. 
 
Pop-up clinics will be operating in these locations. Dates and times will be confirmed when you make your appointment.
Albion Heatherington Community Centre, 1560 Heatherington Road 
Sawmill Creek Pool and Community Centre, 3380 D'Aoust Avenue 
Assunnah Muslims Association Community Centre, 1216 Hunt Club Road
Accommodations will be made for residents who need help with accessibility and all sites are accessible. If you are a Para Transpo user, you can book your ride to the pop-up clinic like you would normally do. If a transportation option is not available to you, you can request a ride to and from the clinic when you book your vaccine appointment.
 
If you were born in or before 1941 or are an adult recipient of chronic home care and do not live in these neighbourhoods, you are not eligible for a vaccine at these pop-up clinics.  This is due to the limited supply of vaccines. Additional pop-up clinics in more neighbourhoods will be announced next week. 
 
Community Vaccination Clinics are also expected to open later in March for all other Ottawa residents who were born in or before 1941, or who are recipients of chronic home care, pending vaccine delivery. Booking for these appointments will begin in mid-March. In addition to the Community Vaccination Clinics, the City will also establish mobile vaccination sites for the rural communities of Ottawa. Mobile sites will be operational based on vaccine supplies available and will be done using an appointment booking system. More information will be available in the coming weeks on how to book these appointments. Please do not call the booking phone line regarding these appointments at this time. 
 
Due to the current limited supply of vaccine, those who are at the highest risk are being vaccinated first. Rates of COVID-19 in the neighbourhoods where residents are at highest risk of the virus are on average five times higher than in the rest of Ottawa. In some cases, they are 16 times higher. Risks for hospitalization and death are also higher. Limiting hospitalizations will help the whole community and protect our health care system.
 
Pending vaccine availability, vaccinations will be rolled out in the coming weeks to more neighbourhoods where residents are at the greatest risk of COVID-19. 
 
Residents of all ages who are not yet eligible for the vaccine are encouraged to follow announcements on the City of Ottawa and OPH websites and social media channels, and from your local news media to learn when they can receive their vaccine.
 
The Ontario government has identified adults aged 80 and older and adult recipients of chronic home care as priority groups to receive COVID-19 vaccinations during Phase 1 of the vaccine distribution plan. Please refer to the graphic below for details on other priority groups within Phase 1 of the plan. Caregivers, partners or roommates who were born after 1941 are not eligible at this time.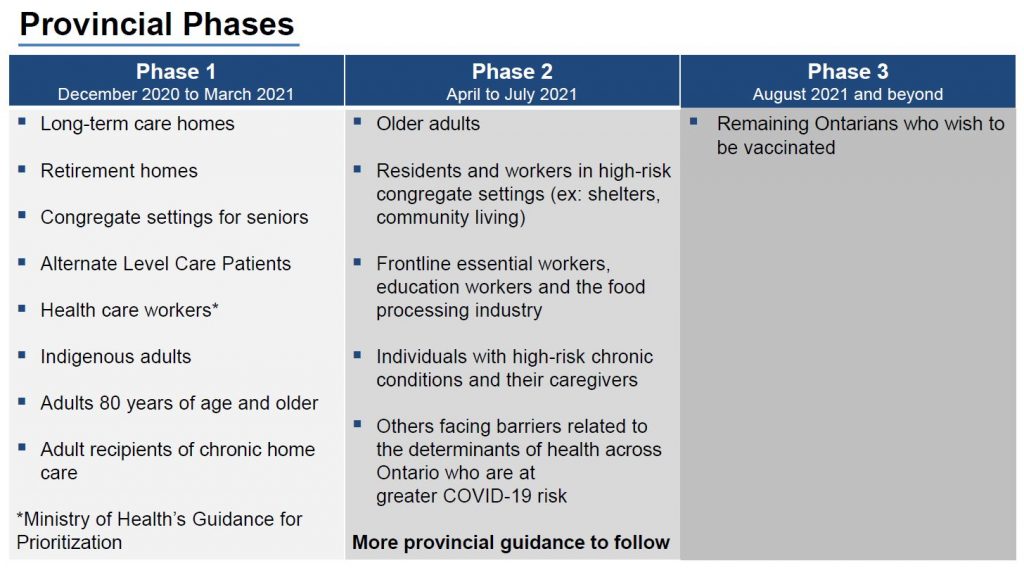 CITY'S SPRING RECREATION & CULTURE EGUIDES NOW ONLINE
The Spring 2021 recreation and culture eGuides are now online offering COVID-modified aquatics, inclusive recreation programming and virtual courses for every interest and age. Aquatics registration is Monday, March 22 at 9pm and registration for inclusive recreation and virtual programming is on Tuesday, March 23 at 9pm.
Aquatics programming – registration on Monday, March 22 at 9 pm: Low-ratio Aquatics is one of the in-person COVID-modified programming options offered this spring in both English and French:

Learn to Swim 
Leadership and life-saving certifications
Private lessons
Inclusive recreation swim lessons
Power Swim
Aqua Fitness

Virtual programming – registration on Tuesday, March 23 at 9pm:In the comfort and convenience of home, spring onto your computer device to learn to strum a new note, heighten your palate to find a good merlot or chardonnay, cook a taste of Tuscany, discover your artistic side, or get your heart pumping. Courses, offered in French and English, include:

Fitness – yoga, prenatal yoga, Zumba, older adult exercise, cardio workouts, and martial arts
Culinary specialties – Taste of the World cooking and wine tasting 
Arts – crafts, painting, cartooning and animation
Language lessons – Spanish and French
Dance – hip hop, contemporary, jazz, belly dancing and ballet
Science, Technology, Engineering and Mathematics LEGO® – junior introduction to robotics, engineering and electronics 
Music – guitar, ukulele
Registration is easy. Explore the eGuides to select the program that interests you and follow these simple steps:
Go to ottawa.ca/recreation or ottawa.ca/virtualprograms and click on the guides.
Click the relevant barcode – it will take you to join.ottawa.ca and the course page, with details about the number of spaces available, fees and dates. 
Add the class to your cart and then proceed through the checkout. We'll email you your receipt.
CONSTANCE BAY LEGION – MEALS TO WHEELS TAKE-OUT DINNERS
The West Carleton Legion, Branch 616, in Constance Bay (377 Allbirch Rd.) is offering their "Meals to Wheels" bi-weekly TGIF take-out dinners. So far, the meals have been fantastic. The upcoming dates and meals being planned are: 
Friday, March 12: Roast beef, mashed potatoes, gravy, veggies, rolls, cherry cheesecake. $15. Order by March 9. Vehicle pick up only at 5:30pm. Cash or card. 
Wednesday, March 17: In honour of St. Patrick's Day, Irish/Canadian stew with potatoes, onions, veggies, loaded with beef, cabbage on the side, bread, green dessert. $15, 5:30pm pick up. Cash or card.
Friday, March 26: Chicken Parm. Menu TBA.
To order, contact the Legion at 613-832-2082 or woodlawnlegion@gmail.com. Visit the Legion's Facebook page for more details.
CARP AGRICULTURAL SOCIETY – IRISH STEW DINNER
Celebrate St. Patrick's Day with a Irish Stew Dinner provided by the Carp Agricultural Society. You must pre-order by March 11.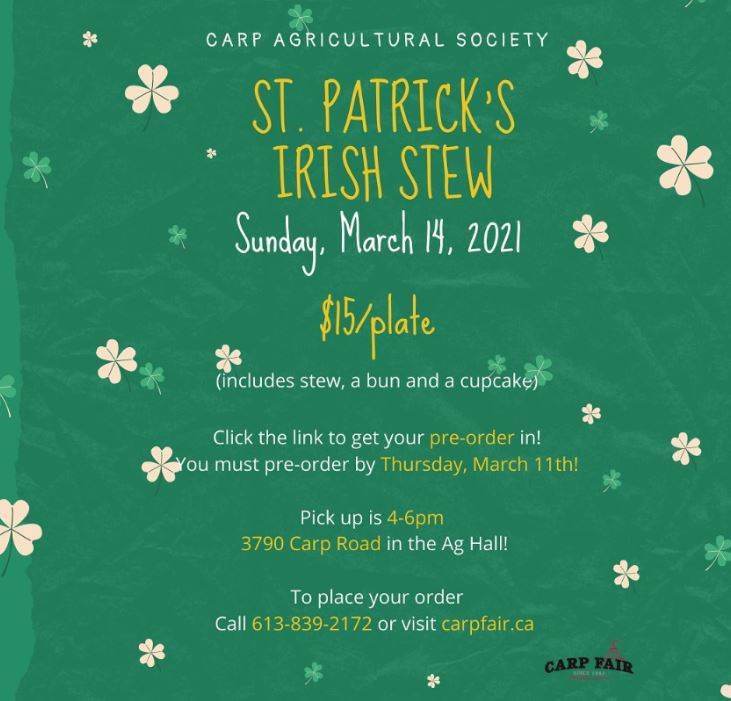 IS YOUR COMMUNITY #FLOODREADY?
Join the Weather Network, the Canadian Red Cross and Public Safety Canada for a #FloodReady Facebook Live event. 
Tune-in Monday, March 9 at 6pm ET
See real-life stories of Canadians helping their community overcome flooding events
Learn how you can mitigate risks of spring flooding in your own home and community
Watch LIVE on Facebook here
On a related noted, as we head into the spring season, now is good time for residents of flood prone areas of Ottawa, to start reviewing information on flooding and flooding readiness. Below are a few useful links to keep you informed as warmer weather approaches. The City of Ottawa is currently updating their 2021 Spring Freshet website and this will be live soon.
HUNTLEY TOWNSHIP HISTORICAL SOCIETY PRESENTATION
The Huntley Township Historical Society presents guest Speakers Linda and Howard Healey who have published The History of the Huntley United Cemetery. Tuesday, March 16, 7:15pm. Via Zoom. No cost.  Everyone welcome. Email Roger Thomas to register and receive a link to this meeting: Huntleyhistory@gmx.net. For information: Suzanne 613-839-5203.
FREE WEBINAR – UNCOVER YOUR FARM'S PROFITABILITY
FCC Webinar: Uncover Your Farm's Profitability is an upcoming free webinar taking place Tuesday, March 23, at 11am, hosted by Invest Ottawa/Area X.O. Join speaker Laurier Poirier of FCC's AgExpert to learn how to use the digital tools available to to make the most of the financial records that are already tracked. For more detailed information on this webinar and to register go here.
ARAC – UPCOMING MEETING
The next regularly scheduled Agriculture and Rural Affairs Committee (ARAC) meeting is Thursday, March 4 starting at 10am. CLICK HERE to review the agenda. This meeting will be held via electronic participation. The public can watch live via the City of Ottawa's YouTube channel.
CITY COUNCIL – FEBRUARY 24
City Council met on February 24 and the following items were tabled:
Council approved the heritage application required for the proposed addition to the Château Laurier hotel. Developed in consultation with Heritage Ottawa, the latest design proposes one 10-storey and one 11-storey tower, extending the wings of the existing hotel toward Major's Hill Park. A two-storey base will join the two towers.  The hotel is designated under Part IV of the Ontario Heritage Act, which means the proposed addition cannot compromise the historic building's heritage value in terms of landmark character and architectural style. The approved changes from the previous seven-storey design open up views into the centre of the historic building when seen from Major's Hill Park. The revised design also uses materials drawn from the historic building to minimize its visual impact on the Château and its surroundings, cladding the two towers in Indiana limestone and accenting the roofline with bronze panels and fins. The building design and landscaping will contribute to the public realm, connecting with Major's Hill Park, improving publicly accessible areas and making better pedestrian connections across the property between the ByWard Market and the Rideau Canal. 
Council received an update on the City's COVID-19 vaccination efforts. Second doses of the vaccine have now been made available to residents at all 28 long-term care homes, and first doses have been made available to those at all 82 designated retirement homes. Ottawa is administering vaccines in accordance with Phase 1 of the Province's three-phase distribution plan. Adults aged 80 and over are now among the priority groups being offered vaccines, joining essential caregivers of long-term care and retirement homes, priority health care workers, Indigenous individuals, and adults receiving chronic home care. The City is readying up to seven community clinics. Together with The Ottawa Hospital clinic and a second possible clinic at Queensway Carleton Hospital, this would give Ottawa the capacity to provide 380,000 vaccines per month when vaccine supply increases. Additional capacity is possible with mobile vaccination teams, pop-up clinics, pharmacies and primary care providers. For more information about vaccinations, please visit our COVID-19 webpage.
Council also approved updated standards for emergency shelters and new standards for transitional housing programs that outline minimum guidelines for governance, operations and service delivery. The proposed standards would help improve consistency in shelters and transitional housing, enhance the client experience and improve efficiency.
Ottawa homeowners will be able to take advantage of a new pilot program to help manage stormwater on their properties. The three-year pilot will train landscapers, offer education and outreach, provide free assessments and cover up to $5,000 per household for stormwater-management projects.  
Council approved a community design plan and secondary plan to help guide future development in Orléans. The plans would see the area south of Innes Road that straddles Mer Bleue Boulevard build on and complement the nearby Trailsedge and Mer-Bleue communities. This East Urban Community design plan envisions a livable, walkable, complete community that supports cycling and transit, with higher density anticipated along the future Brian Coburn transitway line and a network of public parks.
Westboro will also see a wider range of dwelling types in the area bounded by Byron, Dovercourt, Golden and Tweedsmuir avenues. Council approved a zoning amendment after a City study determined three-unit dwellings are compatible within this area. The amendment will ensure higher densities are concentrated along major streets like Churchill Avenue, with development on local streets limited to heights of two to three storeys.
Council also declared March 8, 2021 as International Women's Day in Ottawa. 
The next regularly scheduled Council meeting takes place Wednesday, March 10. The agenda will be posted on ottawa.ca in the coming days.
---