El-Chantiry: Ward 5 weekly news Jan. 25
COVID-19 – latest news
Latest statement from Dr. Vera Etches, January 21, 2021: Ottawa's Medical Officer of Health, Dr. Vera Etches, has provided her latest update regarding COVID-19 in Ottawa. CLICK HERE to read her comments.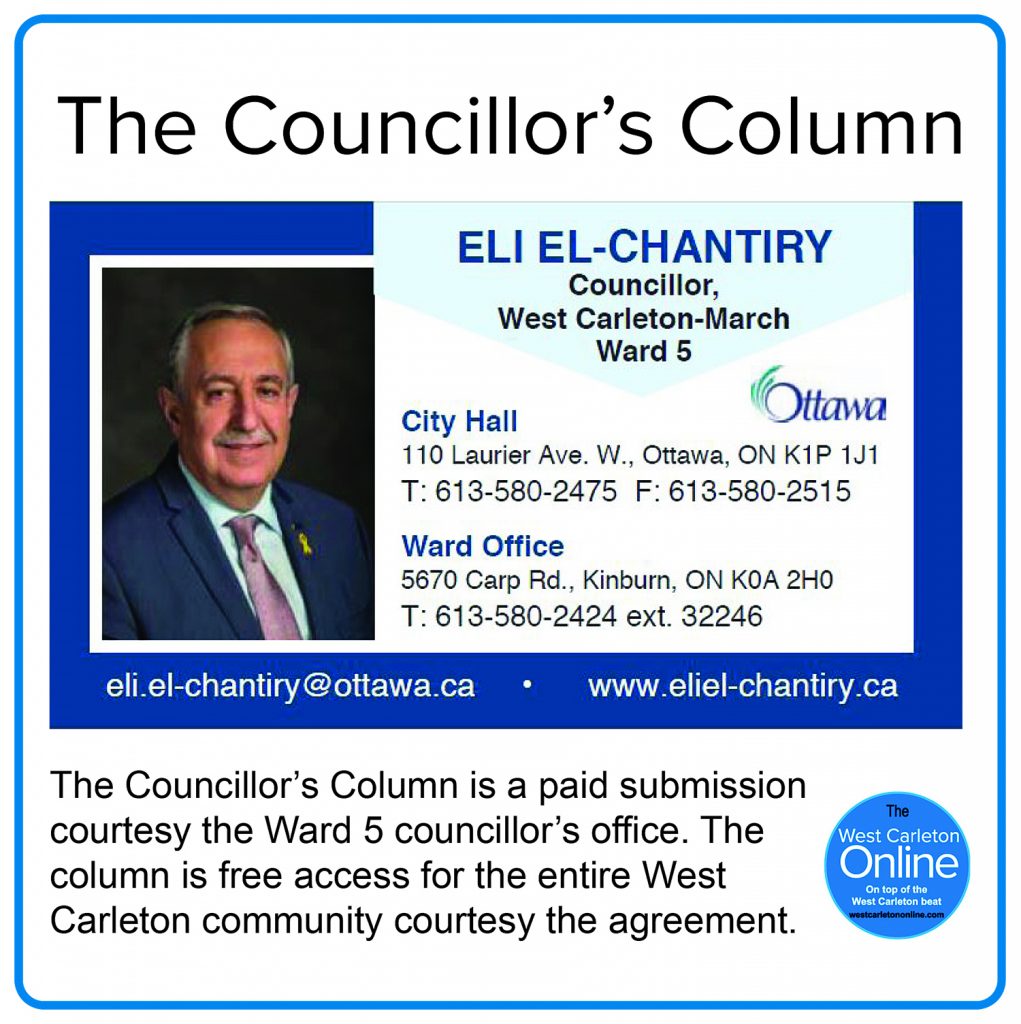 Ottawa Public Health survey: OPH wants to hear from you to get your thoughts about COVID-19 vaccines. CLICK HERE complete the survey by February 15.
COVID-19 scams and misinformation: Ottawa Public Health is reminding residents that it can be difficult to tell what is true, misinformed or false when we hear information in the media or on the phone or emails. OPH has put together some tips and resources on how to protect yourself from scams and misinformation in the age of COVID-19. CLICK HERE to review some very informative information to protect yourself from scams and to be better able to recognize false or misleading information.
Update on vaccinations in Ottawa: Ottawa reached an important milestone a week ago when the first dose of COVID-19 vaccinations of residents at all 28 of Ottawa's long-term care homes was completed. The vaccination project is a complex effort involving City of Ottawa paramedics, staff from the City's long-term care homes, Ottawa Public Health, The Ottawa Hospital and the Children's Hospital of Eastern Ontario. Mobile teams of paramedics administered the Pfizer-BioNTech vaccine at many of Ottawa's long-term care homes. The swift vaccinations were a milestone for protecting the health of residents at the City's long-term care homes, with more than 97 per cent of residents being vaccinated.
Frequently asked questions relating to COVID-19 vaccination: The City of Ottawa's Emergency Operations Centre have compiled a FAQ document relating to the COVID-19 vaccine distribution. This document is intended to assist residents with the most commonly asked questions relating to vaccine distribution. I have posted the FAQ on my website. CLICK HERE to review it. Please note that new information on COVID-19 vaccine distribution is emerging from the senior levels of government every day, and the FAQ document will be updated as new information is provided. Federal and provincial vaccine distribution timelines are in flux given the very limited supply of vaccines available at this time. Ottawa is continuing to explore all options to accelerate our ability to administer vaccines to residents once larger quantities of vaccines are available.
Heads up Ottawa business community: If your business was affected by the current provincewide shutdown, you can now apply for the Ontario Small Business Support Grant. Visit this link for the details: ontario.ca/page/businesses-get-help-covid-19-costs#section-0.
City council meeting – Jan. 27
Ottawa City Council is set to meet for the first time in 2021 on Wednesday, January 27. The meeting will be held virtually and residents can review the agenda here and listen in live to the meeting via the City of Ottawa's YouTube channel. Of note on the agenda, Mayor Watson will be providing his State of the City Address.
Community safety and well being plan
Help shape tomorrow by giving your feedback to the City of Ottawa's first Community Safety and Well-Being Plan. Have your say and register for our virtual workshops on 6 different topics: 
Discrimination, marginalization and racism 
Financial security and poverty reduction
Mental well-being
Housing
Integrated and simpler systems
Gender-based violence and violence against women
We want to hear about the issues that matter to you. For more information, including surveys and registering for workshops, go to engage.ottawa.ca/Community-Safety-Well-Being-Plan. 
---