El-Chantiry: Ward 5 weekly news, Feb. 9
COVID-19 – latest news
Latest update from Ottawa Public Health (as of February 2, 2021):  CLICK HERE for the latest statement from Ottawa's Medical Officer of Health, Dr. Vera Etches.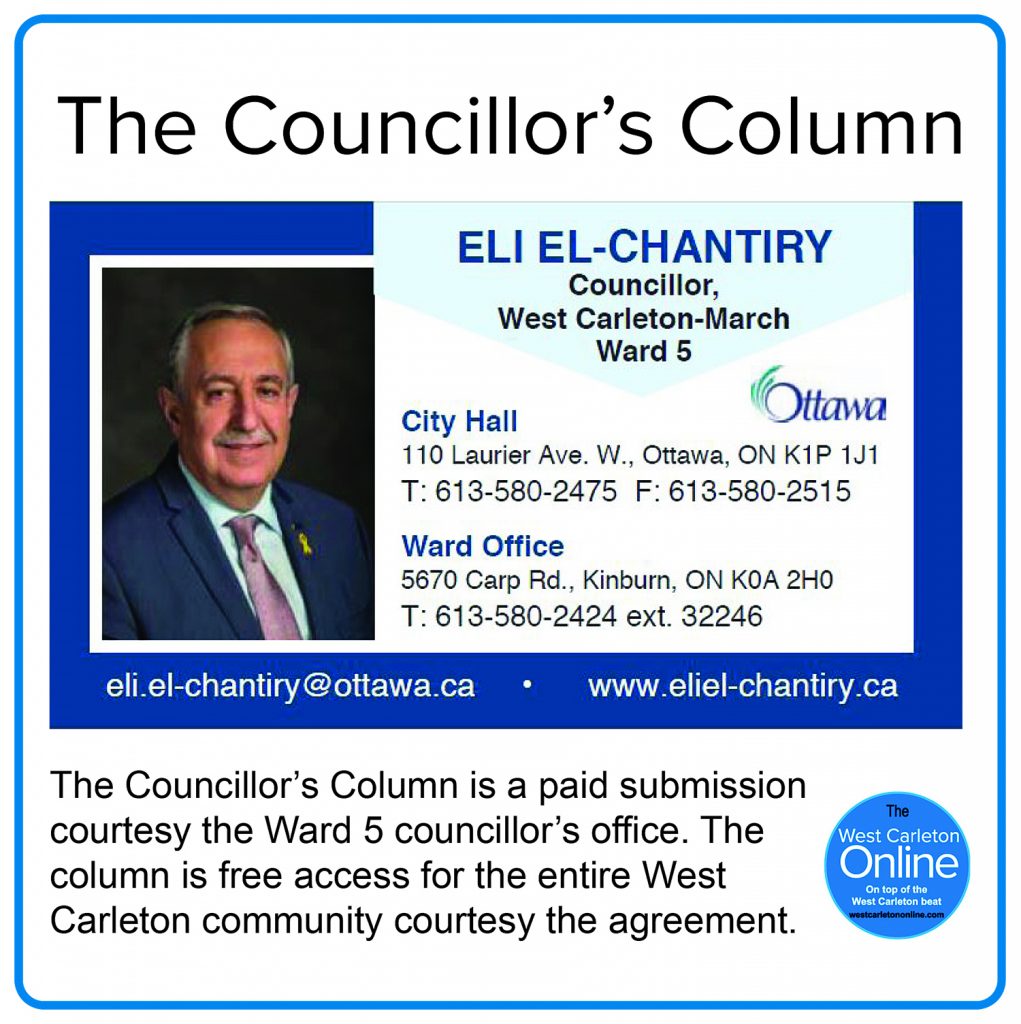 COVID self-screening guidelines for kids/students:  With schools open again, it's imperative to be mindful of COVID screening and testing/isolating guidelines. Ottawa Public Health made some useful flowcharts to help parents and students! 
COVID-19 dashboard:  Do you know about the Ottawa COVID-19 dashboard? It is updated daily at 12:30pm and provides important information on core indicators used for local monitoring and the information of re-opening decisions. Check it out here.
Stay-at-home Order for Ottawa extended to February 16: Ottawa's current stay-at-home order was set to expire on February 9. However, on February 8 Premier Doug Ford announced that most of the province (including Ottawa) will have their stay-at-home order continued until February 16. At that time, it may be lifted depending on COVID-19 trends at that time. When Ottawa's stay-at-home order is lifed, the City will be permitted to reopen many businesses with restrictions. In the coming weeks, the provincial government will move more regions back into the colour-coded system (green, yellow, orange, red and grey lockdown stages). CLICK HERE for a refresh on this colour-code system. Ottawa was in the orange-restricted category before the December 26, 2020 lockdown. If the status in Ottawa remains steady over this next week, Ottawa may likely return to the orange-restricted level when the stay-at-home order is lifted on February 16. As you will recall, under the orange-restricted level, the following are some of the things that are permittable:
retail stores, salons, gyms can reopen with restrictions in place
indoor dining can resume with capacity limits
Social gatherings in private residences, parks, back yards where physical distancing can be maintained but is limited to 10 people indoors and 25 people outdoors
CLICK HERE to read Premier Ford's February 9th press release. 
WARD 5 Family Day contest
Here's a little bit of family fun for West Carleton-March families. I hope to see a lot of interesting and fun activities. Good luck to all!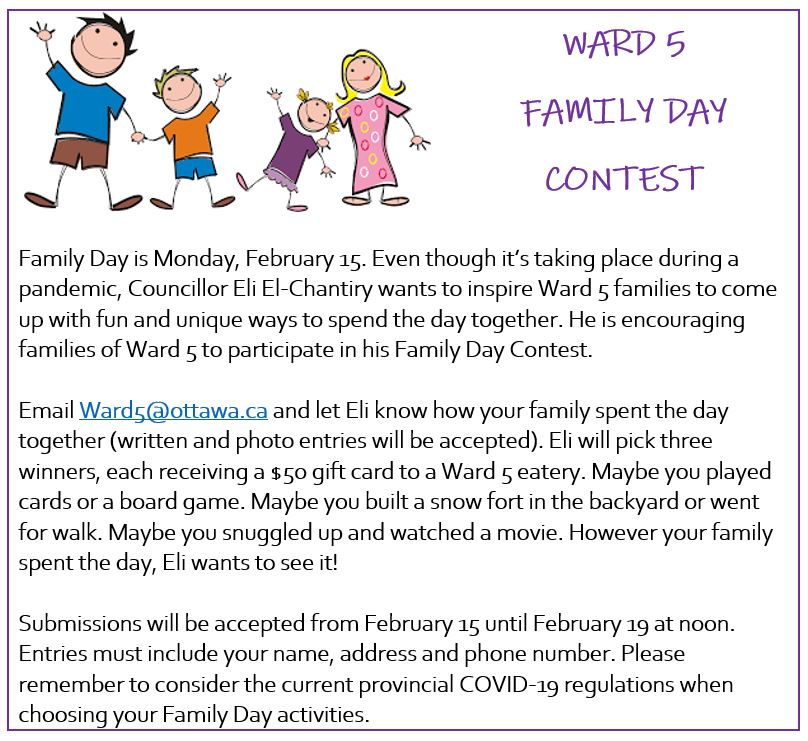 Online engagement: sidewalk standards
As part of the City's engineering and construction specifications review the City is reviewing the use of two adopted sidewalk standards. The City of Ottawa is inviting residents to join an online engagement session to seek feedback on their experiences using the two sidewalk styles – traditional and ramp. The online public engagement session will be held on February 9, 2021 from 7 to 8 pm. To register, please contact StandardsSection@ottawa.ca. If you are not able to attend the session and you would like to submit your feedback, comments can be submitted to StandardsSection@ottawa.ca by February 16, 2021. For more information about the Sidewalks Standards Review, please visit ottawa.ca/sidewalks.
Joint committees approve lands for new neighbourhoods, protection of rural lands 
When Council adopts a New Official Plan later this year, it would extend Ottawa's urban boundary – the line that divides suburban and rural Ottawa – to include 836 hectares of land for new neighbourhoods. The City's Planning committee and Agriculture and Rural Affairs committee held a joint meeting on January 25 and 26 where they approved this approach and also recommended adding 140 hectares of industrial lands.
Using Council-approved evaluation criteria, City planning staff scored blocks of land to accommodate new neighbourhoods, prioritizing those next to existing communities. The Committees approved the selected lands, which would encourage growth near existing commercial areas and existing or planned transit hubs.
The committees also provided direction about how to select additional lands needed to meet the 1,281 hectares for expansion that Council approved in May 2020. Staff presented several options and the Committees directed them to do a focussed analysis of a new satellite community east of Leitrim and west of Carlsbad Springs, with Algonquin land interests, referred to as Tewin – the Algonquin word for home.
The committees also approved further protecting agricultural lands by establishing a Gold Belt outside the urban boundary, which would protect more than 53,000 hectares from development, making it 3.5 times bigger than even the Greenbelt. Named to reflect harvest colours, the proposed Gold Belt includes agricultural resource lands, natural areas and mineral aggregate resource areas. Together, they create an additional boundary for communities like Barrhaven, Riverside South, Stittsville and Orléans. With more robust intensification goals and rules requiring minimum densities, this Gold Belt would be an additional policy tool to limit outward growth in Ottawa for the rest of the century. Leapfrogging over the Gold Belt would be prohibited. Existing lands between the Greenbelt and the Gold Belt meet Ottawa's immediate growth needs.
Recommendations from this meeting will rise to Council on Wednesday, February 10.
Committee waives re-purchase of Carp Airports lands
On February 2, the City's Finance and Economic Development Committee recommended waiving the City of Ottawa's option to re-purchase lands around Carp Airport for $4.4 million. The City sold the Carp Airport in 2011 to West Capital Development, and they will continue to operate the airport and implement an economic development plan for the surrounding lands. The City would negotiate amendments to the existing agreement with West Capital Development, enabling the developer to better implement its economic development plan for both the airport and the surrounding lands. This item will rise to Council at its meeting on February 10, 2021.
What happened at ARAC – February 4, 2021
The Agriculture and Rural Affairs committee (ARAC) met on February 4 and the following items were dealt with:
The City of Ottawa is moving to speed up timelines for projects that have a significant social impact, and ARAC heard about this at its meeting. The City aims to get affordable housing projects, long-term care facilities and retirement homes up and operating quickly by prioritizing these applications. The COVID-19 pandemic has put added pressure on such facilities and emphasized the need for more affordable housing. Non-profit organizations that meet the criteria could work with staff to have a development application identified as a high social impact project. That would enable City planning staff to prioritize its review. The initiative would add to measures already in place to help facilitate these types of projects. Staff have identified nine projects either already submitted or in the consultation stage that might fit the criteria of a high social impact project, with another eight pending further review. Staff will review existing applications to determine eligibility and what measures may be implemented to assist. This item will also be on the agenda at the meeting of the City's Planning Committee on Thursday, February 11 before rising to Council on Wednesday, February 24. 
ARAC also heard a presentation about a framework to improve internet connectivity. The Rural Ontario Municipal Association (ROMA) developed a Municipal Connectivity Roadmap, which includes steps that municipal councils could take to help create better broadband and cellular connectivity. As a board member of ROMA, Councillor El-Chantiry made this presentation to ARAC. 
Except where noted, recommendations from this meeting will rise to Council on Wednesday, February 10. The next regularly scheduled ARAC meeting is on Thursday, March 4, 2021 at 10am.
Upcoming city council meeting – February 10, 2021
City Council's next meeting is scheduled for February 10 at 10am. The meeting will be held virtually and residents can review the agenda here and listen in live to the meeting via the City of Ottawa's YouTube channel.
Approved revised site plan control & heritage applications for the Chateau Laurier 
On February 5, the City's Planning committee approved a new heritage application and a revised Site Plan Control application needed for a proposed addition to the Château Laurier hotel. As the hotel is designated under Part IV of the Ontario Heritage Act, the proposed addition cannot compromise its heritage value in terms of landmark character and architectural style. Developed in consultation with Heritage Ottawa, the latest design proposes one 10-storey and one 11-storey tower, extending the wings of the existing hotel toward Major's Hill Park. A two-storey base would join the two towers. This change from the seven-storey design that Council approved in 2019 opens up views into the centre of the historic building when seen from Major's Hill Park. The revised design also uses compatible materials to minimize the visual impact on the heritage value of the historic building and its surroundings. The two towers would be clad in Indiana limestone, and bronze panels and fins would be used to accent the roofline, reflecting the materials used on the historic building. The building design and landscaping also make a strong contribution to the public realm and connectivity with Major's Hill Park by improving publicly accessible areas and making better pedestrian connections across the property between the ByWard Market and the Rideau Canal. Recommendations from this February 5 Planning Committee meeting will rise to Council on Wednesday, February 24.
---