El-Chantiry: Ward 5 Weekly News, Feb. 2
COVID-19 – latest news
Latest statement from Ottawa's Medical Officer of Health (January 28, 2021):  CLICK HERE to read Dr. Vera Etches latest statement regarding COVID-19 in Ottawa.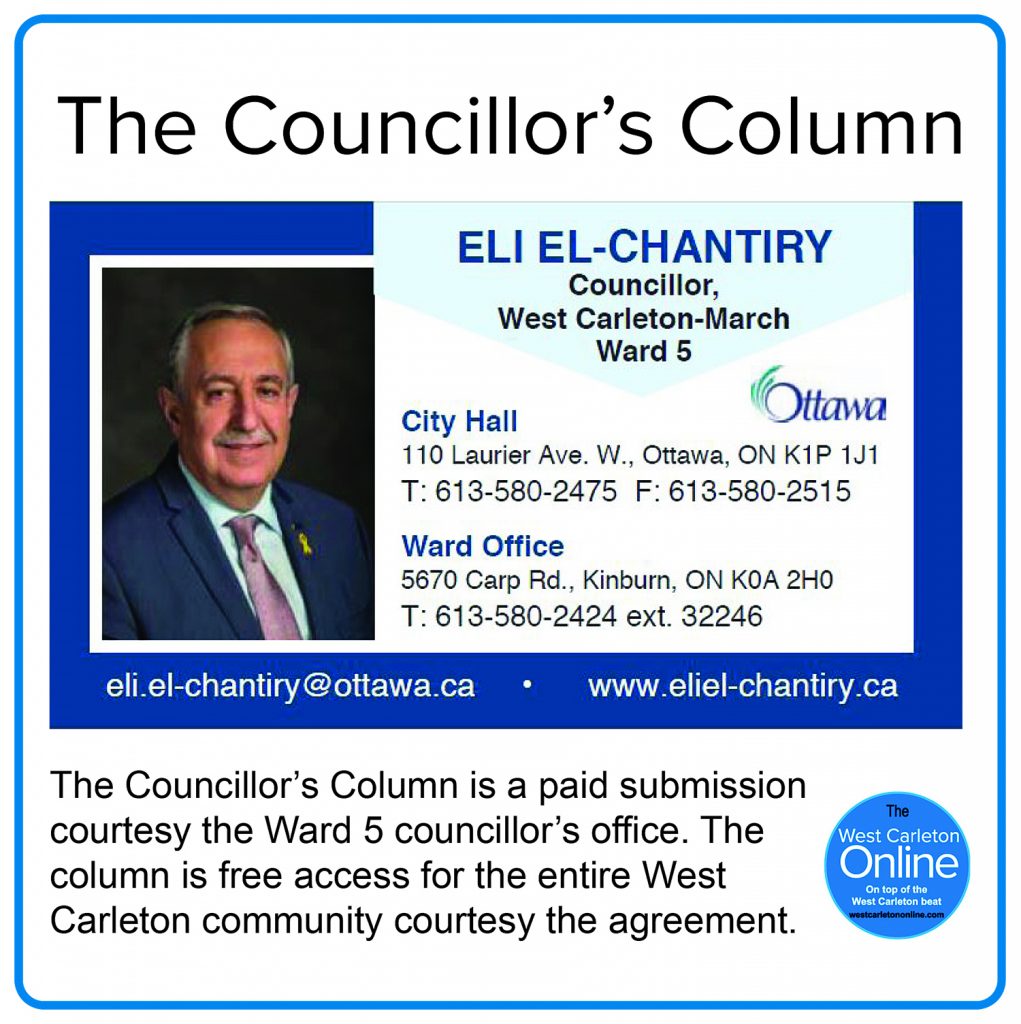 Hydro One – relief available for residential customers and small businesses: Hydro One provided my office with some information regarding their efforts to assist residents and small businesses during this pandemic. Below is the information they have provided:
"As the COVID-19 pandemic continues to rapidly evolve, I wanted to share with you how Hydro One is continuing to support our customers and ensuring our team members that live and work in your communities remain safe and healthy during this critical time. As an essential service, we recognize the critical role we play in powering families, businesses, communities and the infrastructure needed to fight this pandemic.
To support those directly impacted by the pandemic, we have also introduced a number of initiatives to provide financial relief, flexibility and immediate support to our customers and communities. These include: 
For residential customers: Hydro One was one of the first utilities to implement a Pandemic Relief Program. The program provides payment flexibility and financial assistance to help get customers back on track. Customers with outstanding balances can also apply for up to $750 from the Government of Ontario's COVID-19 Energy Assistance program (CEAP). This program is accepting applications until March 31, 2021. 
For small businesses: This week, Hydro One launched a Small Business Pandemic Relief Program. Combined with the Government of Ontario's COVID-19 Energy Assistance Program (CEAP) for Small Business, Hydro One's new relief program will help connect customers who are struggling with up to $3,000 in financial assistance.  Business customers are encouraged to call 1-888-664-9376 to learn more.
For communities: Charitable organizations, municipalities and Indigenous communities have adjusted their operations significantly during the pandemic. Through Hydro One's community grant program, organization are eligible for up to $25,000 in funding to support community initiatives addressing emotional and physical safety. 
For more information on these initiatives, please visit HydroOne.com. Please also feel free to promote these relief programs through your networks. If you know a Hydro One customer experiencing hardship, we encourage them to call our customer care centre at 1-888-664-9376." 
Get help with COVID-19 costs:  Find out if your business is eligible for grants to help with the cost of personal protective equipment, property taxes, energy bills and extra support if you have to close or significantly restrict services because of provincial public health measures. CLICK HERE for information and details.
Ottawa's temporary mask by-law extended:  At the January 27 City Council meeting, the temporary mask by-law has been extended until April 29, 2021. The by-law requires masks in enclosed public spaces and on public transit. The by-law still exempts young children and anyone with a disability or a medical condition, including breathing and cognitive difficulties that prevent them from wearing a mask safely. Anyone who is unable to put on or remove a mask without assistance is also exempt from the by-law. Proof of an exemption is still not required.
Vaccine distribution information in Ottawa:  CLICK HERE to visit the City of Ottawa's vaccine distribution page. It provides information on how the City is supporting the administering of vaccines to residents.
Ottawa Public Health wants to hear from you:  CLICK HERE to complete Ottawa Public Health's latest survey about COVID-19 vaccines. The survey is open until February 15.
Support Ottawa's economy and buy local:  Ottawa's small and locally owned businesses are woven into the fabric of our city. As the current stay-at-home order continues, our small businesses need community support. You can help through this difficult time by buying local and supporting stores, restaurants and services in your community. Please visit the City of Ottawa's By Local page to find out the many ways you can support local.
West Carleton Food Access Centre
The West Carleton Food Access Centre is open for business. Please note the information below if you, or someone you know, is need of assistance.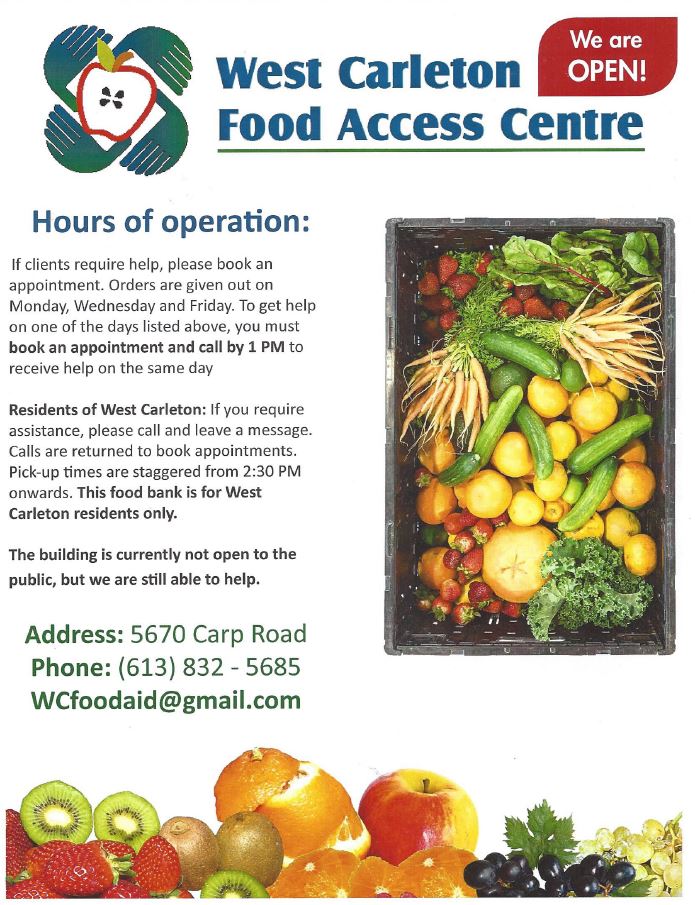 City of Ottawa's summer employment recruitment
The 2021 Summer Student Employment Program is now accepting online job applications until February 26, 2021. Applications for positions in recreation, culture and facility services will be accepted throughout the summer to meet program requirements. Please visit ottawa.ca/en/jobs-city/summer-employment-recruitment for more information and to apply.
Joint Planning and ARAC meeting on January 26, 2021
When Council adopts a New Official Plan later this year, it would extend Ottawa's urban boundary – the line that divides suburban and rural Ottawa – to include 836 hectares of land for new neighbourhoods. The City's Planning Committee and Agriculture and Rural Affairs Committee met on January 26 and approved this approach at a joint meeting, also recommending adding 140 hectares of industrial lands. Using Council-approved evaluation criteria, City planning staff scored blocks of land to accommodate new neighbourhoods, prioritizing those next to existing communities. The Committees approved the selected lands, which would encourage growth near existing commercial areas and existing or planned transit hubs.
The Committees also provided direction about how to select additional lands needed to meet the 1,281 hectares for expansion that Council approved in May 2020. Staff presented several options and the Committees directed them to do a focused analysis of a new satellite community east of Leitrim and west of Carlsbad Springs, with Algonquin land interests, referred to as Tewin – the Algonquin word for home.
The Committees also approved further protecting agricultural lands by establishing a Gold Belt outside the urban boundary, which would protect more than 53,000 hectares from development, making it 3.5 times bigger than even the Greenbelt. Named to reflect harvest colours, the proposed Gold Belt includes agricultural resource lands, natural areas and mineral aggregate resource areas. Together, they create an additional boundary for communities like Barrhaven, Riverside South, Stittsville and Orléans.
With more robust intensification goals and rules requiring minimum densities, this Gold Belt would be an additional policy tool to limit outward growth in Ottawa for the rest of the century. Leapfrogging over the Gold Belt would be prohibited. Existing lands between the Greenbelt and the Gold Belt meet Ottawa's immediate growth needs.
Recommendations from this meeting will rise to Council on Wednesday, February 10.
Agricuture and Rural Affairs committee – Upcoming Meeting February 4, 2021
The next meeting of the Agriculture & Rural Affairs Committee is Thursday, February 4, 2021. CLICK HERE to review the agenda. Of note on the agenda, I will be making a presentation on the Rural Ontario Municipal Association (ROMA) Broadband Municipal Roadmap. The Municipal Roadmap lays out components of a municipal connectivity plan that municipal councils and staff can implement to create local solutions.
ROMA is the rural arm of the Association of Municipalities of Ontario (AMO). Policy, research and advocacy activities are undertaken by ROMA through AMO. Matters which affect rural communities are brought to the attention of the provincial and federal governments. Rural broadband is one such issue.
This ARAC meeting will be held via electronic participation. The public can watch live via the City of Ottawa's YouTube channel.
City Council meeting – January 27, 2021
City Council met on January 27, 2021 and the following items were addressed:
Mayor Jim Watson today delivered his annual State of the City address at the first City Council meeting of the year. The Mayor highlighted the City's major accomplishments in 2020 and outlined plans for the year ahead. CLICK HERE to read his address in its entirety.
To help limit the spread of COVID-19, Council approved extending the Temporary Mandatory Mask By-law until Thursday, April 29. Masks will continue to be required in enclosed public spaces, on transit and transit property, and in the common areas of condos and apartment buildings.
Council received an update on the Climate Change Master Plan, the City's plan to transition to clean, renewable energy and make Ottawa more resilient to the effects of climate change. Highlights include approving the final strategy for Energy Evolution, developing climate projections for the National Capital Region, embedding climate change mitigation and adaption policies in the draft new Official Plan, and increasing education and advocacy efforts. The update includes an inventory of greenhouse gas emissions in 2019. Between 2012 and 2019, community emissions decreased by 12 per cent due to efforts by the former provincial government to phase out coal plants and reduce emissions from electricity generation. During that same time, the City's corporate emissions decreased by 34 per cent, primarily due to efficiencies at the Trail Waste Facility. The City is currently surpassing its short-term target to reduce corporate emissions by 30 per cent by 2025.
Council approved a framework to draft a community benefits charge by-law that will enable the City to collect revenues from developers to fund a range of community services required because of new growth. The framework includes a process to define the types of projects that will benefit from the new fees.
With the goal of ensuring the ByWard Market remains a unique, pedestrian friendly destination, Council approved a public realm plan to guide the evolution of the market's public spaces and provide a framework for investment opportunities. The City will establish a working group to lead economic recovery in the market and review governance options next year.
Following initial discussions with our Algonquin partners, Mayor Watson will be seeking Council's support to rename the Prince of Wales bridge, the Chief William Commanda Bridge. Also, based on consultation with residents, Council approved renaming Langevin Avenue in Rideau-Rockcliffe Ward to Commanda Way, after William Commanda. Grandfather Commanda was a former Chief of Kitigan Zibi Anishinabeg and promoted peace, harmony and racial equality for all people. The renaming of these facilities aligns with the City's commitment to Reconciliation. 
---