El-Chantiry: Ward 5 weekly news, Feb. 16
COVID-19 – LATEST NEWS
Ottawa reopens with some restrictions: Ottawa's current stay-at-home order has been lifted and we are now permitted to reopen many businesses with restrictions. Ottawa is in the orange-restricted category. Under this level, the following are some of the things that are now permitted: 
retail stores, salons, gyms, cinemas can reopen with restrictions in place
indoor dining can resume with capacity limits
Social gatherings in private residences, parks, back yards where physical distancing can be maintained but is limited to 10 people indoors and 25 people outdoors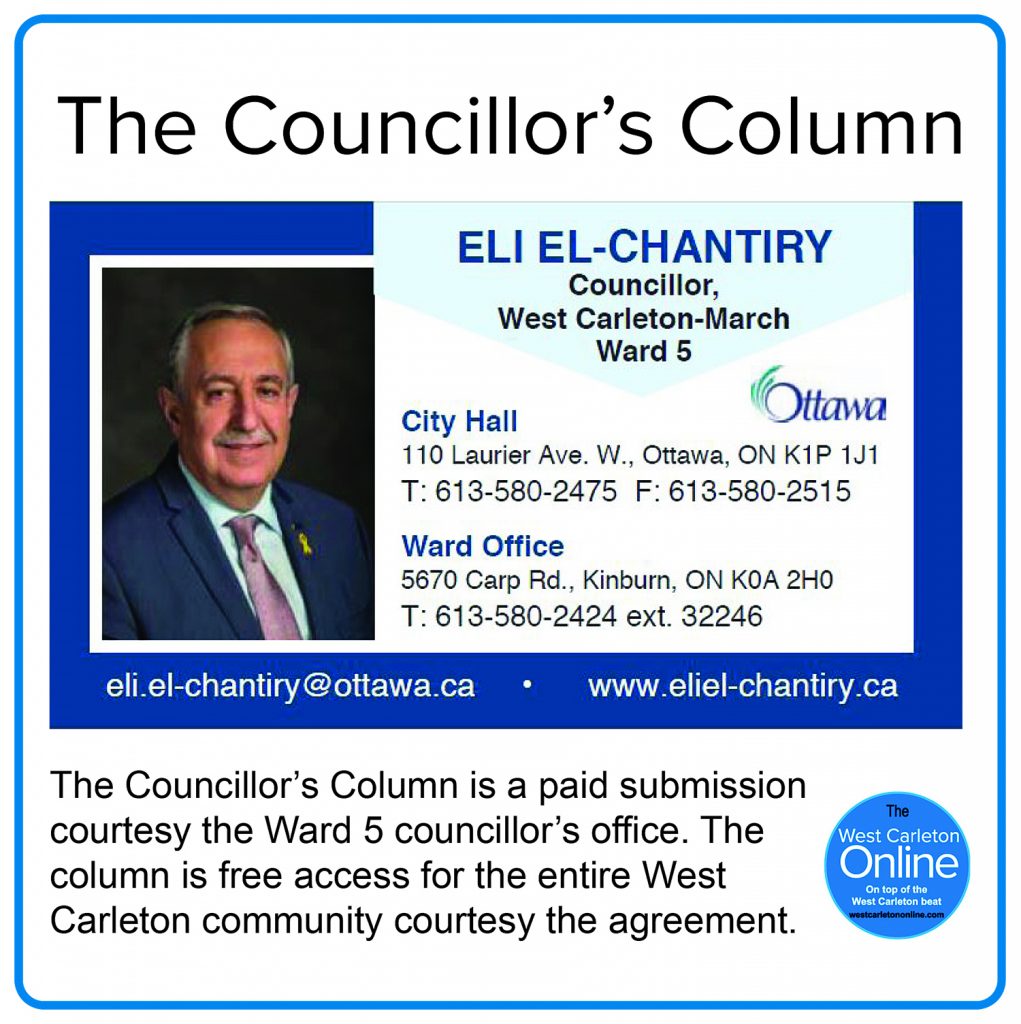 As our city slowly reopens, please remember that we must continue with our routine behaviours that we know keep COVID-19 transmission low: wear a mask, limit close contact to the people you live with, stay two metres apart from others, stay home when you're sick except to get tested and practice proper hand hygiene. As well, please be kind and patient when visiting businesses in person and be respectful of the public health guidelines in place.
City gradually restarting in-person services under Ontario's Orange-Restrict status: With the Province of Ontario lifting the COVID-19 restrictions and putting Ottawa back into Orange-Restrict status, this allows the City of Ottawa to resume some of the same services offered before the provincial state-of-emergency orders came into effect.
Recreation and Culture: Recreation services will restart gradually at some locations under the provincial Orange-Restrict status. Access to most activities requires reservations in advance. Visit ottawa.ca/recreation for more information on available activities, locations, facility and rink rentals, reservations and COVID-related protocols and restrictions. The following activities and programs will resume February 16:

Public and lane swims at select pools
Aquafitness programs
Weight and cardio rooms will reopen with capacity limits 
Sport activities with capacity limits and physical distancing measures 
Older adult programming 
Public skating at select arenas will start on February 20

Reservations for these activities can be made on ottawa.ca.
Skating on the outdoor refrigerated rinks will continue by reservation only, with a maximum capacity of 25 skaters. 
The resumption of other recreation and arts programming and activities will be announced in the coming weeks. 
Community outdoor rinks: The Ottawa Public Health directive keeps outdoor skating rink capacity at 25 skaters and 12 for puddle rinks. With non-contact sports scrimmages and play permitted, skaters may bring hockey sticks and equipment on the ice – ensuring rink capacity and physical distancing requirements are observed. Masks must be worn within 15 metres of the edge of the rink and are highly recommended while skating.
Sledding hills:  Under Ottawa Public Health's directive, the capacity at the gathering points at the top and bottom of the sledding hills will remain at a maximum of 25 people, and physical distancing of two metres must be maintained at all times.
Facility rentals:  Select City rental spaces will be available to accommodate up to a maximum of 50 people indoors and 100 people outdoors, provided the space allows for adequate physical distancing of at least two metres.
Counter services: In-person services will start on Monday, February 22, but clients can start reserving appointments for that week, starting Tuesday, February 16.
Service Ottawa – Client Service Centres and Building Code Services:

City Hall and Ben Franklin Place (100 Centrepointe Drive) Client Service Centres and Building Code Services counters will be open by appointment only. Visit ottawa.ca for the list of in-person service offerings.
Residents must make an appointment for the Client Service Centre by using the online booking tool on ottawa.ca. Residents without internet access can reserve a time by calling 3-1-1 and choose option six for the Client Service Centre. Requests for same-day appointments will be subject to availability.
Building Code Services will continue to support application submissions by mail and electronically at buildingpermits@ottawa.ca.

Employment and Social Services and Rent Supplement Program Offices:  

Limited counter and document drop-off services will be available at all four centres – 370 Catherine Street, Mary Pitt Centre (second floor west, 100 Constellation Drive), 2020 Walkley Road, and 2339 Ogilvie Road, weekdays from 9 am to 3 pm. For all other services, staff will provide both telephone and email support from 8:30 am to 4:30 pm.
The Mary Pitt Centre location (second floor west, 100 Constellation Drive) will also be the only location for limited counter and document drop-off services for the Rent Supplement Program, which will only operate from 9 am to 3 pm on weekdays. The staff will continue to provide telephone and email support on weekdays from 8:30 am to 4:30 pm.

Business Licensing Centre:  The Business Licensing Centre at 735 Industrial Avenue will continue operations on Monday, February 22 by offering the following in-person services, by appointment:

Business licences (all categories)
Pet registration

To make an appointment, email businesslicensing@ottawa.ca/permisdentreprise@ottawa.ca or by calling 613-580-2424, extension 12735.
Ottawa Public Library Branches:  All 28 Ottawa Public Library branches are currently offering curbside service. Please consult BiblioOttawaLibrary.ca for the latest service updates. Access to digital resources and requests for library items can be made via the Ottawa Public Library website.
City Archives:  The City's Central Archives at the James K. Bartleman Centre, located at 100 Tallwood Drive, will resume in-person appointments for residents wishing to visit the Reference Room, starting Tuesday, February 23. Clients may make reservations for that week beginning Tuesday, February 16 by emailing archives@ottawa.ca or by phoning 613-580-2857.
Parking enforcement:  All residential on-street parking restrictions will resume on Monday, February 22. Warnings will be handed out between Tuesday, February 16 to Sunday, February 21.
COVID-19 vaccine information for Ottawa: To date, there have been close to 35,000 doses of COVID-19 vaccine administered in Ottawa. To get more information and answers to questions visit the Vaccine Distribution FAQs page. The number of vaccines received and the doses administered are available in the Vaccination and Testing section of Ottawa Public Health's Daily COVID-19 Dashboard.
WARD 5 FAMILY DAY CONTEST
I hope everyone in Ward 5 had a fantastic Family Day! Don't forget, you have until this Friday (February 19 at noon) to enter my contest for a chance to win one of three $50 Cheshire Cat Pub gift cards. Follow the instructions outlined below and share with me how you celebrated the day. Good luck!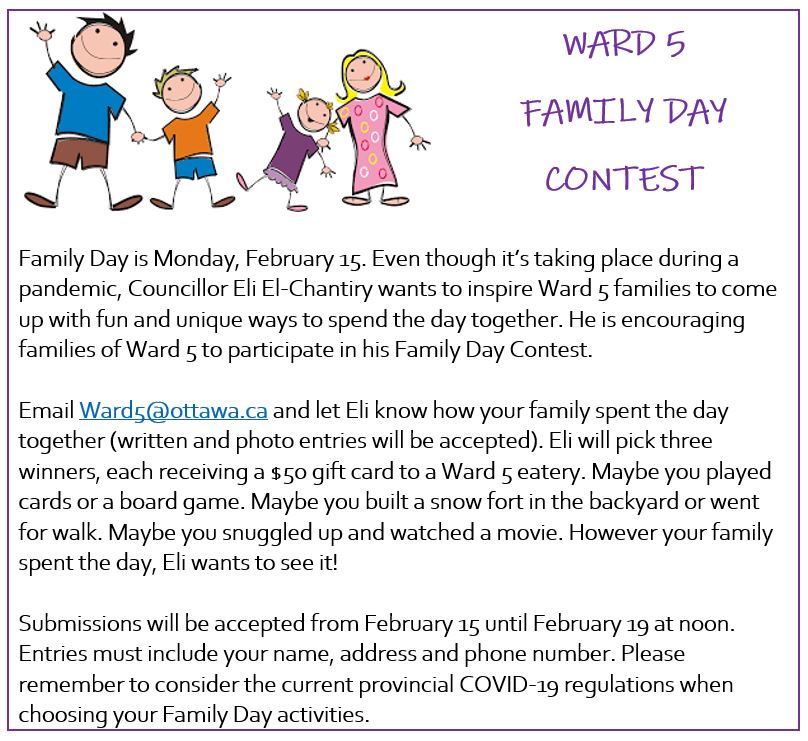 WINTER OPERATIONS – SNOW EVENTS
This morning we woke up with a blanket of snow on the ground and with more snowfall forecasted throughout today. The City of Ottawa is asking residents to support our winter operations today (and during future snow events) by: 
Wherever possible, removing your vehicle from the roadway, even ahead of the parking ban, to support our clearing operations. There is going to be a lot of snow in our communities and we want to keep roadways open as much as possible. Roads free of cars will help us immensely.
Keep children away from the roadways. This means encouraging them to build their forts and snow tunnels away from the road (in the backyard is best), not to play on snow piles and to wave at our operators from a safe distance away from the roadway.
Place garbage and recycle bins in driveways and not on snowbanks or on sidewalks. Our teams have a lot of work to do and improperly placed bins can slow us down and damage our machines.
Please, give our teams space to do their work.  Blue lights flashing mean our team is actively engaged in snow clearing and road/sidewalk treatment.  Please stay three car lengths behind a working snow machine.
As a reminder, when Ottawa experiences a significant snow event, the following graphic explains how and when snow is cleared on our streets, sidewalks and cycling lanes.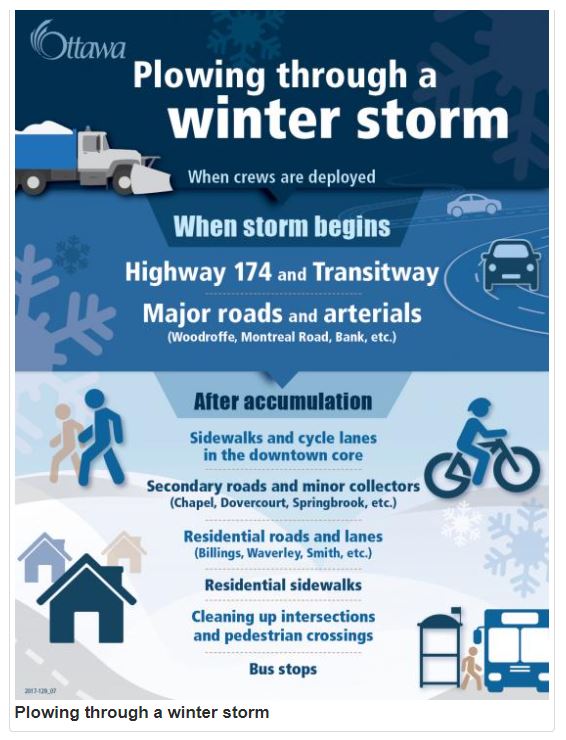 SNOWMOBILING SAFETY
This past weekend has been very tragic for snowmobilers, with a number of fatal accidents and serious injuries in Quebec, including a fatality in the Outaouais area where a 30-year-old man drowned when his snowmobile went through the ice while crossing the Ottawa River. Two additional fatalities happened on snowmobile trails when snowmobilers couldn't negotiate curves in the trail. Other serious injuries also took place over the weekend.
If you are an avid snowmobiler, I cannot stress enough the importance of taking all necessary precautions while snowmobiling, and to please so down. As a reminder, follow these rules so everyone can have fun while remaining safe: 
Snowmobilers should stay on approved trails and never venture off the trails and trespass onto private property. Respect directional signs that guide where you are allowed on private property.
Always keep within trail speed limits (50 km/hr and 20 km/hr where posted).
Machines should be carefully checked before heading out.
Always carry a safety/survival kit (throw rope, ice picks, first aid kit, waterproof matches with fire starter, waterproof whistle, energy bars, water, fireproof container for cooking, survival blankets, a knife or multi-tool, wire and nylon rope, change of clothes.) Carry the kit in a backpack and wear it while you ride.
Carry a cell phone, your permits and insurance. A GPS is also a good idea to have on hand.
Snowmobile in pairs or groups – there is safety in numbers.
Do not consume alcohol or drugs while operating a snowmobile.
Riders should always practice defensive snowmobiling techniques. Keep an eye out for obstacles on trails such as trees and tree branches, trail washouts, snowbanks, etc.
Riders should plan their route and advise someone of the plans and arrival times. 
Only cross rivers and lakes where it is safe to do so. If you aren't 100% sure it's safe to cross, then don't do it!
Riders travelling across ice should wear a floatation device or a floatation suit.
Pedestrians and snowmobilers alike need to be respectful of each other. Snowmobilers should slow down when passing pedestrians. Pedestrians should move off to the side of the trail to allow snowmobiles to pass by safely.
Dogs must be leashed at all times while on the trails.
HAVE YOUR SAY ON THE FUTURE OF MUNICIPAL PARKS & RECREATION FACILITIES 
The City will be holding six bilingual online facilitated consultation sessions to get your opinions and ideas on the City's first-ever combined Parks and Recreation Facilities Master Plan (PRFMP), in support of the new Official Plan (OP). You are invited to share your knowledge and experiences to help us plan for the future of municipal parks, recreation and community activity spaces. We want to hear from residents, community associations, sports organizations, arts and cultural organizations, the homebuilders, residents interested in accessibility, equity and diversity and other recreation partners and user groups. Targeted stakeholder outreach with school boards, colleges and universities and the Nation Capital Commission (NCC) are also being planned. The sessions will gather input on satisfaction with the number and location of existing parks and recreation facilities; to learn about gaps and barriers that exist; to identify trends in park and facility use, and to receive your suggestions for future enhancements. The feedback from public consultations will assist in developing recommendations to Council for new parks and recreation facilities and the improvement of existing recreation to meet Ottawa's projected growth by 2031. To participate, register on the Parks and Recreation Facilities Master Plan page on Engage.Ottawa.ca for one of the following virtual bilingual consultation sessions:
All sessions, including the presentation and breakout discussion, will be offered in English and French. Upon registration, registrants will indicate their preferred language and they will receive a link for either the English or French session. The February 24 session will be co-hosted by Ottawa Sport Council and will focus on sports fields and the wide range of outdoor and indoor sports courts and amenities and the needs of sport clubs and organizations.
If you require a disability related accommodation to fully participate in this event, please contact 613-580-2424 ext. 25192 or RCFS-PublicEngagement@ottawa.ca. For deaf community members, our facilitators can engage using Canada Video Relay Service or via the chat within the meeting. For those who cannot attend the live virtual sessions, you can have your say:
Two online surveys – on Engage.Ottawa.ca

Parks and Outdoor Recreation Facilities survey: open now until Sunday, February 21
Indoor Recreation Facilities survey: open now until Friday, March 12

Email us: RCFS-PublicEngagement@ottawa.ca
Send us a note: City of Ottawa c/o Parks and Recreation Facilities Master Plan, Attention: 26-51,100 Constellation Drive, Ottawa, ON, K2G 7E6
The plan will go to the Community and Protective Services Committee and Council for approval in Fall 2021. It will be a contributing document to the City's Official Plan.
WHAT HAPPENED AT CITY COUNCIL – FEBRUARY 10, 2021
Ottawa City Council meet on February 10, 2021, and the following of items of note that were on the agenda:
When Council adopts a new Official Plan before the end of the year, it will extend Ottawa's urban boundary – the line that divides suburban and rural Ottawa – to include 1,281 hectares of land for new neighbourhoods. Council approved where those lands would be located, along with policy direction to help protect sensitive lands from future urban expansion.
Those lands for new neighbourhoods include 445.35 hectares in a new satellite community called Tewin. The Tewin lands are located east of Leitrim and west of Carlsbad Springs, some of which are owned by the Algonquins of Ontario. Staff will work with the Algonquins of Ontario to identify specific lands and recommend them later this year when the Joint Planning Committee and Agriculture and Rural Affairs Committee consider the draft new Official Plan.
The City needs to add enough land for new neighbourhoods to comply with provincially mandated 15-year land supply requirements. Last May, Council approved selection criteria for determining which lands should be added to the urban boundary. At the same time, they approved higher intensification targets in existing communities that will lead to 60 per cent of new units being delivered through intensification between now and the end of 2046. Coupled with rules requiring minimum densities in new neighbourhoods, the new lands approved today by Council will mean Ottawa has reasonable alternatives for growth to the end of this century without requiring further urban expansion. That will help protect important agricultural lands outside the urban boundary.
As part of the the urban boundary debate, Councillor Catherine Kitts moved a motion at the Council meeting to remove the concept of a "Gold Belt"  in the draft Official Plan. All rural Councillors heard loud and clear from their residents that the concept term "Gold Belt" was confusing and concerning as to how it relates to existing policies that protect rural land use from suburban development. Councillor Kitts motion was unanimously passed at Council. CLICK HERE to read the motion in its entirety. 
Council also approved waiving the City's option to repurchase lands around the Carp Airport for $4.4 million. The City sold the Carp Airport in 2011 to West Capital Development, which will continue to operate the airport and implement an economic development plan for the surrounding lands. The City will negotiate amendments to the existing agreement so the developer can better carry out the plan and generate more economic activity in rural Ottawa. 
As part of the Carp Airport item noted above, I introduced motion at the City Council meeting (see below). As part of Ottawa's negotiated payment with West Capital Development (Carp Airport), of the $4.408 million, including a lump sum payment of $700,000, a part of which will benefit West Carleton-March through the motion I introduced at this Council meeting. My motion, which passed unanimously, secured $260,000 of the $700,000 to go towards road renewal and resurfacing in Ward 5.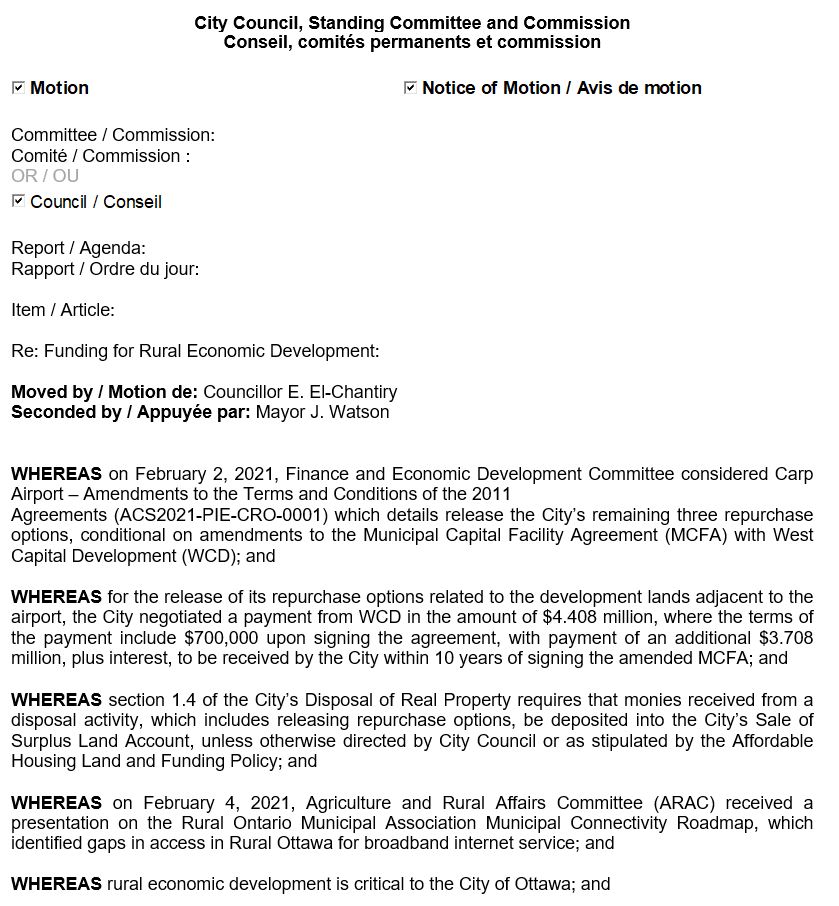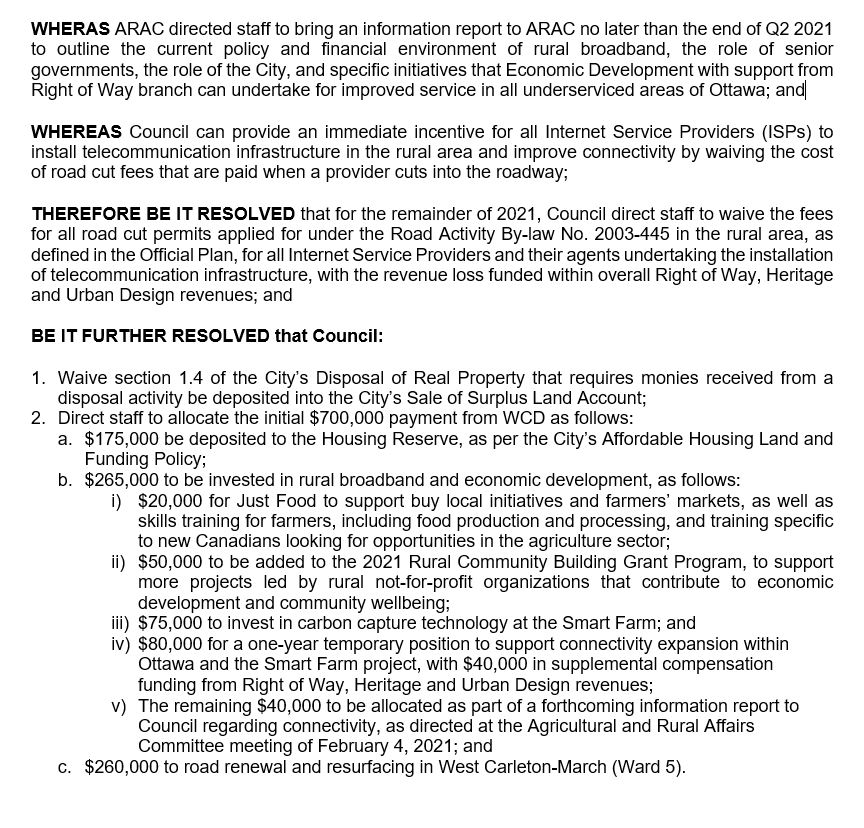 JUST FOOD – WORKSHOP ON HOW TO START A COMMUNITY GARDEN
Join Just Food on February 16 or February 20, 2021 and learn about the steps involved in starting a community garden. For example: how to search for land, what is essential when starting a community garden, the supports available, tips for organizing and much more! Suitable for new gardens, or existing gardens looking to onboard new volunteer coordinators! The attendance of at least one garden coordinator (or a member of the garden who is working on the proposal) at a How to Start a Community Garden workshop is a requirement in order to apply for funding through the Community Garden Development Fund. The coordinator must have attended a workshop in one of the past 3 years as criteria as processes have changed throughout the years, and we encourage more than one to attend at a time. CLICK HERE for more information and to register for a session.
---