El-Chantiry: Ward 5 weekly news
COVID-19 Latest News
State of emergency & stay-at-home order for Ontarians now in effect: Information on public health measures & restrictions from the Province of Ontario: Please CLICK HERE. This link includes more detailed information on the various public health measures and restrictions now in place in Ontario.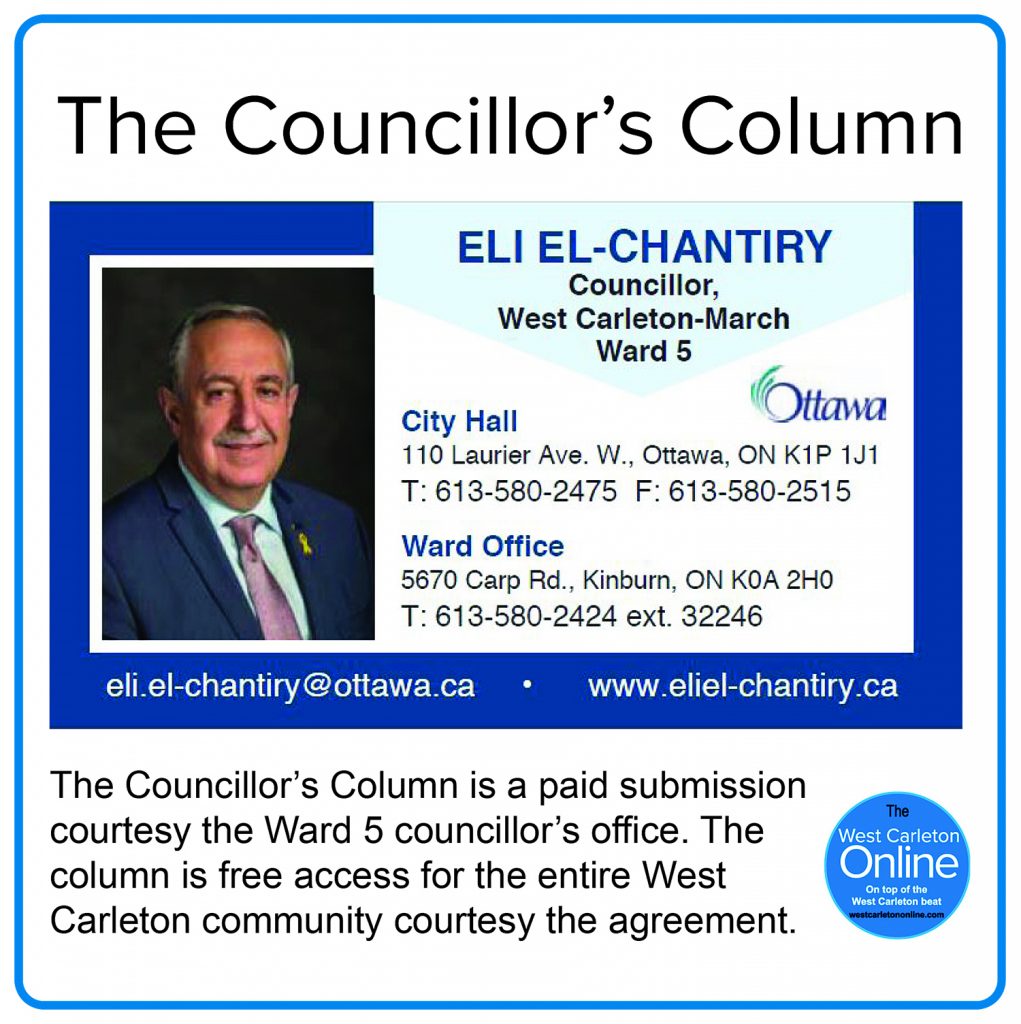 Anyone with questions about what is open or impacts to your business or employment, call the Stop the Spread Business Information Line at 1-888-444-3659.
City services impacted by current state of emergency & stay-at-home order:  Please CLICK HERE, for more information on current municipal services and facilities are are affected by the current statement of emergency and stay-at-home order.
Curious what the COVID-19 vaccination process looks like?  Take a behind the scenes look at how Ottawa's mobile vaccination teams are working together to save lives in long-term care homes. These homes are the first recipients of vaccines in the Province of Ontario's distribution plan.
New survey – Ottawa Public Health wants to hear from you:  Please share your thoughts with Ottawa Public Health about COVID-19 vaccines through this new survey. It is available for completion until February 12.
Urban Bouondary Review and Protection for an Agricultural Belt
The City's Planning Committee and Agriculture and Rural Affairs Committee will meet jointly on Monday, January 25 to consider which lands should be brought inside Ottawa's urban boundary, in line with the growth management strategy that Council adopted in May 2020.
Using Council-approved evaluation criteria, City planning staff scored blocks of land to accommodate new neighbourhoods, prioritizing those next to existing communities. Selected lands were further validated to encourage growth near existing commercial areas and existing or planned transit hubs. The report recommends approving 1,011 hectares of category 1 lands – those deemed to best meet evaluation criteria. The report lays out several options to identify an additional 270 hectares from parcels initially rated category 2 or 3, although such lands would need to meet certain conditions before they could be brought within the urban boundary in the future. The report also recommends adding to Ottawa's supply of vacant lands to accommodate industrial-related jobs. Staff recommend adding 140 hectares near Highway 417 at Carp Road and near Highway 416 at Barnsdale Road. The amount of land being considered stems from the Provincial Policy Statement, which requires we maintain enough land to accommodate residential growth for at least 15 years. Staff review the City's land supply annually and would report back to Council no later than 2026 to ensure supply remains compliant.
The Committees will discuss further protecting agricultural lands by establishing a Gold Belt outside the urban boundary – similar to Ottawa's cherished Greenbelt. Named to reflect harvest colours, the proposed Gold Belt includes agricultural resource lands, natural areas and mineral aggregate resource areas. Together, they create an additional boundary for communities like Barrhaven, Riverside South, Stittsville and Orléans. With more robust intensification goals and rules requiring minimum densities, this Gold Belt would be an additional policy tool to limit outward growth in Ottawa for the rest of the century. Leapfrogging over the Gold Belt would be prohibited. Existing lands between the Greenbelt and the Gold Belt meets Ottawa's immediate growth needs. If approved, the Gold Belt would be established in the new Official Plan to help contain future urban expansions until the end of the century.
I represent a rural ward and I'm particularly pleased with the proposal to establish a Gold Belt that would protect valuable agricultural resources and help ensure food security in this region. As the Agriculture and Rural Affairs Committee Chair, I recognize the need for our city to grow, but I'm encouraged that staff have recognized we have reasonable alternatives to do so without touching important agricultural lands.
Residents interested in providing feedback to the Committees are encouraged to review the draft report, which recommends not only lands to accommodate new neighbourhoods but also industrial lands to accommodate employment projections. Residents are also encouraged to participate in the New Official Plan process. A draft of the New Official Plan is available for review and comment at ottawa.ca/newop until Wednesday, February 17. You will find a series of short surveys, arranged by theme, to help guide your feedback depending on your areas of interest. You're welcome to take part in all surveys or send questions to newop@ottawa.ca. Your feedback will inform an update to the draft Official Plan that will be presented in the spring for discussion at a joint meeting of the City's Planning Committee and Agriculture and Rural Affairs Committee. Members of the public can also provide written submissions through the Committee coordinator (Melody.Duffenais@ottawa.ca) and can also speak for up to five minutes at the Monday, January 25 meeting. Those interested in speaking during the meeting should refer to the process outlined as Annex A of the agenda.
Winter safety on our trails
With the large amount of snow we received on the weekend, I would like to take a moment to remind residents that the various trails in our community are multi-use. Given more people are spending time outdoors during the pandemic, please be respectful of others and give each other lots of space. Dog walkers are reminded that your pet must be on leash at all times. As well, please stay on the marked trails and do not venture off onto private property. If parking your car near a trail area, you must be parked legally and you cannot obstruct traffic passing by. If you don't park safely and legally, you may be ticketed. By-law officers have been answering resident calls for service in this regard.
I know snowmobilers are anxious to get out onto the trails, but they are not open yet. In the meantime, please do not run your snowmobiles on our roads, on private property, or on open fields such as ball diamonds and soccer fields. It's not safe to do so and the machines will tear up the grass/ground underneath resulting in costly repairs come spring. When the snowmobiling season does start, snowmobilers need to be mindful of walkers, snowshoers, cross country skiers, dog walkers, and kids playing along the trails. The trails are for all to use so please be careful and respectful.
Winter Mainteneance Quality Standards Review
The City of Ottawa is looking for resident feedback as they review their Winter Maintenance Quality Standards. Please participate and have your say.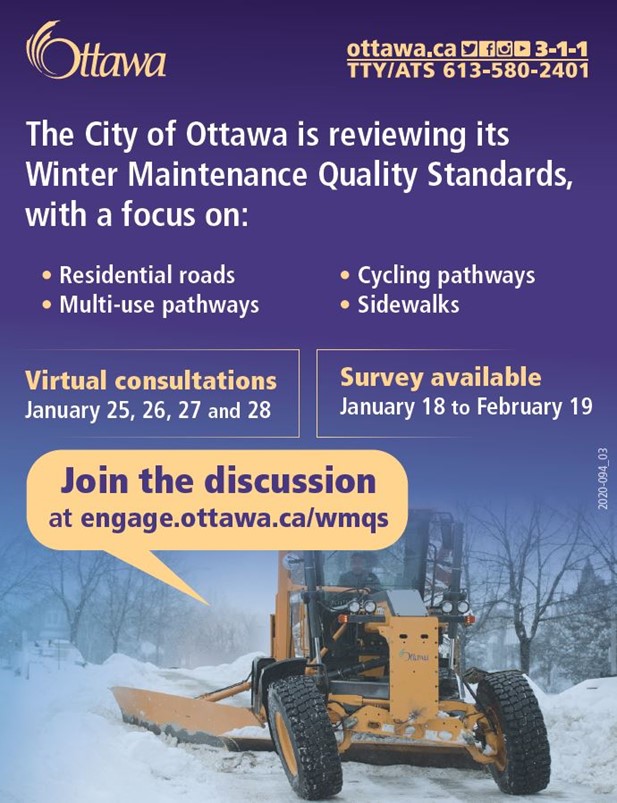 Holly Haven's Wildlife Rescue
Holly's Haven Wildlife Rescue is your local non-profit organization dedicated to serving our community by responding to wildlife issues as licensed by the Ministry of Natural Resources. Approximately 50 volunteers collaborate to provide excellent rehabilitation for orphaned and injured wild mammals such as squirrels, porcupines, raccoons, bats, skunks, foxes, groundhogs, chipmunks, and fawns. 
Last year, with the pandemic, demand for their help tripled! They went from a usual annual intake of 100 animals to and intake of over 300. They do most of our work through foster care of animals, so volunteers take in a few babies and care for them in their homes until they are ready for an outdoor enclosure. They establish enclosures at widespread soft release sites for the animals to move to when old enough. 
HHWR admitted animals are fed species specific foods and are given vaccinations to ensure they will be released healthy and will not spread any disease. Their 50 volunteers took in and treated the 300 intakes of last year on a budget of less than $20,000 received as individual donations from their supporters.
HHWR are getting ready for the upcoming spring when the calls for help with wildlife orphans will start coming in! HHWR needs to prepare by ordering the supplies they will need to do their job well. 
Please support their work by donating to HHWR. This can be done through their PayPal account or by e-transfer to donate@hhwr.ca. They also have a GoFundMe campaign and can receive cheques made out to Holly's Haven Wildlife Rescue, 2494 Dunrobin Rd, Ottawa ON K0A 1T0.
The old construction trailer on site was useful as HHWR's main building and clinic for several years, but is no longer in useable condition. They are looking for options to have it removed and have a new building or trailer to take its place. Please contact them directly if you have any suggestions. You can message the Holly's Haven Facebook page, email lynne@hhwr.ca, or text 613-222-4719.
---