Eagle Creek playable on X Box
DUNROBIN – Missing golf? Grab the right sticks and you could be playing Eagle Creek's award-winning course right now.
Of course, those sticks are joysticks, because if you want to play the beautiful layout that is Eagle Creek without getting snow in your backswing, you will have to play the course on the PGA Tour 2K1 video game now available for the X Box, PlayStation, Nintendo Switch and Steam.
The popular golf simulation was released on several platforms last August. One of the features of the PGA Tour licensed game is the ability to upload courses and play them. That's exactly what one Eagle Creek staffer did.
"It takes hours and hours and hours of work," Eagle Creek director of operations Ryan Little told West Carleton Online yesterday (Jan. 21). It was one of our employees that did it. He uploaded all the yardage, the trees, the bunkers, etc. It's not perfect, but he's still working on it."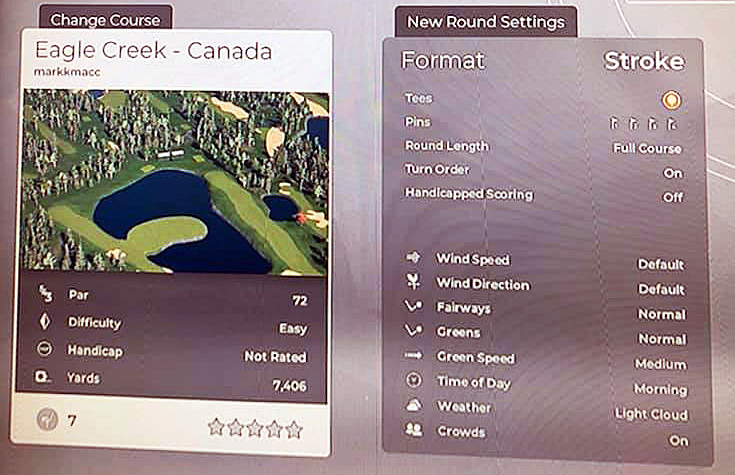 That employee is Mark McIntyre. While the game comes with many courses including every one played on the PGA Tour, there are few Canadian courses and even fewer from the Ottawa area.
"I just heard last weekend about it," Little said. "From my cousin. His kids got the game and they called me at home to tell me they were playing Eagle Creek. I didn't know what they were talking about at first. It is cool. We just finally tracked down the guy who did it (McIntyre)."
With the real golf season under a long snow delay, Eagle Creek's crew isn't spending much time at the office these days.
"We already had a father and son member play each other on the video game course," Little said.
It's no surprise Eagle Creek is on the game – it's one of the premier courses in the area. It has hosted a number of Canadian Tour events highlighted by the 2016 Eagle Creek Classic, which at the time was the Canadian Amateur Championship. Canada's greatest golfer Brooke Henderson also annually holds a fundraising kids' clinic at the club each year (cancelled in 2020 due to COVID-19).
"We are still a Top 100 course in Canada and now we're one of the first in the region to be up on the game," Little said. "I think we'll see others pop up now, too."
Little himself hasn't played the game and is not sure if he will any time soon.
"I'm not a gamer," he said. "I have played a few of the older games with my son. But for those who do, it's a lot of fun to play, especially during COVID-19. My buds are playing it on the X Box. On rainy days this summer we'll have it set up in the bar so members can play if COVID-19 permits."
For more information on the game, you can visit the video game manufacturer's website here.
---