Drugs, cash, vehicles seized in Barrhaven bust
BARRHAVEN – Following more than half-a-year of work, the Ottawa police dropped the hammer on an ecstasy and cocaine ring in Barrhaven last week.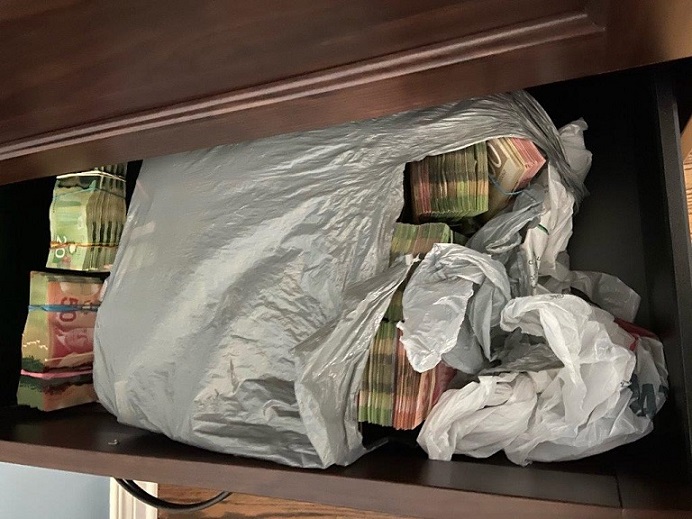 "On May 26, a seven-month joint investigation by the OPP Biker Enforcement Unit (BEU) and the Ottawa Police Service (OPS), culminated with the execution of search warrants on Fairlop Way and Simran Private in Ottawa," the OPS released in a statement last Wednesday (May 27). "The search warrants were executed with the assistance of the Ottawa Police Drug Unit, Tactical Unit, Canine Unit, PIVOT, the Provincial Asset Forfeiture Unit, and the Provincial Joint Forces Cannabis Enforcement Team."
Truong Dang, 51-years-old, and Byron Jones, 31-years-old, both of Ottawa, were arrested and charged with numerous Controlled Drugs and Substances Act, Cannabis Act, and Possession of Proceeds of Crime offences. They are appeared in court on Wednesday, May 27.
Items seized included:
over $150,000 in Canadian currency
18 kilograms of MDMA (Ecstasy) 
a kilogram of cocaine
1.5 kilograms of cannabis marihuana (bud)
Three vehicles and other drug paraphernalia
"We encourage everyone to report drug offences by contacting the Ottawa Police Drug Unit at 613-236-1222, ext. 5080," the OPS said.
Anonymous tips can be submitted by calling Crime Stoppers toll-free at 1-800-222-8477 or at crimestoppers.ca.
---