Davies: The longest month of the year
What is traditionally the longest month of the year is cruising by – it's already Feb. 21. So, just like my Hydro bill, my monthly column is late.
The value I hold in my cleverly titled column and my barely researched opinion held within, are on full display as we recap January 20 days in to February. I totally missed December. Aside from the Top Stories of the Year, what could be more important than the Top Stories of December? Maybe, March.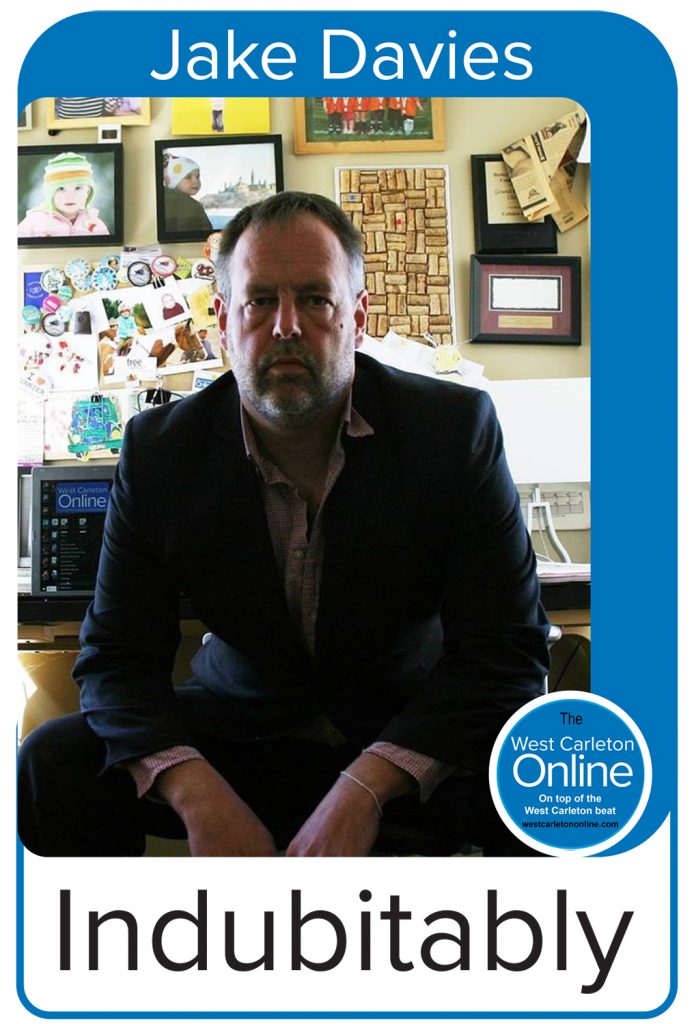 But that's the world we live in now. As Albert Einstein pointed out, time has no meaning. Basically. It's a manmade construct. I mean, were locked down, in our homes, with nothing to do, yet February has screamed by. I literally do nothing all day long. I don't get it. But it does remind me of a story.
My daughter plays a game called Bloxburg where she and her cousin live in a house and manage it. They pay bills, do chores, wash dishes, when I walked in to the room sometime in the recent foggy past, my daughter's little tiny avatar was vacuuming the little tiny computer game house.
If you asked my daughter at any time on any day, and I would bet substantial amounts of money on this, she could not for the life of her, tell you where the vacuum cleaner is.
Perhaps I need a video game where my little avatar is the editor of a small media company, and pressing a combination of the X, Y, B, A, buttons on the controller was all that was needed to file a column.
I guess that's a long way of saying, this month I'm mailing it in. I have a decent excuse though. I received an email yesterday (Feb. 20, see photo) from Helen C, Runway & Influencer Director for CHIC NYC RUNWAY & INFLUENCER DEPARTMENT of Global Influencer Agency at The Trump Building no less. They represent only hand selected influencers and it seems they want me to influence.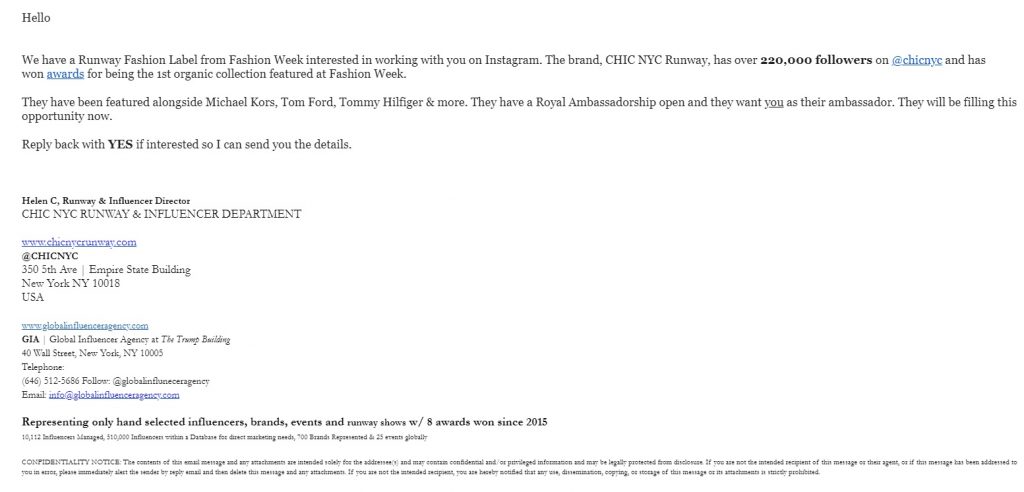 "We have a Runway Fashion Label from Fashion Week interested in working with you on Instagram," the email reads.
I've always thought of myself as a fashionista. A man hip to the current styles. One who could pull off wearing a Tom Ford suit with Michael Kors shoes. And then influence others they should do the same. Not everyone can.
I knew West Carleton Online would pay off someday. So, I'm off. In the meantime, here are our Top Five stories from January, and the five we missed from December, why not?
January Top Five stories
We had 19,192 pageviews in January.
Carp bunkie to offer homeless hope (Jan. 4, 411 pageviews): Arnprior's Guy Lamarche is a homeless Arnprior man who is building a bunkie in Carp in hopes of living in it, but also using it as an example of what can be done at fairly low cost to house the homeless. His name will pop up again next month as just this week we were first to have the story Lamarche has to find a new home for his bunkie by the end of the month.
Dunrobin family seek signatures for Friedreich's Ataxia drug (Jan. 17, 332 pageviews): Dunrobin's Kaelan Carlson is afflicted with the disease. His brother Alex, a Dunrobin firefighter and business owner, has hosted a fundraising shinny tournament for the last four years to raise funds for research. Like everything else, COVID-19 cancelled the tournament, so this year, they asked for signatures.
Former West Carleton editor, CP councillor passes suddenly (Jan. 11, 258 pageviews): Theresa was a colleague of mine two separate times and also my competition at another time. The journalism world is a small one and the Ottawa Valley journalism world more so. She was one of the champions of it.
Two Dunrobin residents charged with drunk driving in Renfrew OPP weekly round-up (Jan. 11, 257 pageviews): The weekly OPP reports we do on Lanark and Renfrew county have their readers, but this is the first time a round-up made the monthly top five. Much to those charged within's chagrin.
COVID-19 creating rural migration (Jan. 21, 233 pageviews): Carleton University journalism student and Kinburn native Jonathan Tovell wrote this great story for us looking in to the trend of city dwellers moving out to the country during the pandemic. It caught a few reads, but don't worry, as soon as the newbies realize there's no Tim Horton's and it smells funny, they'll go home.
December Top Five stories
In December 2020, we had 18,913 pageviews. Interestingly enough, our top visited page for the month was not a story, but something from our events listing – the 11th Annual Santa Claus Drive Thru Parade which had 1,186 pageviews.
Carp Santa parade a stationary go (Oct. 29, 556 pageviews): And even more interesting (in my opinion) our top story of December was written in October. Although, the static Santa Clause parade was a moving hit which was no surprise at all.
Lepage: 'I don't know what it's like to have a home anymore' (Dec. 4, 380 pageviews): A story that should have had thousands of pageviews. The Lepage family is the tragic example of the long-lasting impact the 2019 extreme flooding has had on the community. This family continues to battle as challenges mount up, still without a family home.
Gibson movie filmed in Carp debuts trailer (Oct. 7, 349 pageviews): They don't call it Tinsel Town for nothing, and another October story makes the December Top Five. The movie didn't show in theatres, got mixed reviews to put it politely, and was on and off our screens in the blink of an eye. But we love the movie business and character aside, it did involve an Oscar winner.
Snow Mole search on in West Carleton: (Dec. 29, 225 pageviews): December is full of surprises. Posted a day before the end of the year and this story still makes the Top Five. Maybe the headline was a little misleading – but we stand by it.
Christmas tragedy on Hwy. 417 near Carp exit (Dec. 25, 218 pageviews): It's not the story you want to read on Christmas day, but many did because tragedies have long-reaching effect.
---