Davies: Strong opinions, October Top 5
OPINION – It's already Nov. 21 as I write the monthly column that doubles as the list of West Carleton Online's Top Five stories of October.
Keen observers will note there are only nine days left in this month and we're only getting to last month's Top Five stories now? In today's 24-hour news cycle, one West Carleton Online fully respects, readers expect their Top Five list stories, especially monthly Top Five list stories, on Day One of the new month. When it mattered. And you're right. Our stat tracking happens in real time, so it's not impossible to accomplish this simple task. Writing is easy, ask anyone.
Two months ago, West Carleton Online made the daring decision to merge a monthly publisher's column with our list of readers' most viewed stories and its already proving a challenge. Here's why it took so long this month.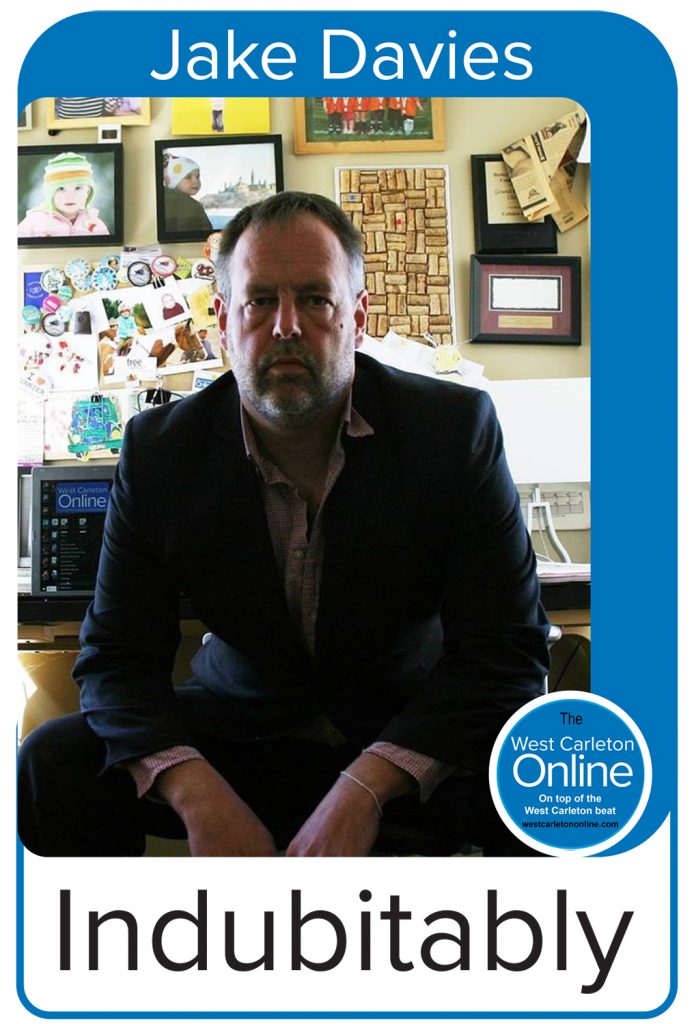 These days, having an opinion is scary. It doesn't matter what the opinion is. Having it, and sharing it, is scary in the age of social media and instant news. If you share an opinion publicly, here, in a newspaper, on TV, on a Facebook page (especially What's Up, Arnprior?), on Twitter, you are going to get yelled at.
When I was younger, having an opinion was much easier. When I first started at the West Carleton Review and Arnprior Chronicle-Guide in 2001, reporters wrote a column every three weeks. From hunting season, to politics, to toilet paper roll hanging, to my favourite sweater, nothing was off limits and I thoughtlessly shared my opinion every time it was my turn to. I was fearless.
I mean, what did I have to be afraid of? There was an old newspaper saying – you don't pick fights with people who buy ink by the barrel. Back then the Internet was in its infancy. If someone didn't like what they read in the paper, they had to spend time writing a letter and they even had to pay, buying a stamp, to send their retort back. Then a couple weeks later the newspaper would receive that letter and the very person who wrote the original column decided if that letter would run, sometimes a month after the original column was published. Who even remembered what the column was about by then? Having an opinion was easy.
Heck, even if I was sued in to bankruptcy back then, my biggest loss would have been a 14-year-old rusty VW Golf. Enjoy. I would have survived.
That was 19-years-ago. West Carleton Online doesn't buy ink. At all. Now I have something to lose – a house, a newer (but still used) car, a business. Now I have responsibilities. A child. I have a lot to lose. I litterally make my money by you liking what we print. Do I want to be married, in print, to an opinion I just didn't have that strong a bond with to begin with?
Let's find out. The pre-amble is over and has filled enough inches I don't have to share too many opinions in my first effort. Please remember, I'm out of practice. Before launching the column Indubitably a couple of months ago, it had been about 10 years since I had an official opinion. Coincidentally, this column was named after, and in the same tongue and cheek spirit of my West Carleton Review column, Remove All Doubt.
The U.S. Election. It was actually that topic where the fear of opinion first rose it's ugly head. That's right, I have been putting off this column since Nov. 3. For the first couple of days I clung to the excuse, like some conspiracy theorist, that we don't know who won. Well it's pretty obvious now. Although I have republican leanings, Trump was not a man I could get behind. Since becoming a regular in the media in the early '80s, he has just never come across as a 'good guy.' I get it, I don't know Donald Trump. I know of him through the media. Everyone knows you can't trust the media. But every time I read his words or heard him talk, he does not come across as a good person. I get it, I'm naïve and the president of the U.S. doesn't have to be a 'good guy' and often has to deal with other world leaders who are also not 'good guys.' Perhaps, I'm wrong, lord knows I've been wrong before. A lot. But I believe being a 'good guy' and all that entails is important and I think, judging from the 300-plus people who attended 'Golf Cart' Dave Creighton's drive-through wake earlier today (Nov. 21), they agree, being a 'good guy' is important too. My other takeaway from the U.S. election – how can two parties, the Democrats and Republicans, spend billions of dollars and years working on the project, and these are the two 'best' candidates they come up with to lead the free world? To 70-something, old white men out of touch with reality? I will give Trump credit for one thing; he has changed politics forever. As for Sleepy Joe? We'll see.
Toilet paper. Perhaps more contentious than the U.S. election. It's certainly the same argument as the election – there are only two choices. Hang the loose end at the front or 'over' or hang the loose end behind, or 'under.' In reality, there is only one choice. Over. It's the only thing that makes sense. The advantages are clear. If you do it any other way, you are an idiot. Don't @ me.
Following are our Top Five stories for October, as picked by our readers based on pageviews
We had a heck of a month in October. Our stories totalled 20,377 pageviews. For the first time in West Carleton Online's history, our busiest page was actually on our Events Listing as 392 viewers wanted to know about this year's Remembrance Day service. But this list is for stories.
Also, for the first time ever, we had a tie for our most popular story of the month.
COVID-19 case confirmed at WCSS (Oct. 26, 351 pageviews): We broke this one. In fact, we were the only media outlet to cover it. The first reported case at West Carleton's largest school is going to attract some eyeballs in West Carleton, while also force parents to re-think their schooling decisions in the age of COVID-19. There are no easy answers.
Langstaff development piques community interest (Oct. 15, 351 pageviews): The largest development in Carp history is also going to be a rental sub-division. 'Piquing interest' may have been an understatement. We spoke to the landowners, the councillor and the community and we continue to cover the biggest development news in West Carleton.
Woodlawn shopowner Vance passes at 91 (Oct. 16, 242 pageviews): West Carleton cares about its community and knows its history. The history of general stores in West Carleton is an important one, a lifeline for community members, and West Carleton Online has written many stories on the stores, their owners and their histories over the years.
Dunrobin's Dashing Muscle wins Woodbine $250,000 race by nose (Oct. 18, 227 pageviews): Ontario's fastest two-year-old trotter lives in Dunrobin. We met Dashing Muscle 10 days after her win and she hasn't changed a bit. Let us say this, she's as humble as she is fast.
Carp BIA wants to light up village (Oct. 25, 220 pageviews): In these strange times, Carp promises to leave a light on so you can find your way home. And win prizes.
---