Corkery's Osorio seeks Conservative bid
CORKERY – A lifelong Corkery resident, Alex Osorio is taking a shot at the Kanata-Carleton Conservative leadership.
"Most of my life," Osorio told West Carleton Online Feb. 19. "I went to West Carleton Secondary School. It's always been home. I have great memories here and now my brother and sister are here too."
Osorio's day job is as a managing partner at Today Media, a multi-platform publishing agency. He is actively involved in his community helping organize family food banks, co-ordinating youth and street outreach programs, but he has always had a passion for politics and now he is putting his money where his mouth is.
"My community deserves a better member of parliament and government," Osorio said. "They demand it. I want to be the voice they deserve. I think with a Conservative candidate, there's time for change and I want to be their voice."
As a longtime West Carleton resident, he is noticing change in his community and Osorio feels the riding needs a strong voice to make sure the rural area doesn't get lost in the shuffle.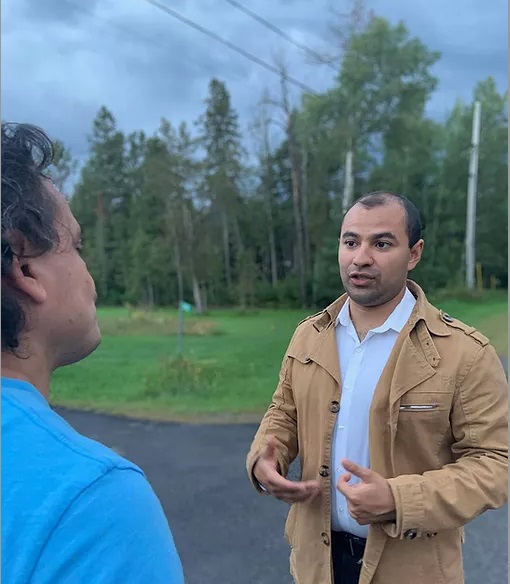 "The city is moving closer and closer," Osorio said. "The older generation is moving out and you can notice the changes."
Part of that change is an eroding voice.
"I see more and more politicians want to run on what's trendy," Osorio said. "I want to get back to community."
While its Osorio's first time as a candidate, it is not his first time on the campaign trail. Osorio has worked as a deputy campaign manager for several elections and worked as an advisor for Fort McMurray-Cold Lake MP David Yurdiga in Alberta.
"He taught me and prepared me to be a good representative for my people," Osorio said.
Osorio announced his nomination last September and filed his paperwork in December. In between then and now, he has spent that time talking and listening to Kanata-Carleton residents. Campaigning in 2021 looks different than in any other previous election. With COVID-19 there is no doorknocking, no campaign events and no large gatherings.
"I'm up for the challenge," Osorio said. "People still want to be reached out to. We'll have a strong social media and phone campaign. The strategy is still the same."
Osorio says what he's hearing in the community is residents want to see the federal government play a bigger role in minimizing flooding and ensuring there is relief available. He thinks Kanata-Carleton could be more welcoming to venture capitalists as well.
"The government is not doing enough," Osorio said. "Farmers are also reaching out. We have a government that doesn't support the industry as much as it should."
Osorio says the government needs to find new markets; come up with a substitute for the carbon tax; and ensure infrastructure is in place for the industry.
While there is no official date for the nomination period to close, Conservatives believe an election will be called by April. For Osorio, it means every day is a workday.
"Treating every day like it's a campaign day," he said. "Like it's Election Day. Community issues matter. We need to keep them informed and make sure the next Conservative candidate is accessible."
The proud uncle of 11 says he's ready to represent Kanata-Carleton.
"I'm married to the job," Osorio said. "It's been a fun ride. I know the community is demanding better from their government. I'll work hard every day. Stat safe, stay healthy, but don't stay quiet. Send me an email, give me a call, I'm ready to hear from you."
If you would like to more about Corkery's Alex Osorio, you can visit his website here.
---