Community moves Carp bunkie
CARP – Moving a 5,500-pound (2,495 kilograms) bunkie from Carp to Arnprior is no small task, but a Carp-based towing company took it upon themselves to help a homeless man move his year-long project to a safe space where Guy Lamarche can continue to shine the spotlight on the homelessness issue.
Today, (Feb. 23), more than 15 people, a boom crane, a large flatbed and several tow trucks came together at a Carp Road farm to help Lamarche move the bunkie he built with his own hands and using material he found discarded or donated. Lamarche, who calls Arnprior home, has been homeless for years. Also known as The Frugal Man, Lamarche was building the bunkie in an effort to shine the light on rural and small town homelessness. West Carleton Online first met Lamarche on Dec. 30 when we first reported on the construction of the bunkie.
At the time, Lamarche said he didn't have a deadline to complete the bunkie, but it was never intended to stay on the Carp property indefinitely. He worked on it when he could. Lamarche was also a member of a Town of Arnprior ad hoc committee looking in to the homeless issue.
Sometime in February, Lamarche was given a deadline. The property had sold, somewhat unexpectedly, and his bunkie had to be off the property by the end of this month. West Carleton Online broke that story on Feb. 17.
At the time, Lamarche was not sure if he would be able to move the bunkie or have to abandon it. Lamarche shared the story on his Facebook blog Arnprior – Life on the Streets. The outpouring of support was fast and furious and six days later, the bunkie was on its way to Arnprior.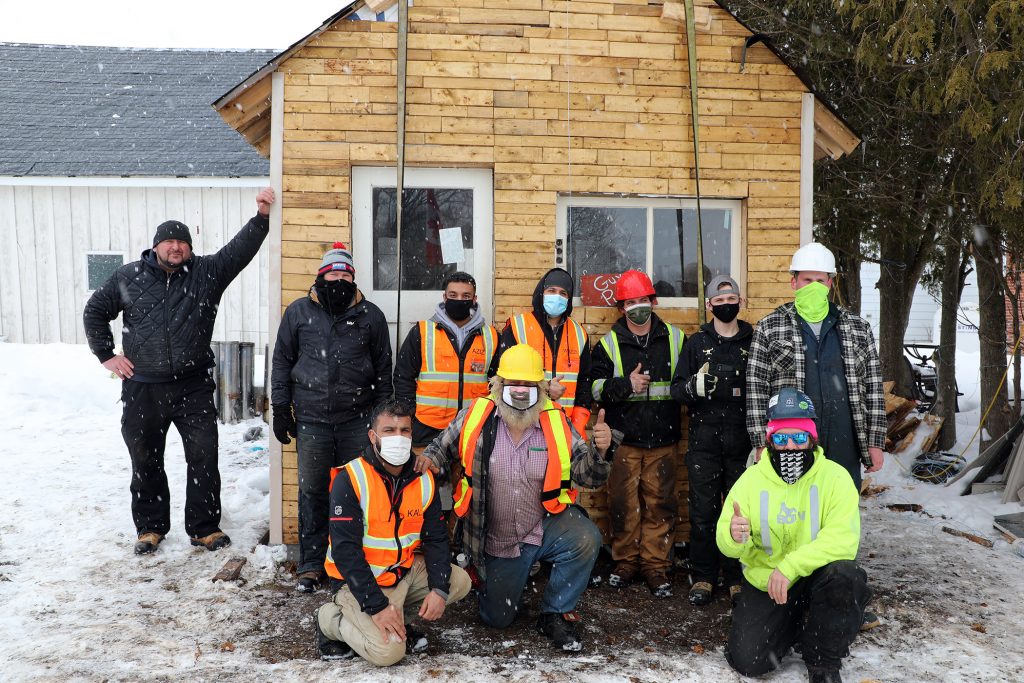 The most impactful of that support was Wazzi Towing. A Carp-based business who volunteered to come to Lamarche's aid.
Owner Wazzi Mohammadi, his staff and several trucks were on hand to try and move the 5,500-pound bunkie. Mohammadi has seven years experience in the towing industry and started out on his own about two years ago. His yard is located on Richardson Side Road.
"I had people reach out to me about this gentlemen Guy Lamarche, and they said he needs some help," Mohammadi, who lives in Kanata, told West Carleton Online after finally getting the bunkie on one of his flatbeds. "A lot of people reached out to me and contacted me and told me 'I think you should go give him a hand.' I made some phone calls, and I got Jerry's boom truck company and they came and gave us a hand and there was a lot of support, a lot of people in the community, lots of people have been supporting this gentleman on social media. We're a small community in Carp and we're helping each other."
This was no small job. It started early this morning (and was still ongoing as the crew was unloading the bunkie in Arnprior at roughly 4 p.m.) when a neighbouring farmer came by with his tractor and plowed out the area to make sure there was room for the boom crane and the flatbed to get at the bunkie which was in the backyard.
Volunteers, unsure of the stability of the bunkie, added some support to it in hopes it would survive the stress of being lifted, and eventually tipped over on to its side on the flatbed.
"It's one of the toughest jobs I've ever done so far in seven years," Mohammadi said. "I'm glad everything has worked out so far. We're going to leave from here to Arnprior and hopefully we get there safely. Try to get Guy settled before the weather gets cold and that's the main thing."
Travel was a slow process involving a small convoy. Traffic was controlled and the flatbed stopped at every overhead wire to ensure it could pass under safely. It was a full day job and involved a full crew for both companies helping out. But Mohammadi didn't hesitate when asked to give up a day of income to help.
"The community came forward and my time is any time for my people, my community, when they need it," he said. "Anybody who needs any help and can't afford it, give me a call, I'll be there. You know what I mean? My time is always for my people."
Heather Leonard, part of the family owned mobile crane service based out of Pakenham called Jerry's Truck 'N Boom Service, watched the action while her son operated the crane.
"We've followed the story on social media, and Wazzi called Jerry (Heather's husband) on Sunday and asked Jerry if he would be interested in donating our services and time, and we jumped right on it," Heather told West Carleton Online.
Today was the first time meeting Lamarche, and he took Heather on a tour of the bunkie.
"I'm really impressed with his resourcefulness," Heather said. "Taking stuff other people don't see value in and turning it in to something meaningful. I think that he's just trying. It's a challenging time for everyone."
For Lamarche, today was a huge day for him. It meant he did not have to give up on his bunkie dream.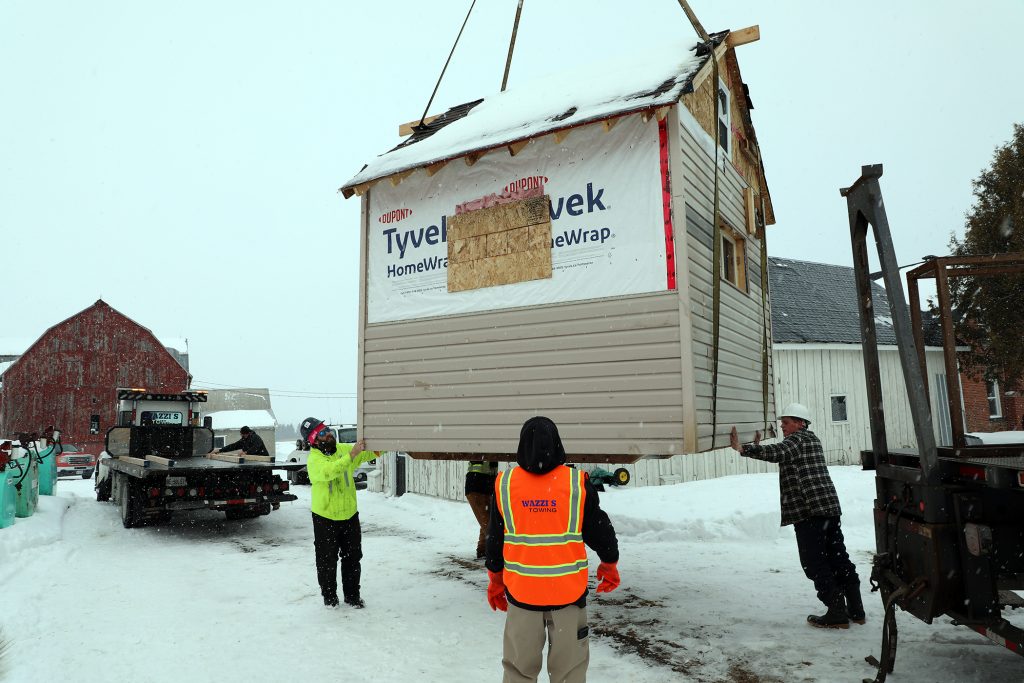 "I post a lot of what happens in my life on Facebook and I let people know I had to move and leave the property," Lamarche told West Carleton Online. "I was thinking I might have to go back to living in my van in Arnprior and I might have to abandon the bunkie. As soon as that was posted, it went crazy with views and private messages, and emails, a few people called me. This whole movement of people offered to help me. Some corporate companies and tow companies and individuals and they've all come today to help me. I couldn't even use everyone that offered help."
Instead of having to abandon it, it will now be located in the parking lot at John and McGonigal roads in Arnprior. One of his goals was to have it located, in Arnprior, in a high-visibility area in hope he could continue to shine a light on the homelessness issue and his potential solution.
"It's highly visible," Lamarche said. "It's my old stomping grounds where I parked and lived in my van and sat at my picnic table. I couldn't have asked for a better spot. I'm so fortunate, I can't believe it."
Along with the two small businesses already mentioned, Lamarche said people like Brandon Ekholm, Vince Foley, Cole Walker, Noah Bottriell and James Neil also were huge help in making this possible.
Today was also personally important to Lamarche. It showed him he matters to his community.
"It's overwhelming," Lamarche said of his emotions when thinking of the outpouring of support. "I didn't see this coming at all. It just took on a life of its own and everybody was just saying we got to help this guy, we got to do something. A lady named Linda Pearce started a Gofundme page with a goal of $2,000 to help move the bunkie and it went very well and exceeded the goal. So that has gone really well. I'm just humbled, very, very humbled, and very happy, and very touched by everyone's actions. People really care about me and they're really helping me and its wonderful."
---