Closest WC COVID-19 vaccination clinic on Stonehaven Drive
OTTAWA – The City of Ottawa will set up seven community clinics when COVID-19 vaccination doses become more readily available, but West Carleton's best bet for a local clinic remains in the form of a mobile unit.
Yesterday, (Feb. 23) executive city staff provided council with an update on the vaccination rollout via a memo to council.
"The purpose of this memo is to advise members of council Ottawa is expected to complete first dose offers of COVID-19 vaccines to eligible residents at all retirement homes in the city by the end of today," Ottawa's chief medical officer of health Dr. Vera Etches and Emergency and Protective Services general manager Anthony Di Monte wrote in a joint memo obtained by West Carleton Online. "This milestone has been reached through the efforts of Mobile Vaccination Teams, comprised of staff from the Ottawa Paramedic Service, Ottawa Public Health, The Ottawa Hospital, the Queensway-Carleton Hospital, Ottawa Inner City Health, community physicians and the retirement facilities. This was truly an inspiring team effort."
In all, residents of 82 retirement homes have received first dose offers of vaccines in Ottawa. The vaccinations began with the high-risk homes, which are homes with a memory care unit, homes that are co-located with a long-term care facility, or homes that were identified as vulnerable due to other available information. Vaccination of the 37 higher-risk retirement homes began on Feb. 7 and followed the provincial ethical framework for COVID-19 vaccination.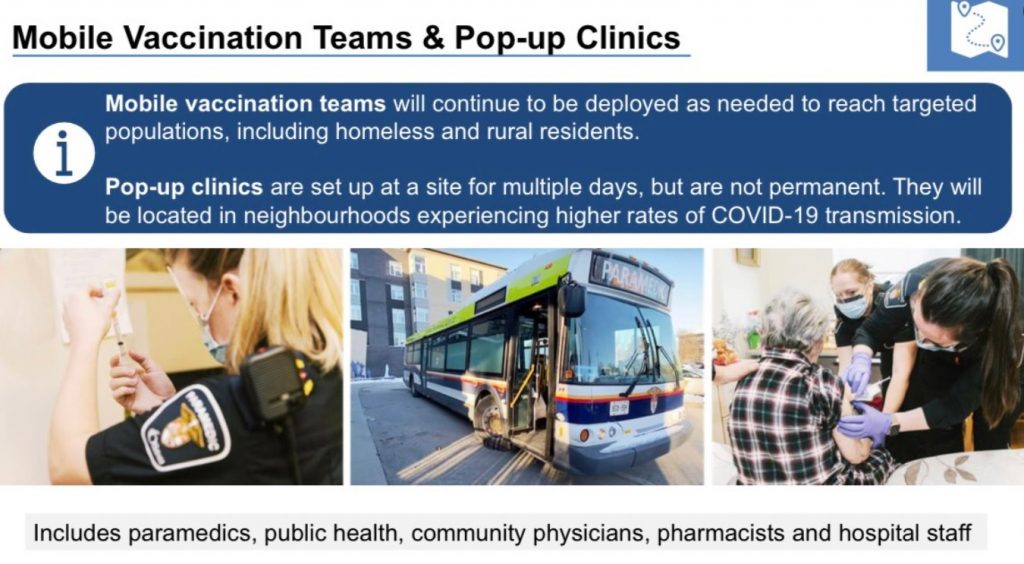 "Completion of first dose offers of vaccines to eligible residents at all of Ottawa's retirement homes is an important milestone," the memo reads. "However, it will be several months until COVID-19 vaccines are available to the general public. In the meantime, it is essential that we continue to practise public health measures to help reduce the transmission of COVID-19 in our community."
Despite the dire news of availability city council is planning ahead and released the location of the seven community clinics that will operate once vaccination doses are available. Two hospitals will also set up community clinics.
"Once the COVID vaccine is more widely available the city will begin opening seven community vaccination clinics," Mayor Jim Watson released in a statement today (Feb 24). "These clinics will be opened based on supply."
The closest one to West Carleton will be located at the Eva James Memorial Community Centre at 65 Stonehaven Dr. The other clinics will be located at the Queensway Carleton Hospital (3045 Baseline Rd.), the Nepean Sportsplex (1701 Woodroffe Ave.), The Ottawa Hospital Civic Campus (1053 Carling Ave.), Canterbury Recreation Complex (2185 Arch St.) The Horticulture Building (1525 Princess Patricia Way), Ottawa City Hall (110 Laurier Ave.), St-Laurent Complex (525 Cotê st.) and the Ruddy Family YMCA-YWCA (265 Centrum Blvd.).
"In addition to these community clinics, we will also be operating mobile and pop-up vaccinations sites in higher risk and difficult to reach communities," Watson said.
---