City releases 2019 collision data
OTTAWA – Recently released collision data shows there were no fatalities in 2019 on the roads of West Carleton despite collisions hitting a five-year high in the City of Ottawa.
In the last five years there have been 74,432 reportable collisions in the City of Ottawa. 2019 represents a five-year high with 16,399 collisions. That represents more than 1,300 more collisions than the second biggest year in that five-year snapshot – 2015.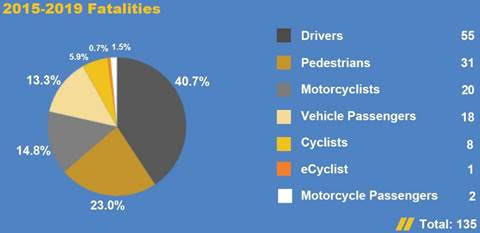 In 2019, the City of Ottawa had 601,372 registered vehicles and estimates there was about 705,839 licensed drivers.
Usually, the report is released the summer following the year reported on. Of course, this is not a usual year.
"The delay in releasing the 2019 Collision Data Summaries, which normally occurs in the summer of the following year, was due to the impacts of COVID-19 on the city and its partners that support the data collection and release," city staff released in a memo to Ottawa council Jan. 18.
Of those roughly 16,000 collisions, there were 3,604 injuries ranging from minimal to fatal. There were 27 fatalities. In the five-year period there were a total of 18,207 injuries and 135 fatalities. None of the fatalities were in West Carleton.
Of 2019 collisions, 30,119 involved vehicles, 315 involving pedestrians, 295 involving bicyclists, 133 involving motorcyclists and three involving electric-cycles.
The data released also includes the 2019 Top 10 signalized intersection collision locations. West Carleton's two signalized intersections, Carp and March roads and March and Dunrobin roads, did not make the top 10. The number one most dangerous signalized intersection was Hunt Club and Riverside roads with 58 collisions.
The age group with the most injuries in 2019 was the 20 to 24 age group with 414 injuries. The 55 to 59 age group suffered the most fatalities with eight.
"The Strategic Road Safety Action Plan was approved in December 2019 and included measures to address fatal and major injury (FMI) collisions," staff said. "The plan included a number of countermeasures that were implemented in 2020 to help address collisions involving pedestrians, cyclists and motorcyclists, including, but not exclusive to;"
High-visibility ladder markings implemented at 10 locations
Low-cost cycling safety improvements at 14 locations
New pedestrian signal installed at Metcalfe and Waverly
Low-cost pedestrian safety enhancements at five locations
Protected left-turn phasing installed at nine intersections
Comprehensive study of motorcycle collision trends is in progress
Functional design of cycle track on Laurier Avenue between Queen Elizabeth ramp and Elgin Street and protected intersection at Elgin Street and Laurier Avenue
Re-design of Jeanne d'Arc interchange and removal of free-flow channel from Jeanne d'Arc southbound to Highway 174 westbound as part of Stage 2 LRT implementation
"These improvements and initiatives occurred outside of the data collection timeframe for the 2019 summaries but demonstrate the city's commitment to enhancing road safety and continuing the move towards zero fatal and major injury collisions on our roadways," staff said. "The Strategic Road Safety Action Plan 2020 Report and 2021 Implementation Plan will be brought to the Transportation committee in March 2021, and details on the upcoming investments in road safety will be presented there."
The 2019 Collision Data is available on ottawa.ca and is also now available on Open Data Ottawa.
---