Champion Dashing Muscle back home
DUNROBIN – Last Saturday's (Oct. 17) $250,000 Woodbine Super Final was a race for the ages with Dunrobin's Dashing Muscle winning by a nose.
For Armstead Farm, Dashing Muscle is the horse of a lifetime for trainer-owner James and Glenda Armitage.
"It took me 63 years to get a horse like this," James told West Carleton Online from his barn on Torwood Drive Monday morning (Oct. 26).
James is the son of Canada Horse Racing Hall of Fame member Dr. Roly Armitage. He's spent his life around racing horses. He even operates the same barn his father did some 40 years ago.
James is on his way to becoming a pretty big deal in Canadian horse racing history as well.
With last Saturday's win, Dashing Muscle became Ontario's top-earning two-year-old trotter in 2020 bringing in around $224,000 in seven races this past season.
The race, with driver James MacDonald in the race bike, was a series of small victories on top of the win.
"We beat a horse that was bought for $300,000," James said. "We beat a horse we once bid on but couldn't afford."
And they one won the biggest race of the year after more than a year of hard work.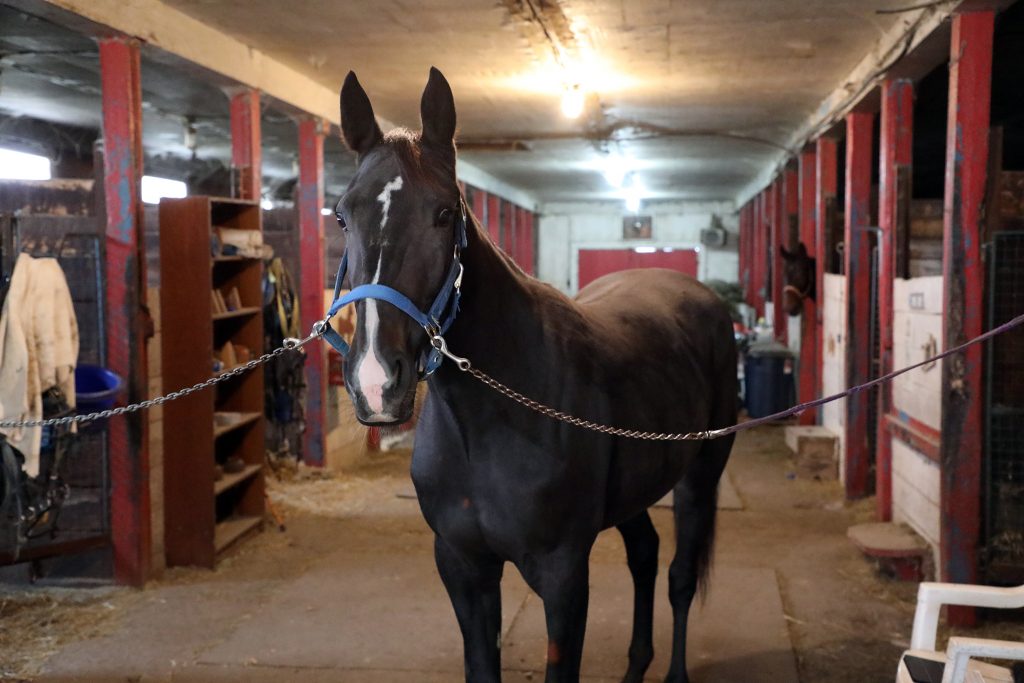 The story starts with a two-day auction in London, ON, a little more than a year ago. James, Glenda and some syndicate partners who invested raised $30,000 to go to auction. They studied brochures and video. Read lineage and studied the catalogue of horses that would be available.
"We saw about 20 we liked," James said. "We had $30,000. If she went for more than that, we wouldn't have got her."
The 16 hands-and-a-bit Dashing Muscle, named in part after her sire Muscle Memory, was off to Dunrobin.
"We checked over her pedigree," James said. "Then we go and study them. I like a horse with a nice, soft eye and we go from there. I like a gap under their throat for breathing. Then there's the foot. There's an old saying, no hoof, no horse."
Starting last October, James and Glenda had to get the filly "to a respectable speed."
"We kind of thought she looked special, but you just don't know," James said. "The one thing she has is she is very smart. She acts like a four or five-year-old. She has a beautiful gait."
James, a retired City of Ottawa employee, started working with Dashing Muscle six to seven days a week depending on the weather. He has a small 5/8th mile track between his barn and Torwood Drive, and James says he likes to start his work in "pieces," focusing on different elements of a race, before putting them altogether.
"Everyone's thing is a little bit different," he said. "I go pieces every day. They tell you when they are ready. She was the whole deal. She was easy to train."
James knows his track.
"I never carry a watch," he said. "I know the speed of my track. I kind of knew she was special. The horses today are so well bred, they're easier to train than 30 years ago."
The next step is a few trips to Rideau-Carleton Raceway for some training on a full-scale track with a few other three-year-olds.
"We take them to Rideau-Carleton in spring for five or six weeks and put all the pieces together," James said. "I thought she was a darn nice filly, but you never know. She was turning heads of all the old trainers at Rideau-Carleton."
By June, Dashing Muscle was ready for Puslinch, ON. She was ready to begin advanced training at Classy Lane Stables Standard bred training centre under the watchful eye of Chantal Mitchell.
"These horses can drop two seconds a week without it hurting them," James said.
Once the season started, Dashing Muscle competed in seven races. In the first of her career "she raced really well," but came fourth. She won the next one. In total Dashing Muscle ended up with two firsts, two seconds, the fourth, and one race where she broke her trot. Race number seven was the Super Final victory.
"She had the eight-hole, the worst position, and was racing against older horses," James said.
James and Glenda always had that feeling Dashing Muscle was the one. Five years ago, James, Glenda and Roly owned Janderson, a horse that made them more than $200,000 and allowed James and Glenda to buy back Armstead Farm and bring it back under the Armitage name. Roly had sold the farm to George and Marie Claremont of Montreal who owned it for 35 years before deciding to downsize.
"This one is a little better," James said of Dashing Muscle.
James thinks, if he were to put Dashing Muscle up for sale, the filly would be worth around $350,000.
"The Swedes would give me $400,000, I'm sure," he said. "She was beautiful to train all winter. She's handy in a race. You can lead with her, take her back, you can do anything."
But in the horseracing world, talent isn't everything.
"You need racing luck," James said. "One of the favourites, I'm Extra Special, broke stride. Dashing Muscle was the soundest at the end. She peaked at the right time."
James says part of the strategy was to keep Dashing Muscle fresh. The filly participated in fewer races than some of her competitors. She also took five-weeks off during the season.
Next year, as a three-year-old, is a big year for Dashing Muscle. It's when many horses hit their peak. After that, it will be time for an "ownership decision."
Do they sell her, keep her, breed her "ourselves?"
"We don't know," Glenda said. "That's a long time from now."
Glenda married in to the business. She grew up on a dairy farm in Lancaster, ON.
"I have a background in farm life," she said. "Work is never done. But we never had horses."
Although Glenda and her sisters always wanted horses.
"We begged our dad all the time," she said. "He called them hayburners."
"When you train horses, you do a lot of dreaming on the back of that cart," James said. "You have to dream big and work hard and be smart."
The next dream is already in the barn. A yearling named Armstead Cole, that has been training for three weeks.
"We raised him ourselves and brought in the syndicate," James said. "He's on the same program as Dashing Muscle. We could get big, but we don't want to. Were just having fun, but you have to dream in this business."
James' lifetime in racing is something he's enjoyed from day one, growing up on a farm in Shawvillle. His dad Roly has been a part of that journey every step of the way.
"He was a huge influence on me growing up," James said. "He taught me a lot. Growing up, I had to learn on the plugs. They were harder to train. I wasn't allowed to ride one of the good ones until I knew what I was doing. Dad was tough but fair. We are a bit different though. Dad likes to see them go quick early and I'm more patient."
Despite waiting 63 years for a moment like this, James said he and Glenda were ready for the race.
"I tell you honestly I wasn't nervous," he said. "There are so many variables. You need race luck. Pole position. How your rider is doing. Add to that, the horse has to be sound and fit and healthy and that was Chantal's job and she did an awesome job."
"We were going in knowing she was doing well," Glenda said. "In this business, details are big. You really have to do your homework. We were coming in fresh and a couple of big horses had a couple more races. We managed her. We wanted her peaking for the final and we did that."
Now Dashing Muscle gets to enjoy the offseason. She's on break until January back in her Dunrobin-based stall. She'll head back to Dashing Lane Stables in May with the big races starting in June.
"You have to have a passion in life," James said. "It doesn't matter what it is. I believe I have a passion."
---