CBCM has something to cheer about
CONSTANCE BAY – The COVID-19 pandemic has ben a huge challenge for West Carleton's small community-based markets.
The Carp Farmers' Market is hosting less than half the vendors it would in a non-pandemic year and none of the on-site food, music and ambiance. The Constance Bay Community Market (CBCM) shut their event down completely.
The young market wanted to make sure they weren't forgotten in their absence though and wanted to make sure they paid the bills that were not going away with their business during COVID-19.
The CBCM board and its vendors came up with the idea of Cheer Boxes, a travel pack of some of its vendors' best items for sale once a month. Thanks to community support, its been a hit. Four months in a row, the CBCM has sold out.
The last two months, the CBCM has also hosted a produce vendor at St. Gabriel's Catholic Church as part of its Grab and Go Mini-Market. Last Saturday (Aug. 22) Limestone Acres and Woodkilton Gardens were selling fresh produce, and the always popular Hudson's Corn was also on hand.
For seven-year-old Blake Boudreau-Chapman, the Woodkilton Gardens salesman was happy to be working his first market of the season.
"It's going pretty good," Blake told West Carleton Online from the church lawn. "It's my first market of the year."
Blake has been a market regular since 2016 (the market's first year).
"He's happy to come back to the market," his mom Amanda Chapman who is CBCM board chair and operator of Woodkilton Gardens said. "He's been missing it."
"I like getting to meet new people and stuff," Blake said. "I miss the past. I come here every time I get the chance."
The harvest is coming along nicely, with a good selection of vegetables such as tomatoes and cucumbers. Wooodkilton also had pears and apples on hand from their own trees
"It's pears and apples season," Blake said. "Dill pickles have been the big seller today."
Blake works at the booth and even helps CBCM market manager Cindy Pratt around the market as well.
"I kind of missed it, did you miss me?" Blake asks Pratt. "COVID-19 has been super-stupid."
Constance Bay's Linda Hawkins was one of the local community members picking up her Cheer Box Saturday.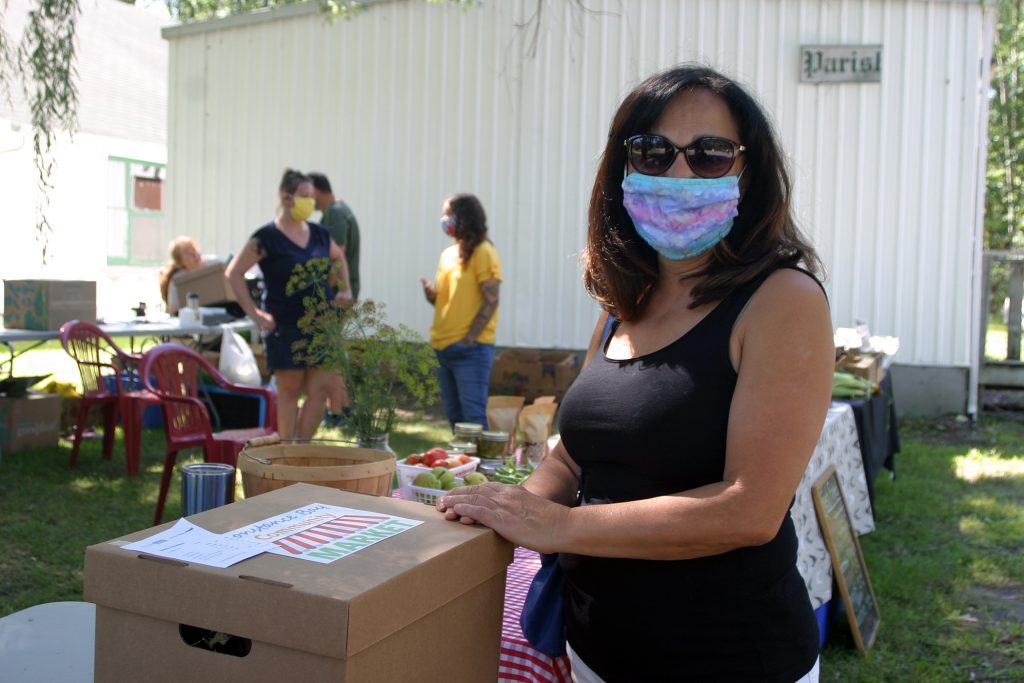 "I get the emails and I used to come to the market before the pandemic," Hawkins tells West Carleton Online. "I want to support the CBCM and there's some interesting items in there."
Hawkins said she also picked up some of the available add-ons customers could purchase and add to their Cheer Box.
"When I got the reminder today was pick-up day, I forgot what I ordered," Hawkins said. "It all sounded really nice. I might get some more things."
Limestone Acres' Amanda Gillespie is a small farmer selling her produce and products at farmers' markets in the city, in Constance Bay and in Renfrew County. Gillespie has set up a small booth at the CBCM Grab and Go Market but has also set up a stand at the end of her driveway on Limestone Road.
"The last two weekends I made as much as I would make at the markets," Gillespsie told West Carleton Online. "So, it's been really good. I decided I would take a trailer out and see what happens. I guess enough people follow us on Facebook, they came by."
Gillespie says she expects her driveway stand will be open most weekends from 10 a.m. to 7 p.m.
---