Carp's Weeden a mass mask maker
CARP – Like Jeff Bezos before her, Carp's Helen Weeden has started a business out of her garage and has watched it grow from her kitchen window in her home right next door.
If you have travelled down Carp Road at all over the last 10 months, there is little doubt you've seen her business as you passed by. Weeden's business is The Mask Store, run out of one side or the other of her two-door garage depending on the day.
"Some days there's a couple, sometimes there's eight to 10 customers, sometimes none," Weeden told West Carleton Online from her driveway yesterday morning (Feb. 17). "I just want to keep it local."
Early in April, Weeden would normally be hard at work filling one job or another volunteering for the Rural Root Theatre Company (RRTC). She's done it all from acting to directing to communications director. Last spring, along with her husband Martin, she was supposed to be directing the theatre group's latest production. Obviously, that was cancelled with the outbreak of the pandemic.
So, instead she opened The Mask Store.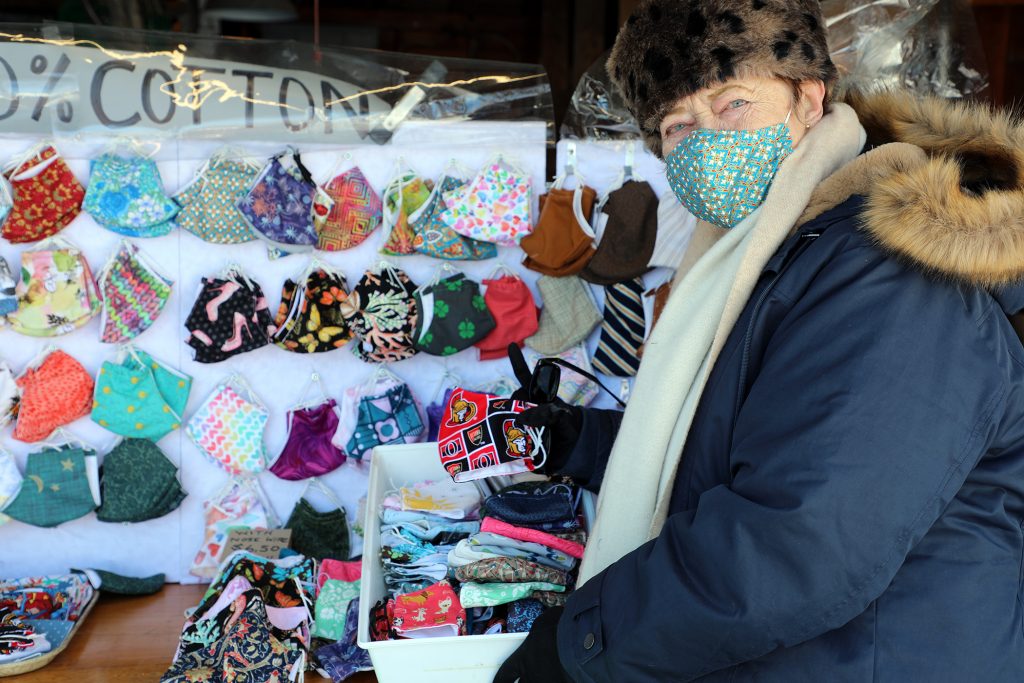 When Weeden first opened the store, it was not a money-maker. That's because she was giving the masks away for free (or by donation) to anyone who needed one.
"The reason I do it is I enjoy sewing," Weeden said. "Initially they were free. I had fabric. People were donating fabric. If I can encourage people to wear a mask, all the better."
Since opening, Weeden estimates she has made more than 1,500 masks. She opened her store but was also sewing masks to donate to the City of Ottawa and joined a volunteer group that was donating masks to shelters and schools. Right off the bat, RRTC co-volunteer and Fitzroy Harbour resident Pat Weir donated a large amount of white cotton, Weeden uses as the inside layer. Fellow sewers and sewing groups donated different patterns for the outside layer.
"It's a bunch of sewers addicted to fabric," Weeden said. "I don't want to make too many of one style."
And she's got hundreds of styles in sizes for youth to adults. Over time Weeden's updated her pattern and now even inserts nose wires on some models. Currently, Weeden says her Senators hockey team patterned masks have been popular.
"Maybe because of their comeback win over Toronto," she said.
Eventually donations did not match demand and Weeden started charging $5 per mask, a price far below what can be found in stores.
She says she makes several at a time, in stages, and it works out to about 10 minutes per mask.
"I very much do it in mass production," Weeden said.
Mask-making has even introduced Weeden to some new like-minded friends.
"I have met several new sewers over Facebook and Zoom," she said. "Not even face-to-face. I've learned so much."
While Weeden eventually had to start charging, it was important to keep the price as low as possible. Weeden understands times are tough, and although masks are mandatory, they are still an added cost to families that might not have a lot of income due to circumstance outside of their control.
"Just like mittens, kids are losing them," she said. "You don't want to have to pay a lot of money for the same thing over and over."
Weeden says the garage store and display board idea was thanks, in part, to her daughter Janet and husband Martin.
Weeden says her daughter has some marketing experience and felt her mom needed to display the masks better. Martin built the board and added some other unexpected features.
"We put it on wheels, so depending on what car we need we can roll the table to each garage door," Weeden said.
1,500 masks later, Weeden said it almost didn't even happen at all.
"At first I wasn't too keen on the idea," Weeden said. "I actually donated material to someone else to make masks at the start."
---