Carp Riverwalk open for fall
CARP – The Friends of the Carp River (FCR) have unlocked the gates and visitors can now enjoy a 1.5-kilometre hike in nature just below the Diefenbunker Museum.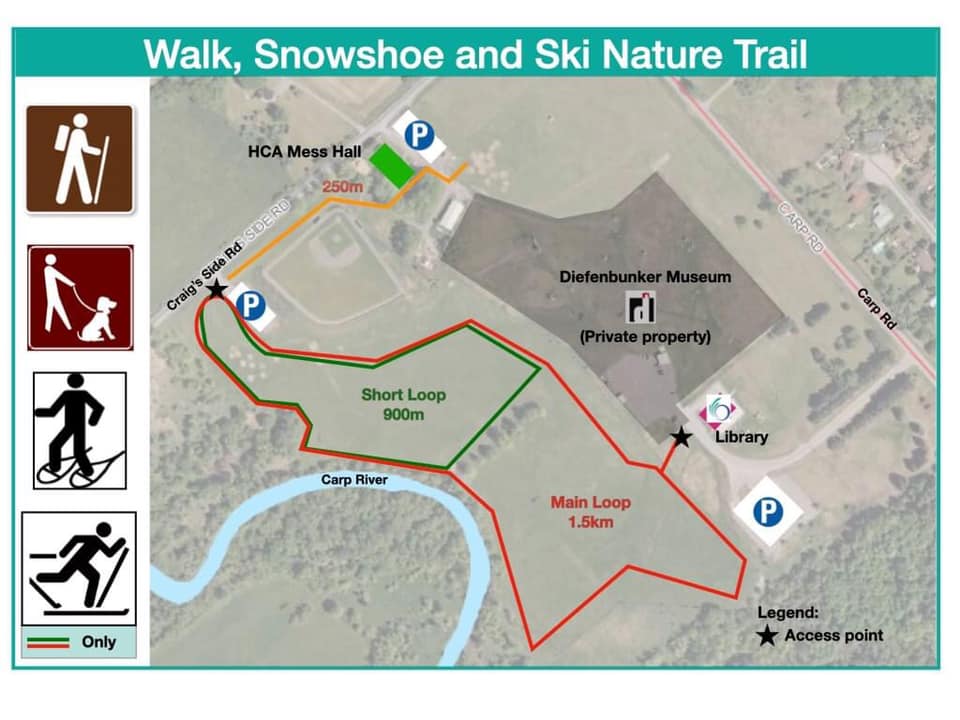 The volunteer organization, with an assist from the Huntley Community Association (HCA) and the City of Ottawa, have been working for most of the year on a project to turn some city-owned land in to a natural all-season trail for hiking, snowshoeing and cross-country skiing.
West Carleton Online spoke to FCR board member Josee Leblanc on Feb. 29 at the inaugural HCA Winter Carnival about the project.
Yesterday (Nov. 10), the FCR officially opened the trail to the public.
"The Carp Riverwalk is officially open," the FCR released in a statement. "The gate by the Diefenbunker guard house and the gate below the Mess Hall are open so you can walk right from the village. Thank you so much to all the volunteers and a special thanks to (Coun. Eli El-Chantiry) and (HCA President Judy Makin) for supporting this little project."
The trail is located on city owned property between the Carp River, Carp Mess Hall and Diefenbunker Museum. It features two looks – a 1.5 km and 900 metre trail). A portion of the trail runs along the Carp River and there are two entrances to the trail – one at the Carp branch of the Ottawa Public Library and an entrance off Craig's Side Road where limited parking can also be found.
The FCR asks users keep dogs on leash. No motorized vehicles are permitted.
---