Carp play-by-play man about to be author
CARP – Carp's Josh Cybulski, known in the Ottawa Valley as the voice of the Arnprior Packers, is set to become a first-time author after a process 12 years in the making.
The new book, Second Story Work, is neither about hockey nor is it a piece of non-fiction, but it does have some autobiographical elements.
Cybulski is a well-known broadcaster in the Ottawa Valley, providing play-by-play and colour commentary of junior B hockey team the Arnprior Packers for Oldies 107.7 FM in Arnprior, part of the MyFM chain of radio stations.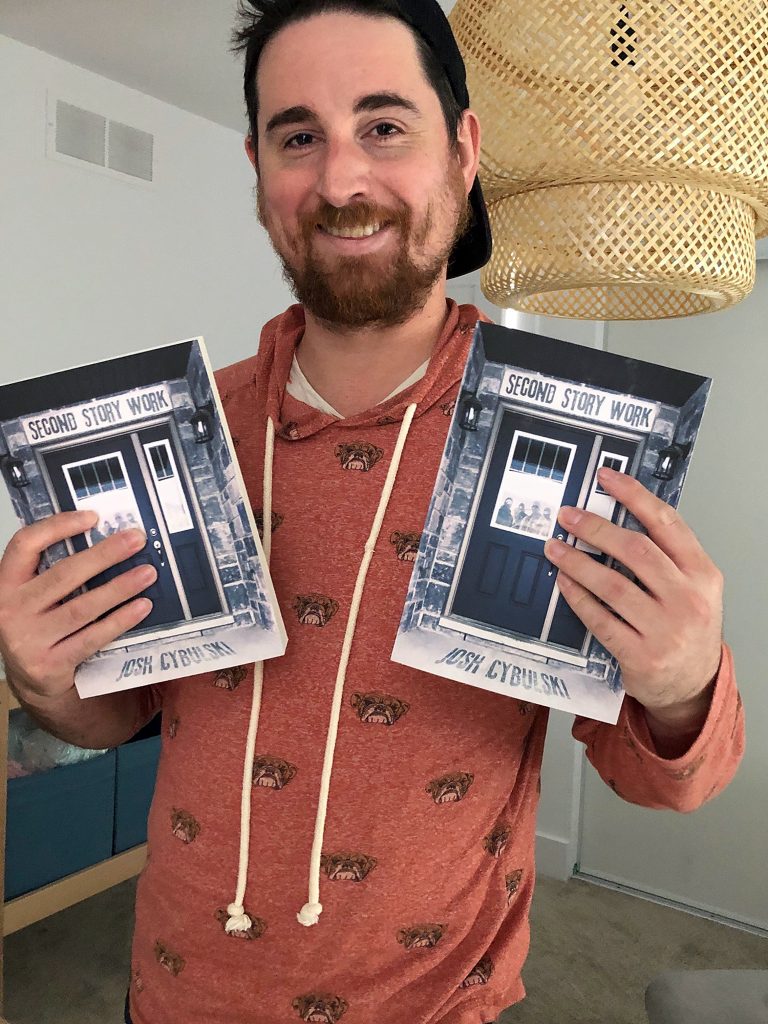 But his love of writing goes back much farther for the Carp resident born in Renfrew.
"It started when I was 13," Cybulski told West Carleton Online last week (Sept. 11). "I was working on a poem that was eventually published in the Poetry Institute of Canada."
During his high school years Cybulski devoured sports coverage and news as much as he could and eventually went to post-secondary school to be a broadcaster.
In 2008 he moved out to Vancouver to try to break in to the film industry and the seed of a story was planted.
"The industry was crashing when I got there so I didn't get my foot in the door," Cybulski said. "I ended up homeless for a while. Sleeping in hallways and hostels. I didn't have a job, so I started writing down my experiences."
It was those experiences that would shape his novel.
"While I was out there, a good friend joined a gang out of the blue," Cybulski, who was 23 at the time, said. "That kind of shocked me. He was this nice, clean cut kid who just sort of joined a gang. Got tattoos. I was kind of naive."
While the book is fiction, Cybulski was able to draw from his strange experiences to put together a crime novel.
The story follows four college buddies who travel out west and want to work in the film industry but "it falls apart."
But they have a plan.
"They kind of spot ways to make money illegally," Cybulski said.
One of those ways is all the way back in his native town of Renfrew.
"That's the site of the main heist," Cybulski said. "Without giving too much away, they plan to rob an armoured truck."
Kanata also plays a pivotal role in the story.
The main character in the story shares some similarities with Cybulski.
"I took a lot of elements from my life," Cybulski said.
The main character is from Renfrew. He's Polish. My parents are Polish. Wilno in Renfrew County is home to Canada's first Polish settlement.
"It was really fun to write about Renfrew," Cybulski said. "It's a really unique town with a beautiful downtown. I don't think a lot of people write about the area."
The book has been a labour of love for Cybulski who completed the first draft way back in 2012.
"I put the book down for two years," he said. "I didn't really like the first draft. It was my wife who encouraged me to pick it back up."
He then went through about eight more drafts between 2014 and 2017.
"It took me about a year to find the right editor," Cybulski said.
The right editor happened to be a former professor of Cybulski's from film school.
"He has written a few books and a couple movies," he said. "He encouraged me to self-publish. He really guided me on what to do and helped me figure out how to do it."
Cybulski received the physical copies just a few weeks ago, "and now its ready to be released to the world," in 10 days (Sept. 28).
And now, at 35, Cybulski is about to be a published author for the first time.
"It feels weird to no longer have it a part of my life," he said. "Almost a loss. No longer getting a coffee, opening up my computer and working on it. I'm nervous to have people read it, particularly my mother, but I am excited."
And, while still promoting his first not-quite-yet released book, Cybulski is working on book number two.
"It's going to be another crime-fiction story," Cybulski said. "It's odd to be starting from nothing again."
Cybulski advises Second Story Work contains coarse language, themes of violence and drug use.
The book Second Story Work is available for pre-sale on Kindle for $8.99 and you can find it here.
---