Carp bunkie to offer homeless hope
CARP – He's been homeless for years. That life experience has Arnprior's Guy Lamarche building a 'bunkie' in Carp in the hope of providing a real-life example of a potential solution to the rural homeless problem.
Lamarche lived on the streets of Ottawa for several years before heading out to the Valley. He slept on cardboard above frozen ground; next to large heaters meant to keep construction sites from freezing; on second-floor scaffolding to escape detection. He has now called Arnprior and the surrounding rural areas 'home' for the last couple of years. Known as 'The Frugal Man,' Lamarche says he's one of the lucky homeless. Lamarche, who has slowly been getting his life together after battling alcoholism and depression for many years, owns a van.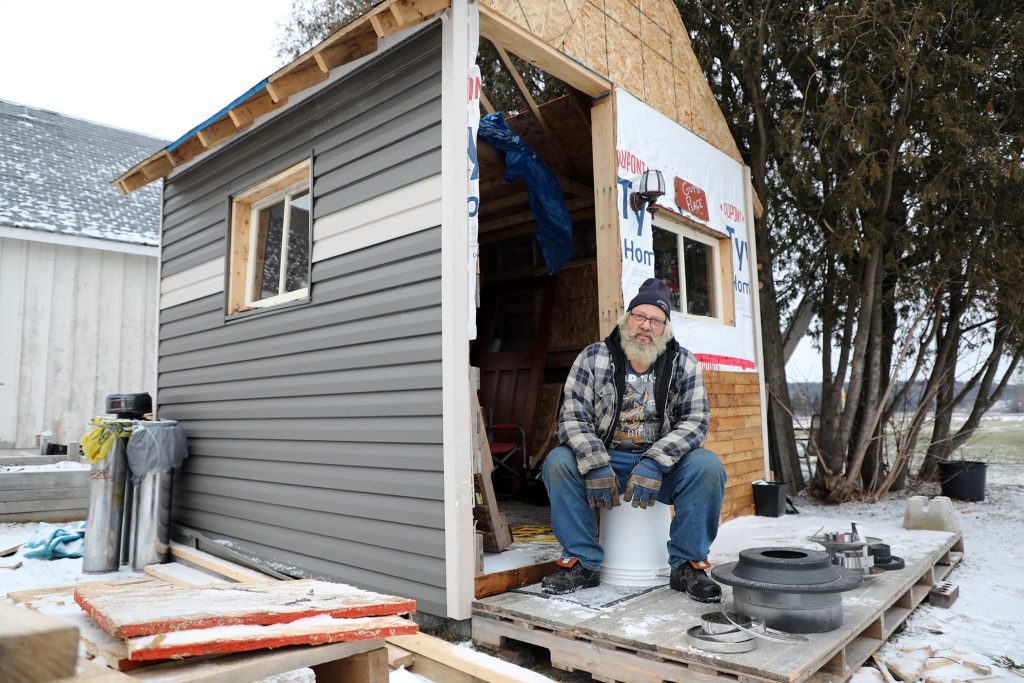 "I'm off the ground in the van with lots of blankets," Lamarche told West Carleton Online from the construction site of his bunkie on Carp Road last Wednesday (Dec. 30). "I have a little heater. At this time of year, you never want to get wet outside. I have couch surfed, but by definition, I'm still homeless."
Lamarche says he forages for food and has success "dumpster diving" in the Arnprior area. Possible surprising for those who don't have that experience, he avoids the restaurant dumpsters.
"Those can be pretty dirty," he said.
Lamarche says he has permission to park in a couple of parking lots around town and gets electricity for his heater where he can find it.
While the homeless are hard to see in the small towns and rural areas of the Ottawa Valley, they nonetheless exist. In surprising numbers.
In 2018, Renfrew County released a report estimating homeless numbers in the area. In Arnprior there are 290 units available or subsidized through the Renfrew County Housing Corporation. There is currently a 243-person long waiting list. Eleven of those individuals on the waiting list have self-declared as homeless although it is suspected the number is much higher.
"To get a one-bedroom apartment in Arnprior, there's none available, and they are too expensive," Lamarche, 64 later this month, said. "I could be dead before I get a home."
Lamarche is not just looking out for himself though. He is working at helping all homeless. Lamarche was a member of a Town of Arnprior ad hoc committee looking in to the homeless issue. The committee, which also included Arnprior Coun. Lynn Grinstead, recently submitted its report The Path Forward on Poverty and Homelessness to Arnprior council. The report contains 52 recommendations on the issue.
Among the recommendations include creating one hub for related services making them more readily accessible and creating a network of people in similar circumstances. The report also recommends lobbing Renfrew County for more affordable housing; conduct a homeless needs assessment; connect homeowners who have space to rent with those struggling to find shelter; force developers to include rent-geared-to-income units; and encourage other levels of government to create incentives for landlords who maintain affordable rental rates.
 Another recommendation is creating a tiny home community considered a respite available for people to live in as they wait for community housing.
Lamarche is currently spending his time showing it can be done, and cheaply. On a farm near the intersection of Carp Road and March Road, Lamarche got permission from the landowners to build his bunkie – a very tiny home under 107 square feet complete with a wood stove and bed.
Lamarche is still building the home and says, so far, he has spent less than $500 on it and hopes when complete, it will cost less than $1,000 in total. Part of keeping costs down, is all the donated materials he's been able to secure.
"First I asked the people here if I could build it," Lamarche said. "It's not here permanently. Ideally I'd like to move it to Arnprior and be an example of a solution of what can be done."
The small bunkie is being hand-built by Lamarche with "pallets and junk."
"I have no deadline," Lamarche said. "I can sleep in my van. The whole building is pieces. Ninety per cent of the build is garbage I got for free."
Not exactly garbage, but waste. The floor is made of "better quality" pallets where there are no spaces between the wood planks.
"I got the pallets from an apartment build," he said. "I emailed the construction company and got a reply from the president the very next day. He said no problem, just let us know when you'll be by."
Other construction sites allowed him to go through their dumpsters as well.
"It's all pieces," Lamarche said. "The home builders want as few pieces as possible when building their homes. When they are installing house wrap and they come to the end of the roll, they don't cut it and use the remaining roll to start a new home. They want the wrap to be all one piece, so they throw the roll out with the little bit of wrap left. I don't care if my bunkie is all pieces."
A resident of Arnprior sold him a wood stove for $40.
"It is one of the key pieces obviously," Lamarche said.
Another community member who followed Lamarche on Facebook donated a huge pile of used screws – the donor had taken apart his deck over the summer and saved all the screws to donate specifically to Lamarche. In fact, several donors have contacted him through his Facebook page (see below).
When West Carleton Online met with Lamarche, he was returning from Smith Falls where he picked up some more items for the stove to make sure it will pass inspection. The bunkie will not have electricity.
"I want lots of light," he said. "I was able to get four windows and two screens for $35."
The small bunkie has a loft for a bed and Lamarche says there will be some kind of sink, but no plumbing. The small size is not just for economy but will make it ineligible for some building code requirements, but Lamarche says the structure will be compliant with standards.
"The plan is for it to meet all the codes," Lamarche said. "It's a test model."
Lamarche still has some work to do to finish the building but is unsure yet when that will happen. He works on it when he has the time and the materials. Lamarche is also continuing his work with the Town of Arnprior. Following the submission of the ad hoc committee's report, the town will now create a Community Council on Poverty and Homelessness. The first meeting, which will be used to appoint volunteer members to the committee, is on Jan. 12 and Lamarche hopes to be a member. He hopes his bunkie will be shining example of the path forward as well.
"I built it myself," Lamarche said. "I proved I could do it for less than $1,000. If you get people who know what they are doing, it can be done in a couple of days. I really want to do something for the homeless."
Lamarche details his experience as a homeless man on his Facebook page Arnprior – On The Streets.
"It's mostly filled with bunkie stuff right now," Lamarche said. "But I write about me experience with depression and alcoholism. It's pretty raw, but it helps me. People encourage me and it makes me feel better. People comment. They care and that feels good."
---