Carp Bakery: Kosovo skill, local flavour
CARP – When the Nuhijaj family took over the Carp Bakery nearly 11 years ago, it was under the condition they would not change the recipes the bakery had used the 30 years before that.
The conditions were certainly unusual, but the original owner was firm, and had already turned down two other offers for the business because those buyers wouldn't agree.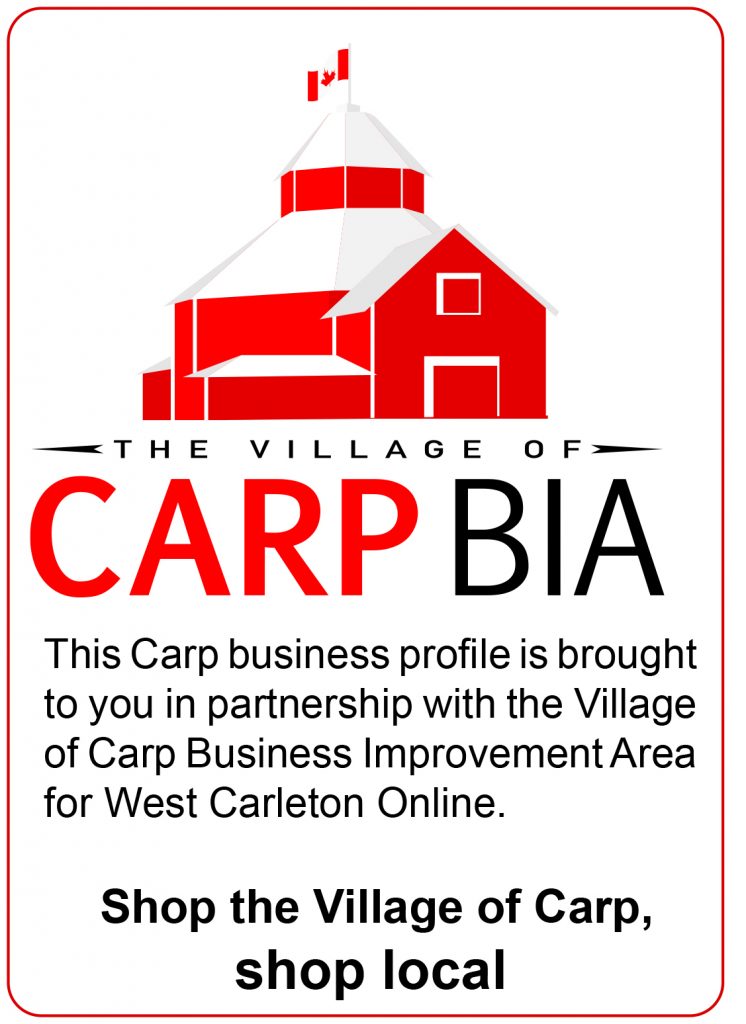 Rexhe Nuhijas and his wife Zoja were bakers "for a very long time in Kosovo," before immigrating to Canada with his wife Zoja and their five children Valbona, Valmira, Valdrin, Valdeta and Valjeta.
The family took over the bakery and continue to start work late every single night baking a variety of breads, rolls, sweets and treats fresh for the Village of Carp every day.
"It's a family business," Valdete, who now leads the business, told West Carleton Online yesterday (Feb. 3). "My parents came hear and started it first. When I got older, I took over. The owner wouldn't sell the business to anyone who wouldn't bake his bread. He said he knew what the community wanted."
Of the five children, three still work at the bakery – Valmira, Valjeta and Valdete, as well as mom Zoja who still helps out.
"Our family are big bread fans," Valdete said.
The Carp Bakery also provides some dine-in service and, in a time before COVID-19, offered a daily soup and sandwich combo. Of course, the dine-in lunches are no more right now, they are not making soups due to COVID-19 complications, but their core service is still open and the family is still baking their incredible selection of breads every morning.
"My dad taught me how to bake bread and now I do it with my mom," Valdete said. "The former owner taught us how to make the bread more 'Canadian.' There's more sugar, more salt, than the bread we used to make in Europe."
Zoja says in Europe, the style of bread is "more natural, more of a crusty break, wherever you go in Europe, people are cooking. Everything fresh is better."
Zoja adds another difference between Canadian and European bread is the plastic bags.
"European bread is crusty," she said. "The crust is thick. Usually no bag. Maybe a paper bag, but we never used plastic to put bread in."
The crew starts working around 6 or 7 p.m. in the evening. They start making the bread around 6 or 7 a.m. in the morning. And it doesn't get much fresher than the Carp Bakery. The selection of breads is usually coming out of the ovens about a half-hour before the doors open for the day. The Nuhijajs make white, sourdough, rye, pumpernickel (to name a few) – usually around 40 to 50 loaves a day; dinner rolls and buns (10 to 12 dozen); and a variety of sweets including peanut butter and chocolate squares, Chelsea buns and donuts.
The bakery doesn't have much of an online presence, but Zoja says it doesn't need one.
"The bakery has been here for 40 years, people know what we have," she said with a laugh.
COVID-19 was a challenge for the bakery. It instantly killed their dine-in service. They were closed for weeks at the onset, but as an essential service were able to re-open, but on reduced hours.
"As soon as the government said stay home, it was dead, dead," Zoja said. "But we're the only place to get bread in the area. So, we were lucky. We've been able to stay open."
"It's still a bit slow, but we have something to do," Valdete said. "We're hoping our lunch will come back (after the pandemic) and people will come in to eat it."
The family is hopeful things will return to normal soon, as they have grown to love their adopted community.
"We really like it," Valdete said. "It's a nice, quiet, sometimes busy town. It's nice to be here. To have a small business in a small village. It's a good community."
Country people are absolutely the best," Zoja said. "I don't know all the names, but I recognize the faces."
The Carp Bakery can be found at 461 Donald B. Munro Dr. and is open Monday to Sunday from 8:30 a.m. to 6 p.m.
---