Campbells reach destructive milestone
DUNROBIN – The Sept. 21, 2018 tornado made the Campbell's Dunrobin home unliveable. But it took more than two years for them to finally see it come down.
It's a grim milestone for the family of four. But it also means they will finally see some progress on the journey to return to their community and have a place to call home.
Two years and 16 days following the evening Grace, Stefan, Bram (13 at the time) and Enya (11 at the time) lost the roof to their home in a devastating tornado that tore a path from the west end of West Carleton to the east end destroying 60 homes and damaging 500 more along the way, the house is finally coming down.
The Campbell family, a military family, moved from Yellowknife, NT to Dunrobin in 2015. Grace is a retired member of the Canadian Armed Forces while her husband Stefan continues to serve.
The Campbells have been battling with their insurance company almost as long as they lived in their home.
"We're still in negotiations with the insurance company," Grace told West Carleton Online yesterday (Oct. 7) from Grasshopper Lane while her three-bedroom home was destroyed in the background. "It has been a very long, frustrating, exhausting process."
One that's not over. The Campbells still need a home to live in.
"Our contractors (Lionhead Construction Management) are estimating by the end of April," Grace said.
Since then, Grace and Stefan have been negotiating and battling with their insurers. And moving. For six weeks the Campbells lived in a hotel. Then they were in a rental in Torwood Estates until last spring. Now they are in another rental near St. Isidore Catholic School in Kanata "until we get to move back home."
It's been such a long process, event the City of Ottawa has filed its post event review.
Its been a challenging time for the Campbells, obviously. But there's not a lot they can do. They can't even publicly out the insurance company that has cause delay after delay for fear of a slander lawsuit.
"We can't say much," Grace said. "We don't want to be sued for slander. But it's been one (screw-up) after another."
It took all those involved until just a few months ago to decide the house was unliveable.
"The house was considered repairable up until last spring, when it was deemed to expensive," Grace said. "This summer there were racoons living in it. Two of the babies fell in to the bathroom and I had a neighbour put them back."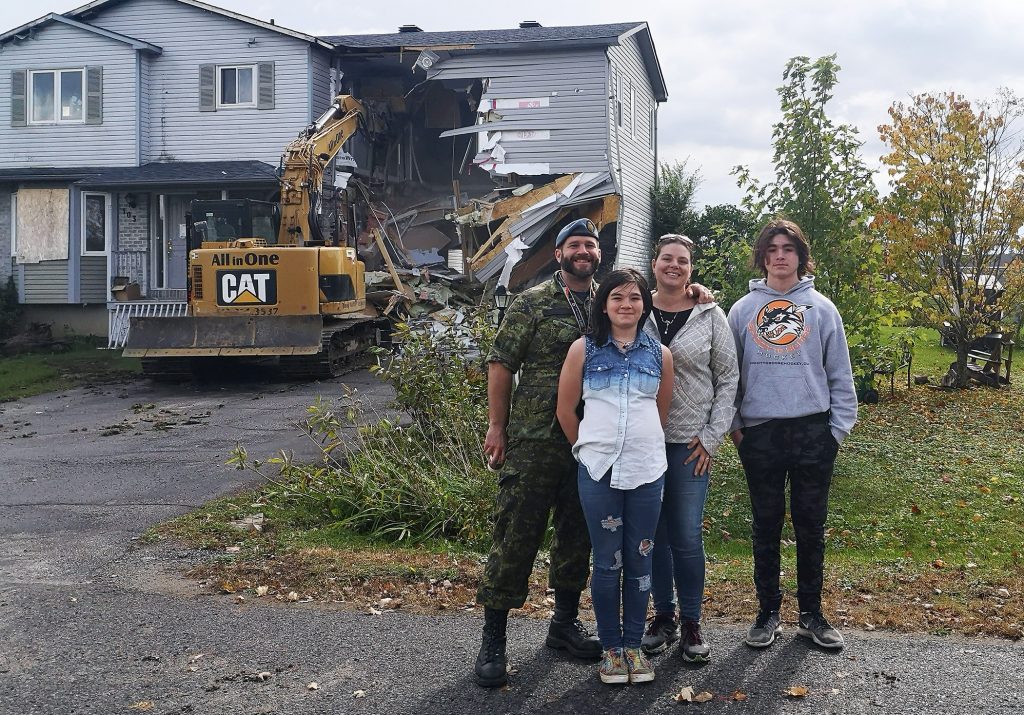 The Campbell home and another on Galloway are the last two homes to come down of those West Carleton homes destroyed by the tornado. The Campbell family has watched their neighbours move back in to their own homes around them, while they wait for the construction of their own to start.
"I honestly have been excited for every single one of my neighbours," Grace said. "It has been really frustrating knowing we should have been home eight months after the tornado, when in reality it's going to be two-and-a-half years."
Meanwhile, the Campbells are still responsible for paying the taxes on their vacant property.
"The city has been really good," Grace said. "That was appreciated."
The city is only charging the Campbells tax as if the lot was vacant (which it is, aside from the racoon family). The city waived the demolition and building permit fees. Utility companies also waived disconnection fees.
The local volunteer organization West Carleton Disaster Relief (WCDR) has also been a huge help.
"Huge support from WCDR," Grace said. "They've been instrumental."
But the company the Campbells have paid monthly for years for just such a situation, not so much.
"We've had to fight them every step of the way," Grace said. "Their job is to pay the least amount as possible and we have to fight for everything we're entitled to."
While they have received some relief in costs, the current COVID-19 pandemic has added roughly $100,000 in added expenses to the cost of the rebuild.
Grace said the entire family watched the beginning of the demolition, before heading off to their other responsibilities.
"It was bittersweet," Grace said. "My daughter was excited. She thought it was pretty loud. My son thought it was about time. My husband was excited. But every time I heard glass shatter, lumber break, I would cringe. Watching it come down is not easy. At least now we can start moving forward."
Moving forward includes the design of the new home, which will sit on the existing foundation if possible. Enya wants a walk-in closet, Bram wants his own bathroom.
"We definitely have lived with a lot of uncertainty and the unknown," Grace said. "It's hard. We live in a house that's not our own and have a house we can't live in."
But today is a milestone, hopefully a marker of better things to come.
"It is exciting at the same time," Grace said. "It will be really nice to get back in the community. We miss them. Our neighbours have been fantastic."
---