C Bay Skateway volunteers end season due to mild weather
CONSTANCE BAY – After an incredible 65 days of ice skating on the Ottawa River, the Constance Bay Skateway volunteers have announced they will be ending maintenance operations.
What started out as a perfect start to winter weather and a fun pastime for a dad and his children, the Constance Bay Skateway grew to mythical proportions even earning its own logo and team of dedicated volunteers who kept the 2.5-kilometre trail in tip-top condition. Numbers that would make the National Capital Commission envious, volunteer effort kept the trail open for 65 days of skating.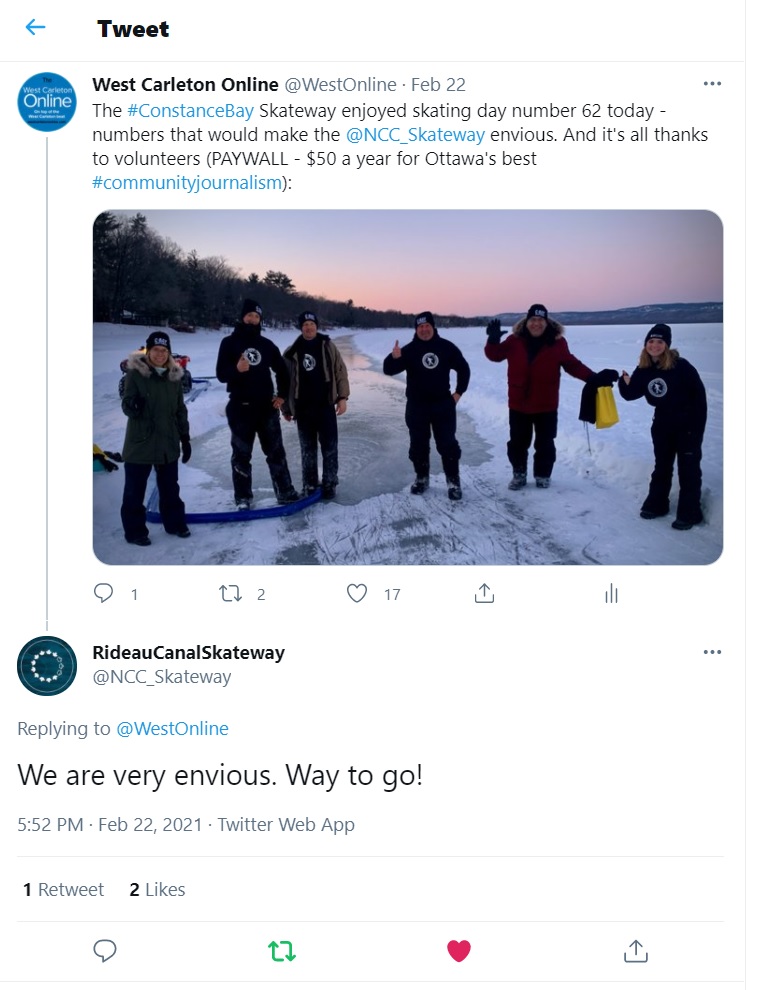 But the skating season is a fickle one, and approaching warm weather has signalled the doom of the popular trail with the amazing views.
"We have decided to end the skateway season due to the upcoming warm temperature weather forecasts and recent wet snowfall," volunteer Steve Platthy released in a statement today (Feb. 25). "What a great season. Sixty-five days of being in operation is a great feat considering there was only five of us doing the maintenance with minimal equipment. From something that started as a small project to ending up with a 2.5-km Constance Bay Skateway for the entire community to enjoy during this pandemic that we are all facing has been a great milestone.
This year was the first year for the Constance Bay Skateway – at least in recent memory. The volunteers hope the first season is actually inaugural.
"Given the amount of positive feedback, we are going to try and do this as an annual event," Platthy said. "We have learned lots along the way and hope to get better and more efficient maintaining the Skateway for the next season. One of the things we would like to do is start a Skateway committee and get more volunteers to help out."
While it was a group of roughly five who did the heavy lifting, there were many who assisted along the way.
"Thanks to everyone that donated to the cause, we were given Happy Times Pizza coupons, Esso gas cards, and we even had a wonderful woman walk through the snow carrying out a large pizza for us while we were flooding," Platthy said. "Special thanks to Jennie Joly for designing the Constance Bay Skateway logo and Mackenzie Aldis from KenzGear for the awesome hoodies and toques that they brought out to us while we were flooding. That was very much appreciated." Thanks to Steve Lalonde, Conrad Shank, Greg Emmott and Richard Stone for helping out with the plowing. I would also like to thank the 99.9 per cent of the local snowmobilers for showing their respect and staying off the skateway over the past two months, you guys rock. Thanks again, hope everyone has a great summer and see you all next winter.
The skateway team included Mike Bryant, Thys Hoedeman, Brydon Givson, Darrell Martin and Duncan Mc.
---