C Bay's Kennedy seeks riding leadership
CONSTANCE BAY – Ben Kennedy is new to Constance Bay, but he's not new to leadership and will throw his name in with the list of nominees vying for the Conservative Kanata-Carleton riding leadership.
In December 2020, Kennedy and his young family moved to Constance Bay. Later that same month, he filed his paperwork to become a candidate for the Conservative's leadership in Kanata-Carleton as parties continue to prepare for a federal election that could come at any time.
"Honestly, it may sound cliché, but for my kids," the father of three told West Carleton Online Monday (Feb. 8) of why he is running. "I see the way the economy is headed, and I fear for my kids' future."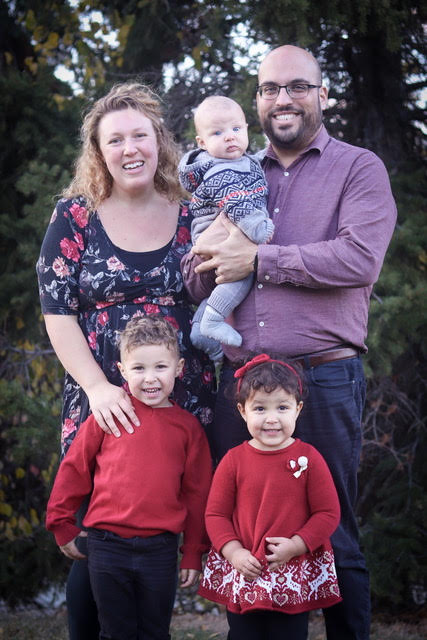 Kennedy is a small business owner working as a mortgage agent and also spent 13 years as a pastor in Brampton where he and his family moved from ("I'm still very involved with the church"). Kennedy previously ran for the nomination in Brampton South and is ready to do so here.
"I have seen the impacts our rising taxes are having on our small and medium-sized businesses, and as a pastor, I understand that our society breaks down without strong families," Kennedy said. "I can't just sit back anymore."
Kennedy says the decision to run wasn't his own to make – it was a family decision that involved his wife Naomi and three young children Joash, Tehillah and Noah.
Kennedy spent much of the last couple of years leading the organization of The Canada Summit for National Progress.
The event is billed as "a groundbreaking gathering of established leaders, emerging leaders, dreamers and doers who are committed to building a strong Canada for future generations."
The event is normally held in-person, but like every other Canadian event in the past 11 months switched to a virtual summit. Not surprisingly, this year's themes revolved around Rebuilding Canada after COVID-19 focusing on the economy, domestic strength, freedom rights and healthcare preparedness. The summit was held last June 13 and June 27. If you would like to see the final report published on this year's summit, click here.
Kennedy says today's government could learn a thing or two about economics.
"The reality is, if you run a family home or a business, you understand the basic economic principle you can not spend more than you have," he said.
Kennedy is shocked by the amount of spending and lack of oversight by the federal government since the outbreak of the pandemic last March.
"We doubled our national debt in six months," Kennedy said. "We haven't seen a budget in two years. We need to see those guidelines and the government needs to follow the guidelines of a budget. We have so many people here who need financial support and we're sending hundreds of millions of dollars abroad. We're overspending on things that seem to benefit the government's friends more than its people. There's a problem in our system when there's no accountability."
Despite the pandemic, Kennedy is doing his best to meet the community and get his name out. He's listening too.
"With COVID, people don't want people showing up at their doors," Kennedy said about doorknocking. "A lot of people are fed up with the current conditions. They're not seeing the results the government has been promising. People are missing their families. People are frustrated. They're not looking for politicians to shake their hand, they just want to see their politicians represent them, and understand their elected official is doing the best they can to represent them."
Kennedy says that goes beyond party allegiance.
"I want to see a relationship that goes beyond partisanship," he said. "There's a current mindset of let's do it on our own when it should be, let's do it together."
Under current COVID-19 conditions, Kennedy says a lot of getting his name out is "a lot of word of mouth."
"Now, it's connecting on the phones and virtually," he said. "Online has its advantages. You don't need to know the person to see their message. But person-to-person connection does make a difference."
And with his name comes a message.
"We need change, we need accountability," Kennedy said. "People vote with where they feel they are getting the most. A cheque in the mail is enticing, but not really representative of what a government is really doing for you. People want to go back to work. People want to re-open their businesses. How do we do it safely without shutting down the entire economy? One thing you'll find out about me is when you ask me a question, I'm very passionate about the answer."
While Kennedy hopes to become a community leader in the political world, he says it's important for everyone to stand up in whatever way the can.
"My big thing is seeing people use their voice to make a difference," Kennedy said. "Not everyone can run for office or cut a cheque, but they can use their voice. Use your voice to make a difference and make your voice known."
Currently the Conservative Kanata-Carleton riding association has not announced a nomination event.
---