C Bay house saved from garage fire
CONSTANCE BAY – Fast arriving Constance Bay volunteer firefighters were able to save a home from a garage fire early this afternoon (Aug. 21).
While volunteer firefighters from Kinburn, Carp, Fitzroy Harbour and Dunrobin also arrived on scene, it was firefighters from nearby Station 63 in Constance Bay that saved the day this time.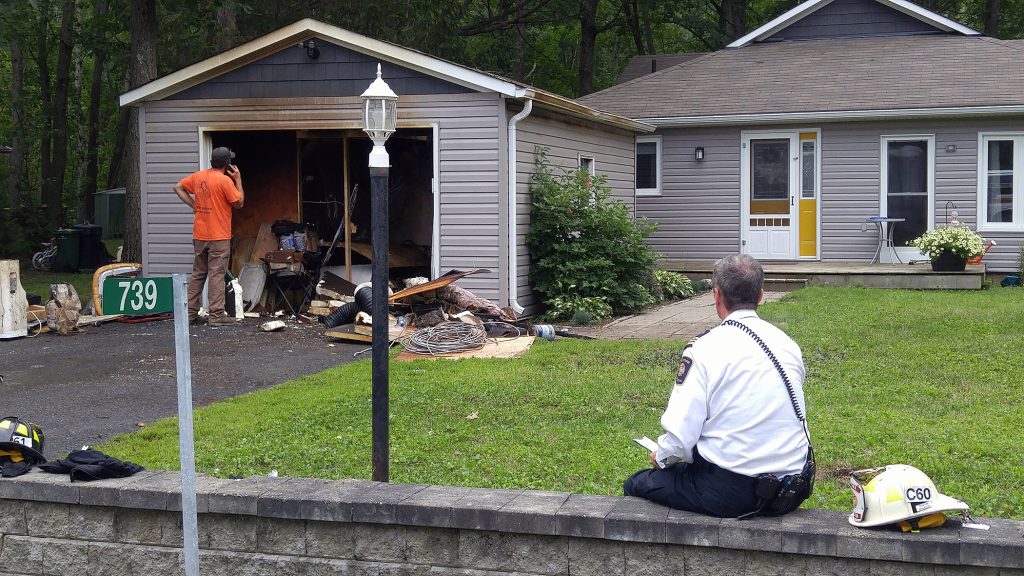 "Ottawa Fire Services (OFS) received a 911 call at 12:07 p.m. reporting smoke and flames from a garage at a home on Bayview Drive," OFS public information officer Carson Tharris released in a statement today. "Firefighters arrived on scene at 12:17 pm.  "Firefighters ensured the home behind the garage had been evacuated and rapidly began tackling the blaze." 
The fire was quickly extinguished before it could spread to the home standing roughly one metre from the structure. 
West Carleton Online arrived on scene at roughly 1:42 p.m. and the fire had already been extinguished. At that time there were still more than 15 OFS vehicles on scene and roughly more than 40 firefighters had responded to the alarm. Firefighters were busy putting equipment away and wrapping up hoses.
OFS District 6 Chief Bill Bell was working on his after-incident report when he spoke with West Carleton Online describing the fire as a "contents fire" in the garage.
"The Constance Bay firefighters did a good job of saving the house," he said.
While firefighters were still cleaning up the scene, several were called away to respond to another call on Allbirch Road.
Bell said he did not expect another emergency at the other call.
"It's a residential alarm," Bell said. "Nine out of 10 times it's a false alarm tripped by the residents."
A trip down Allbirch Road found no firefighting activity on the road.
As for the original garage fire "the fire is under control and an investigator is on route to investigate the origin of the fire," Tharris said.
There were no reported injuries as a result of the fire or suppression efforts.
---