Branch 616 Remembrance Day
CONSTANCE BAY – A Remembrance Day ceremony that usually draws a few hundred people, was still important to hold West Carleton Royal Canadian Legion Branch President George Dolan says, despite a limited number of attendees.
Branch 616 traditionally holds their Remembrance Day ceremony the Saturday before Nov. 11. This allows attendees to take part in the community-based commemoration and still attend the national service in Ottawa if they so desire, or other local events.
The service traditionally attracts a few hundred people including youth groups, military representatives, a pipes and drum band and the West Carleton community. The service involves a parade of veterans and members of the service down Allbirch Road arriving at the legion for the Remembrance Day service.
Last year more than 300 people attended despite very chilly weather. This year, Saturday, Nov. 7 had record-breaking warm weather, but COVID-19 made it impossible for Branch 616 to host large crowds.
But the service went on and about 35 people paid their respects in person – mostly Branch 616 members, Coun. Eli El-Chantiry, MP Karen McCrimmon and a few members of the community. The service opened with the Colour Guard marcing to the front of the Legion's Cenotaph. Comrade Paul Graveline sung O Canada. The service was led y Dolan, and Chaplain Father John Stopa led the prayer. This year, the wreaths were already in place in front of the cenotaph before the ceremony began. Nineteen community organizations and members purchased wreaths for the event, and Dolan read aloud the names of those who contributed.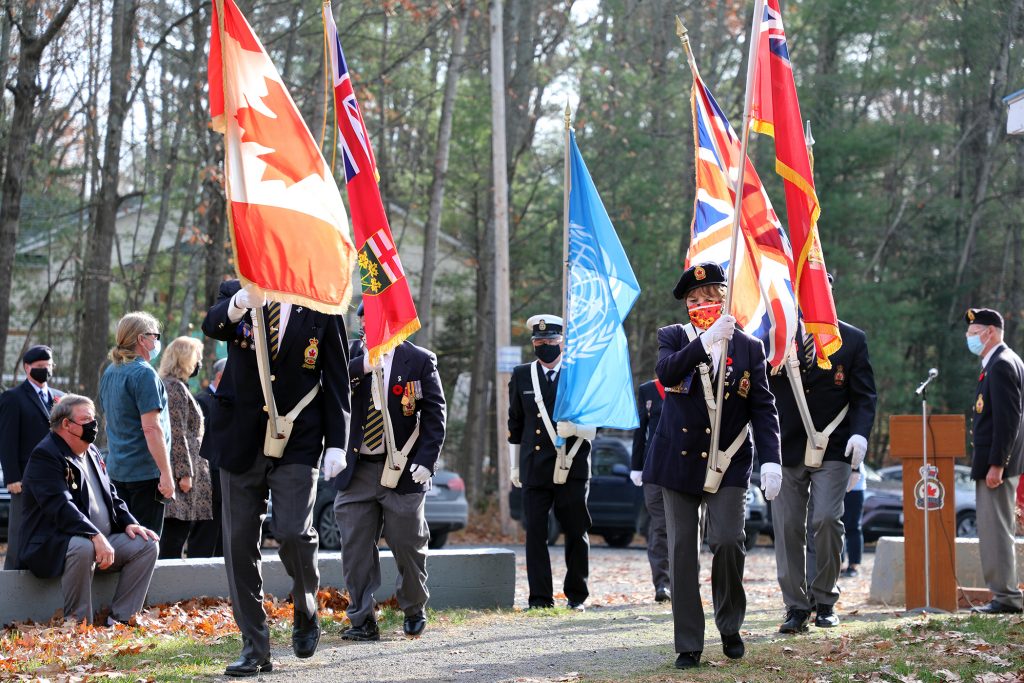 This year is the 75th anniversary of the end of World War Two. The branch, hurt by the consequences of COVID-19, would have been forgiven for skipping this year's service under the circumstances (many Legion-hosted services across the country have indeed cancelled Remembrance Day services including Arnprior's Legion), but that was never going to happen in Constance Bay.
"It's the remembrance of our fallen soldiers," Dolan told West Carleton Online following the short 10-minute service. "It's important that everyone remembers, and everyone shows their respect. That's what gave us our freedom and our peace."
The anniversary of such a momentous part of human history also played a role.
"This is the 75th anniversary of the end of World War Two so it is especially important to make sure we have, a very limited ceremony as it was, but it is important to have the remembrance," Dolan said. "It's the symbolism."
Branch 616 takes its marching orders from Dominion Canada and Ottawa Public Health but, due to the ever-evolving nature of the COVID-19 pandemic, it was unsure what those directions might be by the date of the service.
"We've been following Dominion Canada who lays out what we're supposed to do in regard to COVID-19," Dolan said. "We didn't know how many people we could have inside or even if we could have people inside. That pretty much set the tone for what was worthwhile planning. It was nice to see some people did come, and it just shows they want to show their respect and commemorate, even though it's not a very happy commemoration, but it is an important day to remember."
"It's hard to know how to do it, but I think you did good, George," MP McCrimmon, a retired member of the Canadian military, told Dolan following the service.
The challenges Legions across the country are facing has been front page news. Legions are traditionally gathering places, and those gatherings are what helps raise money, fund community projects and pay the bills. The COVID-19-forced closure has strained those revenue streams and several Legions have been badly hurt. The Legion in Arnprior is currently part of a community-led initiative called Save Our Legion as volunteers work to make sure at the end of the pandemic there is a Legion to go back to.
Legions, along with organizing Remembrance Day services, are huge contributors to their community. In Constance Bay, the Legion provided a lifeline to its community during the 2017 and 2019 flooding and also provided assistance to the greater West Carleton community during the 2018 tornado.
The Legion provided meals to community members and volunteers as well as doing wellness checks and providing a respite for those who could not remain in their homes.
Dolan says Branch 616 is doing better than some, but still faces challenges.
"We're waiting to open back up so we can get our dart leagues running, which is our biggest money maker throughout the year and the only reason we were able to weather the storm is because we had a pretty healthy bank account to start with," he said. "But we certainly lost money for lack of income. We pretty much shut everything down in the building, so we don't have too many expenses. We were pretty well running as low as we could but keep the building open and the mice out."
The branch executive also had to deal with a costly roof repair.
"We got 'er done," Dolan said. "They moved a gas line (damaged las year due to ice) and got the roof fixed."
The branch was able to host one fundraiser, but at a much-reduced capacity.
"Thanks to Tom Watters we had a very successful golf tournament," Dolan said. "It was kind of iffy too. We had to limit the number of people in it. If you can mention Tom's name, he and his family really put it together every year."
And they have also received some support from a community that values Branch 616.
"We've received some great donations from anonymous people who donated on their own," Dolan said. "A couple of pretty healthy donations. More than a couple actually. I think people realize the Legion is a worthwhile place to support."
Following the service, those in attendance gathered in the Branch 616's outdoor, fenced-in space behind the building to enjoy a drink, camaraderie and one more special presentation.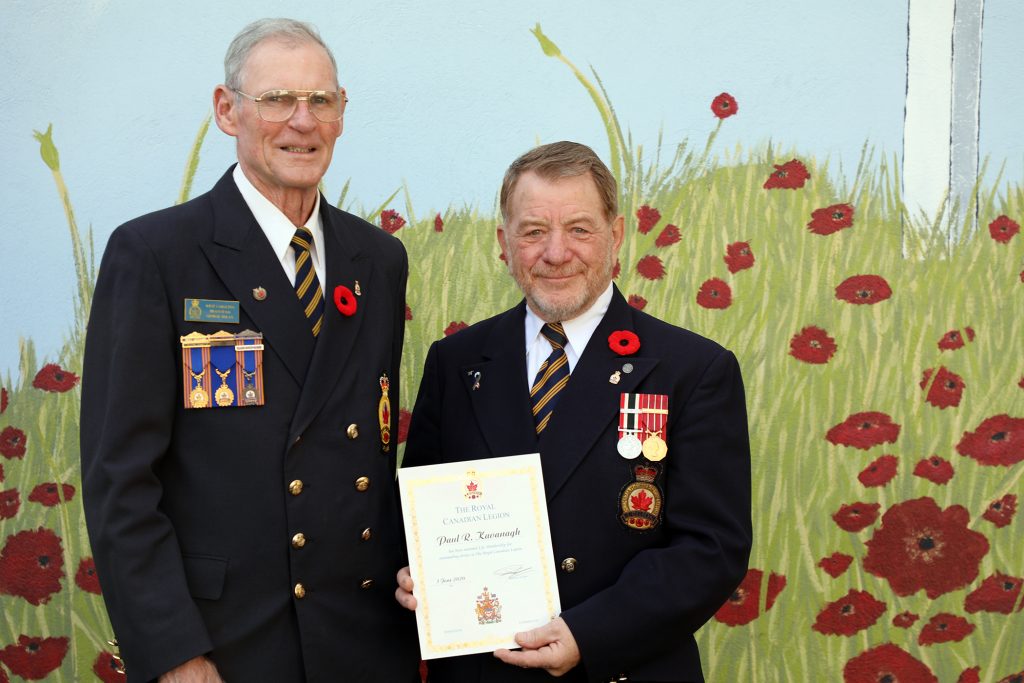 Dolan presented long-time Legionnaire Paul Kavanagh with his lifetime membership.
"That's why you weren't allowed to buy your membership a half-hour ago," Dolan told Kavanagh during the presentation.
Following the presentation, calls for a speech were issued.
"I'll buy a round for everyone," Kavanagh joked. "How bout that for a speech? Free pop for everyone."
---