Bird business battles through COVID-19
CORKERY – Imagine spending years focusing on your dream; then months and months and months working on your dream; then celebrating the first day of construction of your dream; and the very next day, everything comes to a crashing halt as the entire country shuts down due to the global emergency that is the COVID-19 pandemic.
Corkery residents Kindell and Joshua Tolmie faced that exact scenario earlier this month.
Joshua and Kindell had moved to the Corkery area roughly two years ago to the Richardson Side Road area from Kanata North.
The married couple were about to launch their new business Wild Birds Unlimited. They were going to be the newest of 400 franchises across North America specializing in wild bird feed, feeders and related accessories.
"I was at the point where I was trying to decide where, or if I wanted to keep working in nursing," Kindell, who had worked at the Ottawa Hospital for the last 15 years, said. "I've always had a passion for feeding birds, since I was three. When we moved out here that passion was re-ignited."
On April 2 construction started on the new store in the Van Leeuwen Centre on Hazeldean Road. On April 3, the Ontario government expanded its list of non-essential businesses and that included several types of construction projects.
The Tolmie's contractor recommended they put a halt to renovating the store that would house their business.
That store has been in limbo ever since.
"Our hearts sunk," Kindell told West Carleton Online this morning (May 1). "I think I spent a week crying and worrying about our future."
Kindell thought she would "have to bring my scrubs out" again.
But then another plan emerged.
"We were literally just starting our construction on Thursday and had to stop on Friday," Kindell said. "In the meantime, we were moving full speed ahead. We were building our community."
They spent two months building a nearly 1,300-strong following on their Facebook page.
The Tolmies decided to start their business from their home.
"I've gone from attracting people to the technology business to attracting birds to your backyard," Joshua, who is a partner in Ottawa-based recruitment agency PinPoint Talent, said.
They presented their case to the Wild Birds Unlimited franchise managers. The Tolmies would be the first in the franchise's 40-year history to be home-based.
"They let us give this a try," Kindell said. "They're watching what we're doing, and they are so impressed."
The Tolmies received 2,300 pounds of birdseed last Tuesday (April 28) and along with feeders and accessories and started taking orders the same day.
"It's struck a chord in the community, that's for sure," Joshua said.
Wild Birds Unlimited Kanata is focusing on West Carleton, Kanata and the Arnprior area and are offering free local non-contact delivery for purchases of $50 or more.
"With the state of emergency, we had to build our own shopping platform," Kindell said. "Build our own catalogue and upload all our products to Facebook."
Kindell says they have done at least 30 local deliveries since Tuesday.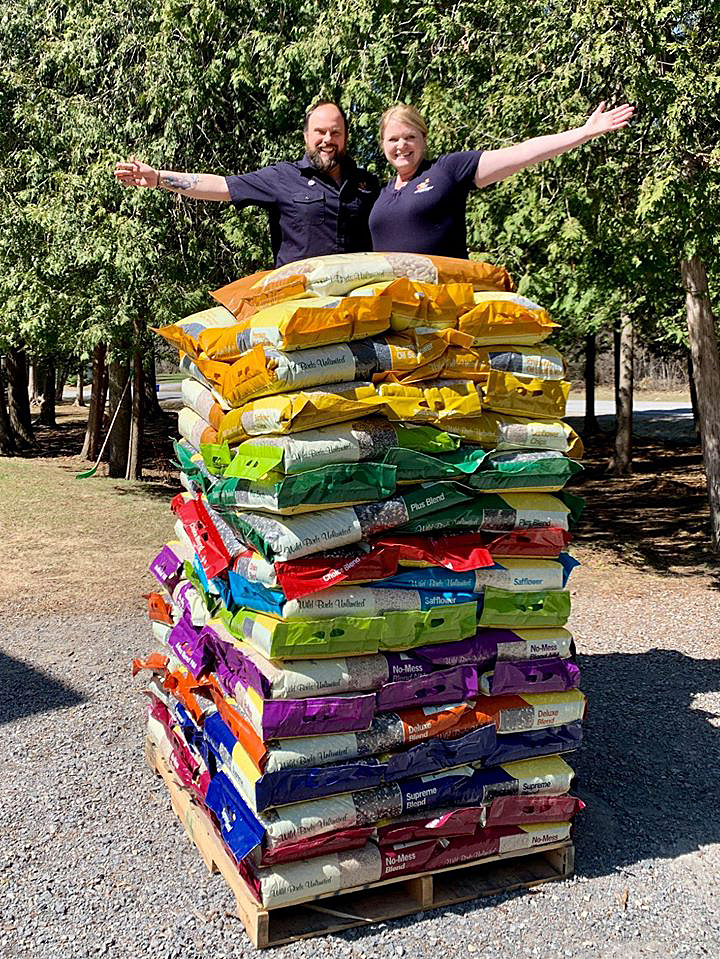 "The support has been incredible," she said. "We are selling more than we anticipated. We feel very blessed. What we thought was going to be a barrier hasn't been. It's gone from very scary to very, very comforting."
The Tolmies have done video calls and given "iPhone tours" of their products set up in their back yard. They have been dropping off little gift bags of seed with an introductory not at homes they pass during their deliveries.
Spring is obviously an important time for wild birds and therefore the Tolmie's business as well.
"We're pleased to be able to deliver to the demands of the season," Joshua said.
And the deliveries have been a great way to meet the community Kindell said.
"I made a delivery to Fitzroy Harbour and found out after the fact I was supplying someone who was going to help fill her mother's feeders who is currently in self isolation," she said. "We delivered to a 99-year-old man who loves his birds and has moved from his residence to his kids home so they would know he was safe. There's a real beauty in these incredible connections."
Next up for Wild Birds Unlimited Kanata is Mother's Day. A big shopping and service industry day for many businesses, but also a bid day for birders.
"The hummingbirds and orioles are coming and it's going to be amazing," Joshua said. "We'd love to see some photos of the first ones in the West Carleton area."
For more information on Wild Birds Unlimited Kanata, visit their website here.
---