Bethel-St. Andrew's flummoxed by COVID
FITZROY HARBOUR – While understanding of the need for COVID-19 safety protocols, Bethel-St. Andrew's United Church Reverend Dr. Christine Johnson says re-opening under those rules "goes against all our principles."
Like most grass roots faith communities, the church is a place of inclusivity and togetherness. A place where people can congregate, socialize and honour their faith and be with their community. For those reasons and more, Johnson and Bethel-St. Andrew's executive and staff are struggling with a plan to re-open in the age of the COVID-19 pandemic.
The church, like all churches, closed in March as directed by the province's emergency orders. Churches were able to re-open when Ontario's stage two strategy for re-opening came in June. Many did, including St. Michael's and St. Gabriel's Catholic churches in Fitzroy Harbour and Constance Bay, which have instituted a first 50 to come are the only 50 served strategy. But Bethel-St. Andrew's, at that time, decided to stay closed and made plans to re-open in September.
"We're not even sure about September now," Dr. Johnson told West Carleton Online today (July 24).
The leaders of the church will meet next Wednesday (July 29), hosting an outdoor meeting, to revisit the plan.
"We have to have a re-opening plan," Johnson said.
That plan will be submitted to the Eastern Ontario Outaouais Regional Council for approval.
"Part of the issue is most of our members are 60-plus and we need a number of volunteers to open up the church and we just don't know if we have them," Johnson said.
The minister says the church will need six additional volunteers to enact a proper COVID-19 safe service. The church will need screeners and additional ushers and a volunteer to handle pre-registration for church services "which would be very strange for us."
Bethel-St. Andrew's is not used to closing the door on parishioners.
If someone needs to use the bathroom, they will have to clean the surface of everything they've touched.
Ottawa Public Health (OPH) guidelines restrict churches to 30 per cent capacity. In the case of Bethel-St. Andrew's that equates to 40 people. Of course, everyone will have to wear a mask. There will be no singing inside and no responsive speaking. No social gathering after the service "which we normally do with coffee ant tea afterwards," Johnson said.
Bethel-St. Andrew's capacity is 120 people.
"Our normal attendance is anywhere between 30 and 60 people," Johnson said. "The tricky thing is, when number 41 comes to the door, what we going to say? You can't come in? That goes against all our principles."
Churches are not allowed to host children's services such as Sunday School.
"We have a very child-friendly church," Johnson said. "They're free to attend Sunday School. They're free to not attend Sunday School. They're free to run around."
Johnson says these new restrictions have "some of our members wondering it it's worth it."
"There are a lot of balls in the air," Johnson said.
While the church has been closed, Dr. Johnson has worked to provide services. Johnson's husband Reverend James Murray is the minister at the Trinity St. Andrew's United Church in Renfrew. Trinity St. Andrew's has a YouTube channel and a Facebook page and the two have teamed up to lead virtual services.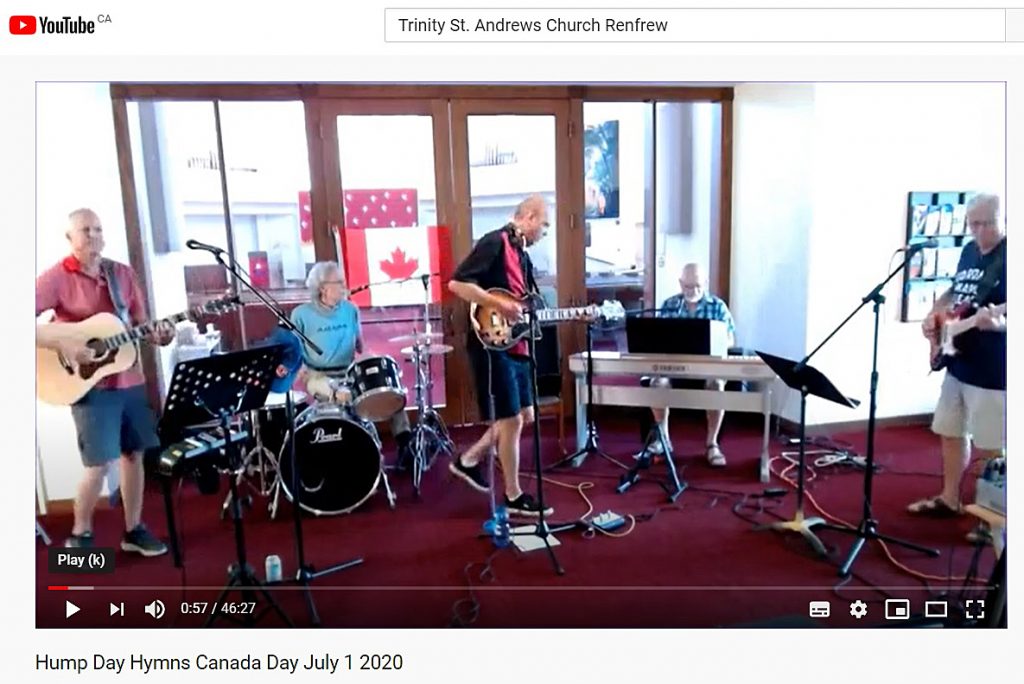 "We've been doing some live services together," Johnson said. "The fact that we are married has allowed the Fitzroy Harbour church to piggyback off of them and use their YouTube and Facebook pages."
They are usually about a half-hour long and Johnson says they have been fun. The two record them at Trinity St. Andrew's along with Trinity's music director Mike McCormick. Fans might recognize McCormick as one of the members of the music group The Arrogant Worms. He also leads a band called Mixed Nuts.
"We've been doing some very interesting services," Johnson said. "We did a kind of a meditation on the music of Joni Mitchell. So that's been really fun. Although it's considered secular music, it touches a lot of people in a lot of different ways. I'm a big believer in music. All music can touch us in different ways."
But Johnson is well aware not all of her congregation uses computers. And Trinity has plans to re-open in September, so the online services will come to an end in August. Johnson has also provided pastoral care through online sessions and through other methods.
"I have one person who's quite ill right now, but I haven't been able to see her," Johnson said. "It's all been over the phone."
Johnson says she has participated in one graveside service, but the 10-person limit was the elephant in the room.
"It's been very, very hard for people who have lost loved ones," Johnson said. "A funeral is a very important part of the grieving process."
But mostly its been a quiet spring and summer.
"All our programs and special events have been shut down," Johnson said. "It's been a pretty quiet time for the church."
One program Bethel-St. Andrew's has been able to re-start in stage two is the Monday Stitchers – a small group of crafters who meet once a week.
"One of the hard things is we just can't connect with one another," Johnson said. "Our church is such a community-minded church, it's been hard not seeing each other."
But opening presents different challenges.
"It's really hard to discourage someone who has made it part of their life but is also in the high-risk category," Johnson said. "It's been difficult but it's the world we live in now."
---