7 Works Collective a COVID collaboration
WEST CARLETON – A group of seven artists whose spring 2020 residency was cancelled by COVID-19, have spent the last nine months using the current condition to inspire a new way of collaborating.
Karen Wynne Mackay, Catherine Gutsche, Judi Miller, Kathryn Bossy, Mario Cerroni, Lynn Dubinsky and Jo-ann Zorzi were all set to take part in an Artists' Residency on Toronto Island last spring. But then the global COVID-19 pandemic touched down in Canada, and like every other organized gathering of people, it was cancelled.
"After our artist residency was cancelled due to COVID-19 we decided to spend that week creating as if we were actually on the retreat," Mackay told West Carleton Online Friday, Feb. 12 in a Zoom meeting with three of the artists including Miller and Gutsche. "At the end of the week we met on Zoom and shared our work, and as you can imagine we shared our thoughts and feelings about COVID-19. This was the beginning of COVID-19 and the accompanying shutdowns of our livelihoods, shows, galleries, studio visits and tours, artist meetings and our favourite local coffee shop discussions."
The group, all seven are members of the West Carleton Art Society, decided to continue to meet via Zoom every two weeks, undertaking a monthly art challenge and formed a group known as the 7 Works Collective Artists.
"What happened was Judi mentioned we should get together and treat it as the week-long residency and meet on Zoom after that," Mackay said. "It's been great."
 The result is 49 pieces of art, seven pieces each, all created with based on a challenge during the COVID-19 pandemic.
The challenges varied month to month. Challenge 1 involved a photo of flowers by photographer Mario Cerroni, a long-time Carp resident who spent about 40 years in the community before recently moving in to the urban core of Ottawa.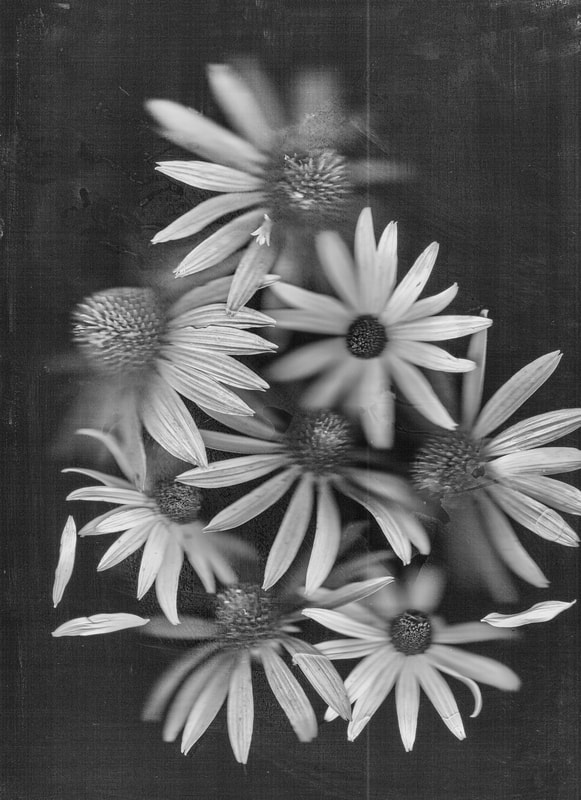 "The image as metaphor," the challenge reads. "This image is part of a series that examines the inevitability of impermanence within nature, and within our own lives. Throughout the series, specimens of plants and flowers were collected, arranged on a scanner bed, and scanned. Eventually the objects age and wither. There is an inherent beauty present at every stage. The delicacy of the blooms evokes that delicate balance between life and death, and all the stages in between,"
Each artist created a piece using their own style and interpretation. It was a very different way for each artist to approach their own work.
"Very much so," Deerwood Estate's Gutsche said. "For myself, it's a very different way to work. This has pushed me to a direction I don't often go. It gave me an opportunity to look around my studio and see what materials I haven't used."
"For me, it was a really interesting challenge to do," Miller said. "I do a lot of floral things with embroidery, but to capture the photo, it was a real challenge. I got out of my box a little bit. I had some technical things I wanted to try. So that was the opportunity to try something new and do Mario's photo justice."
At the end of the first challenge, the artists agreed to continue on. Each artist presented a new challenge each month and the artists continued to meet virtually every second week.
"I've learned so much," Mackay said. "All of our work has taken a turn for the better. When you look at our work from two years ago, you can see the difference. We all work from home (or home studios), but this feels different."
Of course, pre-COVID, you could work from home, yet still go out and socialize.
"Human connection is something we all need," Mackay said.
Miller says working with a deadline, although challenging, is something artists are used to.
"You want to keep current," she said. "In a normal year, when there are shows, an artist often does seven to eight a year and you want about seven or eight pieces to show. It does inspire you to concentrate and aim for that deadline."
While the seven challenges were not necessarily related to COVID-19, it was impossible to avoid.
"I think it has snuck in a few times," Gutsche said.
"We're all very aware of why we're working the way we are," Miller said. "But we're moving in different directions."
"With all the shows and galleries closed, there was sadness evident in some of the work," Mackay said. "For me, it was looking at all 49 pieces and seeing how much work we've done and the incredible creativity that went in to it. There isn't one artist that hasn't inspired me with their work."
Aside from the work, the artists bonded over conversation, some of it quite personal.
"It was kind of a surprise," Gutsche said. "It brought us closer together. Some of the pieces went very deep. Deeper than some of the viewers will notice, I think."
The seven artists have enjoyed their time and the project so much, they have decided to keep going with an additional seven challenges underway now. In the meantime, they are unsure when they might have the opportunity to meet in person but are planning to do it when circumstances permit.
"It will be interesting to see what happens when we all get together," Miller said. "We'll all be blushing. We have booked for October if things open up."
"If it does open up, I'm going to host a dinner," Mackay said. "We'll do a potluck, have some fun and the spouses have to drive."
If you would like more information on the 7 Works Collective and would like to see the work each artist has produced from each challenge, you can visit the 7 Works Collective website here.
---