2020 Fast Pitch Canadian Championship committee has sights set on Carp in 2021
CARP – The day after Softball Canada announced the cancellation of all 2020 national championships, the organizing committee for the U23 men's fast pitch national championship scheduled for Carp this summer, started the bidding process to host the tournament in 2021.
"That's our goal and we're hopeful we'll get it," committee chair Shawn Williams told West Carleton Online yesterday (May 21).
It's been a stressful spring for the organizing committee of the tournament. After making the announcement last February Carp would be hosting the 2020 Alterna Savings U23 Men's Canadian Fast Pitch Championship from July 28 to Aug. 2, the world changed dramatically. The committee spent the rest of the winter fundraising and organizing including a very successful trivia night on Feb. 21.
Then the first reports of COVID-19 started appearing and by March 17 much of Canada was shut down with the hope of slowing down the spread of the coronavirus. As the state of emergency progressed and gatherings of people were heavily discouraged, spring and summer events started cancelling their 2020 editions. The committee watched and waited. Finally, Softball Canada cancelled its slate of 2020 championship tournaments on Wednesday (May 20).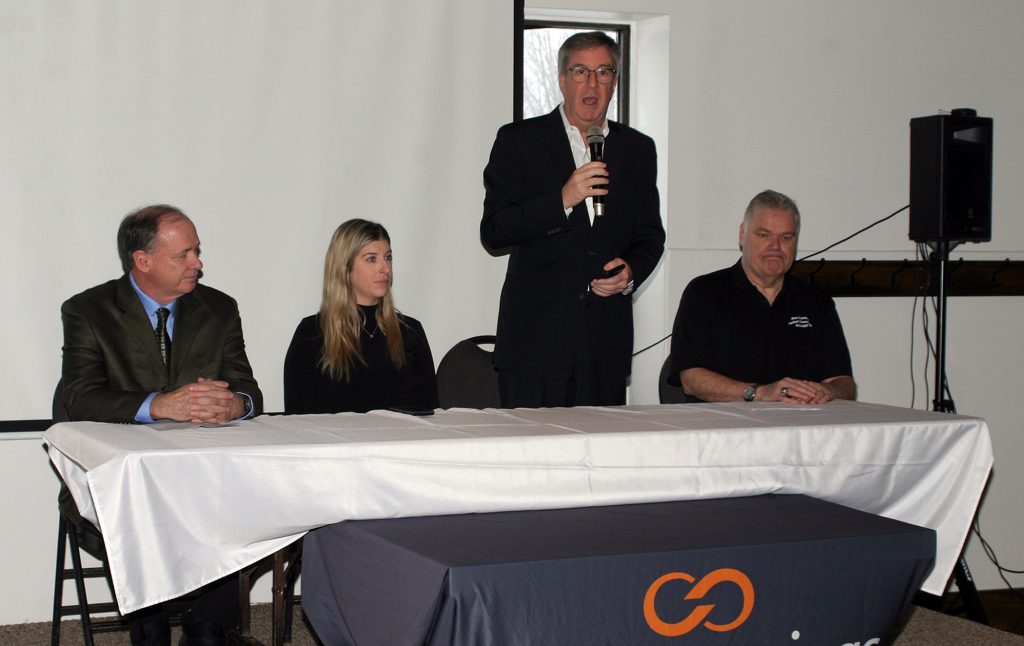 It took mere moments for the Carp organizing committee to pivot.
"We're trying to turn that bad news in to good news," Williams said. "We're trying to find a silver lining."
That silver lining is a bid for the 2021 U23 championship fast pitch tournament.
"When I polled the (organizing committee) a month ago, I knew what the answer would be," Williams said. "It was unanimous."
The first step for the committee is to get approval for their bid from Softball Ontario.
"We anticipate we will get that approval again," Williams said. "If we are awarded the 2021 tournament, it gives us the extra time to put on a fantastic event for the people of Carp."
Williams calls his organizing 18-member committee "great, enthusiastic." It features many of the sports' community leaders from Ottawa and West Carleton all the way up the Valley to Micksburg.
West Carleton members Geoffrey Lathem and Adam Brown are well known for their leadership in the sport. Jamey Mick is a builder in the small community of Micksburg that is a force in fast pitch.
"They're heavily involved in getting fastball up and running in their community," Williams said.
Because of the committees early hard work, they do have some money in the bank to build on. They even were able to sell some advance tickets for the event to the tune of around $1,500.
"We ae offering full refunds to our sponsors and ticket purchases, or if they want to slide it over to 2021, we'd love to do that too," Williams said.
One potential hiccup to hosting the event next year, is the bidding process for national championship tournaments are a two-year process.
"Bids as a rule are opened two years in advance," Williams said. "Communities could bid on the 2021 championship starting on Oct. 1, 2019. Now we do have some great contacts in Softball Canada and to the best of my knowledge I'm not aware of any bids yet. It doesn't mean it didn't happen, but that puts us in a relatively good position. It's been more than 20 years since there has been a national men's championship in Ottawa."
Williams says his committee, and organizing bodies, get that rural West Ottawa and the Valley are hot spots for the sport in Ontario.
"We want to bring that kind of vibe to Carp so people will flock to see some of the best fastball talent in Canada," he said.
If Carp is able to win the 2021 bid, Williams says his team will take a small break before getting back to work.
"We'll take a small breather over summer and reconvene in late August or September and come up with some ideas for fundraising," he said. "It's going to be challenging for some of our smaller sponsors to step up again."
Shawn Williams says those seeking refund information or have interest in the potential 2021 tournament can contact him by email here, or at 613-302-5019.
---